'Moderators' are persons who have contributed substantially to efloraofindia as a whole (after The Pillars & Subject Experts). They have accepted the invitation to become a moderator to share high responsibility in this regard. More such names will be added when they come up to their level provided their behavior is up to the mark at the time of becoming a moderator and they accept request for becoming a moderator. The following is the list of our current moderators:
He is an Associate Professor (Botany) in the Department of Higher Education, Government of Himachal Pradesh and currently posted at 'Centre of Excellence' Government College, Sanjauli, Shimla-6 (H.P.).
Although he has his specialization in Environmental Plant Physiology, his love for Nature always keeps him close to the Plants through Nature Walks and Floristic Explorations in different parts of Himachal Pradesh. He is popularizing 'Plant Knowledge' in the society through  his blog 'Plants, Nature & Environment' and Social Media especially through his Facebook Groups 'Flowers of the Himalaya', 'Plant Wealth of India' & 'Environmental Concerns'. He has authored more than ten textbooks (with co-authors) for the Under Graduate students of Botany and also published equal number of research papers. He has completed  one UGC funded research project in 2013. He annually organizes exhibitions of 'Local Useful Plants' for his students so that the traditional knowledge can be revived and natural interest in plants be developed in the young generation. He has also edited a few pages on Wikipedia and has planned to work for the online web page 'Plant Diversity of Shimla City'.

.
He is currently a B.Sc. student studying at St. Joseph's College (Autonomous) in Bangalore. He is very interested in angiosperm taxonomy. He enjoys flower-hunting and working out identities of plants using floral keys. He especially enjoy photographing small flowers and minute details of plants that are so integral for identification but are often overlooked.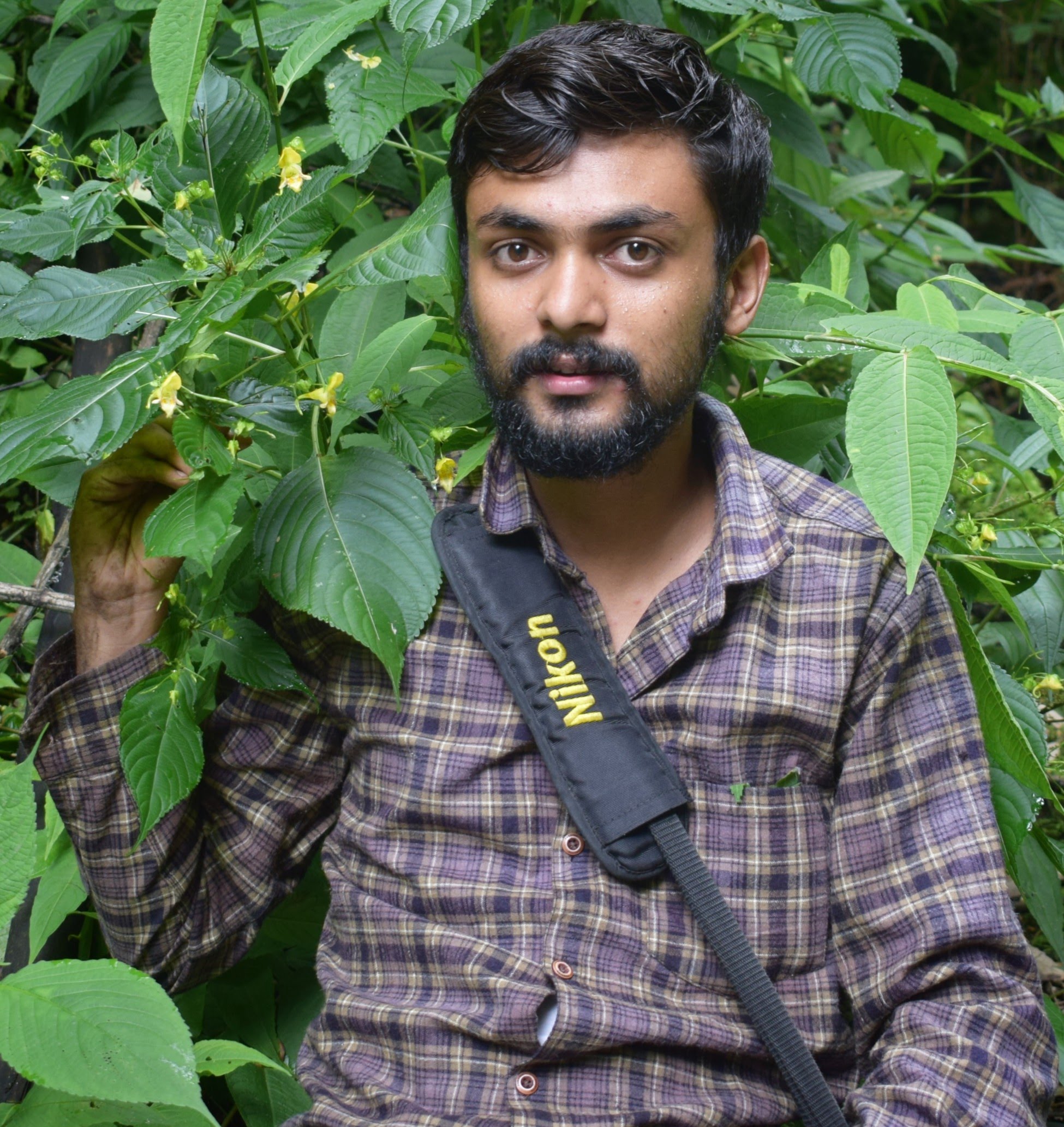 Ashutosh Sharma
He is from Kullu district of Himachal Pradesh and is currently studying B.Sc. Hons. Forestry at College of Horticulture and Forestry, Neri (Dr. Yashwant Singh Parmar University of Horticulture and Forestry, Solan). He has immense interest in exploring, photographing and documenting floral as well as faunal diversity of Western Himalayas. He is also a passionate amateur wildlife photographer and regularly shares his pictures/findings on his Instagram account –
He has been regularly trekking and exploring the biodiversity of remote areas of Himachal Pradesh since 2017 and is currently working on exploring diversity of Balsaminaceae (Impatiens) and Orchidaceae family in Western Himalayas.
His research work includes Scullyi's Balsam-New record for India and Rediscovery of Calanthe davidii (Orchidaceae) after 11 decades in the western Himalaya, India.
Moreover he is also a contributor to Moths of India website, Flowers of India website and Odonata of India website.
.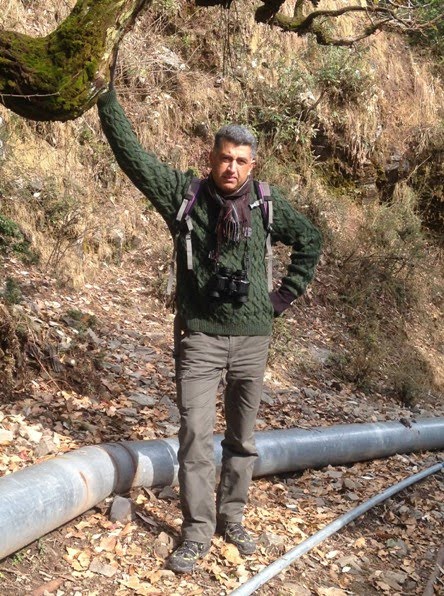 Ashwini Bhatia
Ashwini Bhatia lives in Dharamshala, Himachal Pradesh, where he studies the local flora and fauna. He has no formal training in botany or biology but that hasn't deterred him from attempting to catalogue the diversity around him.
She was a lecturer in Botany (retired) from D.K.Government college, Nellore; She has completed two research projects finacially assisted by UGC, one is A study of mangroves of Pennar Eustury; another, A study of the Plant resources of Velugonda hills of Eastern Ghats; Earler to this project work, She has started blogging on plants; many of the Plant images are seen in Wikipedia; flowering trees of the world, Useful tropical plants and in many other websites.
Her blogs
.
He is a widely traveled Botany Teacher from Panipat, working for popularization of Biology and Plant Sciences in Haryana. He is presently Head, Department of Botany and Biotechnology, Arya P G College, Panipat, Haryana. He is also one of the Founders of Association for Promotion of Plant Sciences working for promotional activities of Botany. He is now working on detailed floristic analysis of Haryana state, along with his frequent visits to different parts of Western Himalayas covering Uttrakhand and Himachal Pradesh. He has organized many Western Himalayan plant hunting tours for members of  efloraofindia. He has published a book on common garden plants recently. Besides, he is Executive Editor of a peer-reviewed journal "PHYTODIVERSITY".
He is an Asstt. Professor, Department of Biological Sciences, CBSH, G.B.Pant University of Agriculture & Technology Pantnagar-263 145 Uttarakhand, INDIA. He has invested 25 years (1987 onwards) in Classical Plant Taxonomy & has now entering in Cybertaxonomy through efloraofindia. Special interest: Himalayan alpine plants, threatened angiosperms in the Himalaya. He has developed a google site eflorapantnagar showcasing wild flora of Pantnagar University (Uttarakhand) which can be seen at the link- https://sites.google.com/site/eflorapantnagar/
He has devoted himself for a purpose: "When will ALL the flora and fauna of India get on internet ?"
His flora is available at http://www.flickr.com/photos/dinesh_valke/. Though from Mangalore, he is currently based in Thane & has a carreer in Computer Graphics. He has chosen Flickr to display his works. He is simply amazing at hunting out regional names of plants and putting them in native scripts. Credit for common names in Efloraofindia Database goes mainly to him & Tabish ji. He is deeply committed, passionately involved & one of the foremost contributors to Efloraofindia.
Working at Tropical Botanic Garden and Research Institute (TBGRI), Palode, Kerala. He has described 11 species and 4 varieties of plants as new to science, published 58 research papers in various national and international journals, developed a conservatory of over 300 lesser known or totally unknown wild ornamental plants of the Western Ghats, established a field gene bank of 100 rare endangered and threatened medicinal plants of South India, developed an Ethno Herbal Forest of over 650 species of medicinal plants used in the classical, folk and tribal systems of medicines etc. He has contributed a lot for the growth of Efloraofindia.
He is a Senior Research Associate (DST-Research Associate) at Asoka Trust for Research in Ecology and Environment (ATREE), Bangalore, India. His expertise is largely in Reproductive Biology, Plant Taxonomy, Vegetation characterization and Conservation Biology. He did his doctoral studies in "Floristic diversity, Species composition and Community structure across altitude in Kudremukh National Park, Karnataka", under the guidance of Dr S. Rathinavel (Saraswathi Narayanan College, Madurai). He worked in CES, IISc, Bangalore with Dr Rohini Balakrishnan during 2002 to 2006. More than 15 years of research work spans across floristic to ecological studies and ethno-botanical explorations to the reproductive biology of Small and Large Cardamom, Strobilanthes kunthianus and few canopy epiphytes. Currently he is working with Dr K R Shivanna, on the Reproductive ecology and plant-animal interactions in some endemic/endangered Syzygiums in the Western Ghats. He has presented 5 papers in both national and international forums and has published 7 papers in peer reviewed journals. He is hailing from a remote village in Kerala near Salim Ali Bird Sanctuary Thattakad. Further, he is an adventurous traveler who treks any difficult terrain in any risky environment and has proved his talent in field photography. Wild flowers, birds, butterflies, other insects etc. are major focus for photography. And of course, he is one of the taxonomists who is gifted with tree climbing skills. He is a good orator and is involved in various environment education programmes such as HSBC Climate Partnership Programme funded through Earth Watch Institute, Department of Biotechnology's Nature awareness (DNA) programmes, SEED programme of NCBS and Mathrubhumi (Malayalam daily) etc.  Now, he got recommended for the Young Scientist Award (Fast Track) by Department of Science and Technology, Govt. of India for pursuing his Post Doctoral studies on orchid communities in the Western Ghats. He is a life member of Indian Association of Angiosperm Taxonomy. Since August 2009 he has been actively involved with Eflora of India. Visit his pictures @ http://www.flickr.com/photos/giby
He has recently retired as Associate Professor SGTB Khalsa College, University of Delhi, Delhi. He has been actively involved in taxonomic research between 1969 and 1975 having contributions on flora of Kashmir valley and Ladakh, including his book 'Forest Flora of Srinagar…. 'published in 1976. After migrating to Delhi and involved in active teaching he continued his taxonomic pursuits by being involved with technical editing of English translations of different Volumes of Flora of USSR, Flora of Siberia and Plants of Central Asia published by Amerind Publishers and subsequently Oxford & IBH. During last decade he has published book "Plant Systematics" international edition published by Science publishers, USA in 1999 (enlarged international edition "Plant Systematics, an integrated approach" in 2004; Revised third edition was published in 2010, containing more than 500 colour photographs and an accompanying CD ROM with nearly 700 high resolution photographs. For Indian Undergraduate and Postgraduate students there is Indian edition "Plant Systematics, Theory and Practice" published by Oxford & IBH Co. the three editions having come in 1999, 2004 and 2012. He is currently developing a Digital herbarium also incorporating live images of plants. He is interested in Flora of Himalayas especially Kashmir Himalayas and Ladakh, and North India. He is a leader, deeply committed, passionately involved & one of the foremost contributors to Efloraofindia. His web link: https://sing96.wixsite.com/mysite-1
.
J.M. Garg
He is a passionate naturalist & a wildlife photographer. He has been trekking a lot for more than last 20 years. He is creating awareness about our trees & plants, our winged friends (birds), butterflies etc. in general & nature around us in particular.  He has published a book called 'A Photoguide to the birds of Kolkata & Common birds of India'. He has also held a few Exhibitions mainly focusing on Bird Photography. He has currently worked on 'Wikiproject Lepidoptera' & 'WikiProject Birds' & contributed a lot to 'Tree of Life Wikiproject' of Wikipedia. He has contributed more than eight thousands of images (more than a thousand species) of birds, butterflies, plants etc. to Wikimedia Commons, Wikipedia & Wikispecies. He created google e-group i.e. 'Efloraofindia' in June' 2007, which is now devoted to creating awareness, helping in identification along with discussion & documentation of Indian Flora. He has build up efloraofindia website (which have more than 14,000 species with more than 3,50,000 pictures) by compiling and validating the data posted on efloraofindia e-group along with maintaining it. He has also been awarded with Wipro-NFS Sparrow Award for 2014. His web link.
He is currently working as a Scientist in Plant systematics and Genetic Resources division, Centre for Medicinal Plants Research (CMPR), Arya Vaidya Sala, Kottakkal, Kerala, India. His expertise in systematics, variability studies, conservation and mutation breeding of indigenous ornamental gingers under Dr. M. Sabu, Professor, Department of Botany, Calicut University, Kerala.  As a part of his research, travelled and collected plants from almost all the deep forests of South and North East India. He is well experienced in Herbarium mounting and processing and made thousands of herbarium specimens. He was worked as visiting Scientist in Chaliyam Forest Department, Calicut, Kerala for the identification and conservation of plants described in Hortus Malabaricus and Earth Trust Nilgiris (ETN), Nilgiri Biosphere Reserve, Nilgiri, Tamil Nadu for identification and conservation of rare and threatened medicinal plants used by Nilgiri Tribals. He is author of more than 40 research publications including one book, covering various subjects such as new species, new varieties, rediscoveries, new records, variability studies, horticulture, mutation studies, ethno-botanical studies, RET plants, conservation etc. He is the member of International Association for Plant Taxonomy (IAPT) and life member of Indian Association for Angiosperm Taxonomy (IAAT). He received the IAPT award (SLOVAKIA) and K S Manilal award (INDIA) for new taxa/discoveries/ reports in floristics in 2012.
.
Mayur Nandikar, Ph.D.
He is a Research Student working in Department of Botany, Shivaji University Kolhapur (2012). He is a naturelover who especially like to stay wild. He is also helping Efloraofindia on a difficult family of Commelinaceae.
Mohina Macker
.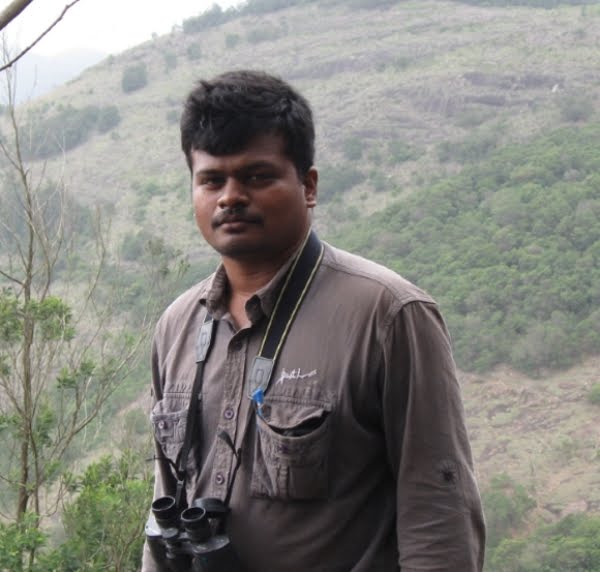 N. Muthu Karthick
He has expertise and research interests as a Field biologist having experience in working in hard field conditions and also in laboratory. He is looking for research in vegetation Ecology. He is now deeply involved & associated with Efloraofindia now & contributed a lot for its growth.
Nayan Singh
He is an IFS officer working as Chief Conservator of Forests and Field Director Satpura Tiger Reserve Hoshangabad M.P. He has been regularly contributing on Efloraofindia with his vast knowledge.
.
He is
presently working as Head, Department of Botany and Biotechnology 
I.B. (PG) College, Panipat, Haryana. He is a
 founder member of Association for Promotion of Plant Sciences. During his doctoral research, he worked on Floristic Diversity of 
 Morni Hills, a part of Siwalik range. Dr. Nidhan Singh is extending his work to detailed floristic analysis of entire Haryana state. He also becomes part of excursions of efloraofindia members, to different places in Western Himalayas.  He has 
recently 
co-authored a book on common garden plants. Besides, he is one of the Executive Editors of a peer-reviewed journal "PHYTODIVERSITY".
M.Sc., M.Phil, Ph. D is doctorate degree holder of botany from Madras University (1992). He explored the flora of Tirumala hills of Andhra Pradesh as a JRF. He worked on the Taxonomy and Karyomorphology of South Indian Orchidaceae for Doctorate programme.  He served as a scientist Herbal drug Lab of SPIC Ltd. Pharmaceutical R&D centre (1992-2005), undertook commercial cultivation of medicinal herbs. He is working as in plant taxonomist/ Pharmacognocist with Natural Remedies Private Limited R&D centre, Bangalore from the past 10 years. He is taking care of medicinal plant garden, herbarium, slide library and crude drug repository. He is having 10 research publications and contributed some chapters in 4 books. He also published a book on the botany, phytochemistry and Medicinal uses of 100 trees in Tamil
.
He had always been passionate about plants, which encouraged him to pursue his education in botany. He did his Bachelor's degree in Botany (Hons.) and Master's degree in Botany (with specialization in Cytogenetics, Radiation Genetics and Plant Breeding), from Ranchi University, Jharkhand. He joined the Wildlife Institute of India, Dehradun in August 2002, in AICOPTAX (All India Coordinated Research Project on Taxonomy) of Orchids' in various capacities. He concurrently pursued his Ph.D. from the Forest Research Institute University, Dehradun under the guidance of one of the topmost taxonomists and ecologists,  Prof. Dr. G.S. Rawat (WII). The title of his PhD thesis was 'Systematics and some aspects of Ecology of Orchids in Jharkhand State, India'. Following which he pursued his post-doctoral Research in India's first ever trans-boundary project called Greater Kailash Sacred Landscape Project, which is a collaborative project between India, Nepal and China. He was awarded the 1st prize for his presentation at Indian Subcontinent Regional Orchid Specialist Group meeting (Nepal, 2003) and the 2nd prize at the National Conference on Orchids (Bangalore, 2008). He is an avid traveller who loves to roam around in the Himalayas for exploring plants and other wildlife including birds, reptiles and amphibians. He is a plant explorer by nature and his prime research interest lies in plant systematics. He also is very keen in using molecular techniques for resolving taxonomic uncertainties in Orchids and other groups of plants (Primula, Ficus, Lillies, Pteridophytes and Palms). His other broad research interests include orchidology, phylogenetics, conservation genetics, population genetics, plant ecology, propagation and sustainable development. As hobbies, he pursues photography, trekking, gardening, botanical illustrations, carving, clay modelling, bird watching, music and electronics. In September 2011 he left India to join KFBG (Kadoorie Farm and Botanic Garden Corporation), Hong Kong as a Conservation Officer. Now he pursues his research on conservation of orchids in South Asian region especially, Indo-Burma Biodiversity Hotspot. So far, he has described nine new species of orchids to science and published around 60 reseacrh articled. He is also one of the members of IUCN-SSC Orchid Specialist Group of Asia and Orchid Trade sub-group. He is deeply committed, passionately involved & one of the foremost contributors to Efloraofindia Web pages:
http://www.flowersofindia.net/misc/credits.html,
http://www.facebook.com/profile.php?id=680375824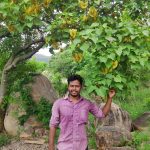 Paradesi Anjaneyulu

He is the son of Paradesi Ramanaiah and Paradesi Ramanamma from Kudumulavari Palli, Peddamandyam Mandal, Chittoor district, Andhra Pradesh, India. He has been awarded a doctorate of Philosophy in botany under the guidance of Prof. B. Ravi Prasad Rao at Sri Krishnadevaraya University, Anantapuramu, Andhra Pradesh. He has dedicated five years to Wild Ornamental Angiosperms of Andhra Pradesh- Diversity, Propagation and Conservation. He explored entire Andhra Pradesh through the covering different vegetation of 13 districts and selected 836 species as Wild ornamentals out of 3000+ Andhra Pradesh flora. He propagated 65 species through seed and stem cuttings, propagated species were planted at SKU Botanical Garden and given plants to Yogi Vemana botanical Garden, Kadapa and Andhra Pradesh Greenery Beautification Corporation, Vijaywada. 1500+ species were collected from Andhra Pradesh, Maharashtra, Gujarat, Tamil Nadu, and preserved at Sri Krishnadevaraya University herbaria. This work is funded by different State projects, that's the Andhra Pradesh Greenery beautification corporation (APGBC), Nagarjuna Sagar tiger reserve-Andhra Pradesh forest department(NSTR-APFD) and Horsley hills-APFD and one time Grant Project of Andhra Pradesh. Research work published in 17 articles at national and International Journals. For complete information https://www.researchgate.net/profile/Paradesi-Anjaneyulu/research
.
Prasad Kumar Dash, Ph.D.
An ecologist having specialization in taxonomy of lower plants. Recently he has started to document the higher plant diversity of Eastern Ghats and its ethnobotanical applications. Presently he is working in Vasundhara, an organisation in Orissa working on natural resource management.
 .
He is not a botanist by profession. Trekking is his hobby and most often he has been trekking in Sahyadri ranges. He developed this Flower hunting / flower watching as a hobby while trekking and started enjoying more. Treks started becoming more eventful as on each trek he was able to see some totally different flora (one which he had not encountered earlier). He do not consider himself technically strong but as a hobby yes, he enjoy photographing / identifying wild flora.
. 
Rajesh Sachdev
He is passionate about wildlife, to be precise the WILD FLORA. He got into this hobby in 2007 with bird watching and now he has focused to flora. He is presently working on documenting and mapping the FLORA of Matheran Hill Station in Indian state of Mahrashtra. He is equally concerned with the dwindling state of India`s natural heritage , it`s FORESTS. He study Indian policies and legalities of the country`s wildlife and environmental aspect. He believe that the generation next has capabilities to bring the lost charm of India`s natural heritage, its wildlife and the forests. By profession, he is in real estate; working as Marketing Professional and have experience of selling residential units from 2004 and onwards. It wont be wrong to say that he has sold or have got exposed to selling almost every part of Mumbai`s real estate market. But his core expertise lies within Thane to Badlapur belt which is emerging as the most sought after real estate destination in Mumbai Metropolitan Region. Presently he is employed by an established Marketing Consultancy firm as Market Analyst and he handles their marketing activities.
His facebook profile link is https://www.facebook.com/leopardguy
.
Raman Arunachalam
Bangalore Trees are his fascination, which he is trying to document. His site link.
.
Ritesh Kumar Choudhary, Ph.D. 
He is presently working as a Post Doc Fellow in the field of molecular systematics at International Biological Material Research Center, Korea Research Institute of Bioscience & Biotechnology, S. Korea. He earlier worked at Botanical Survey of India, Itanagar for Ph.D. on the 'Flora of Upper Siang district, Arunachal Pradesh'. Thereafter, he worked at School of Ecology & Conservation, GKVK, Bangalore on the bio-prospecting of secondary metabolites from plants. During these periods, he traveled a lot around North East India, Western Ghats, Andaman & Nicobar Islands and Western Himalayas. But his special interest still lies in the angiosperm flora of E. Himalayas. With him around, identification of North East plants has become easier on Efloraofindia. Alongwith that one gets to see a lot of interesting posts from him mainly from Arunachal Pradesh, Andamans, Himachal etc.
M.Com., BLISc.
A nature lover as well as plant enthusiast focusing neglected plants which having vital role in keeping stability of biodiversity.
Becomes officially as a school teacher since 1998 in an Aided Institution under Kerala State Board of Vocational Higher Secondary Education.
Author of field manual (series) 'Weedflora  An Illustrative Insight To Non Garden Floras Of Peninsular India'. 
Admin of:
Son of Lilly and Skaria (late).
Kerala native with wife Jency and two children.
.
He was a former Commercial Director in the Nepal Airlines Corporation, the national flag carrier, where he worked for over 38 years. He is very passionate  about plants and birds from an early age. After his retirement he has fully dedicated his time towards the photography of different plants specifically to the region he has travelled. He is very fond of travelling and has travelled to many places within Nepal and also out of the country. He is never seen without his camera and any tiny plant or flower he sees, he is engrossed in taking pictures of them. He has also created a dedicated page on Facebook viz. 'Flora of Nepal' as well as 'Birds of Nepal' which has more than 2000 followers and members. He wishes to spend his retired life travelling and collecting pictures and samples of plants wherever he goes.
He is from Mumbai-Pune. He has created Electronic Herbarium and digital database of Angiosperms of Mumbai. (thesis submitted to Mumbai University for Docterate degree). The databsae consists of 1252 plants of Mumbai with their digital images and interactive identification-  
http://iscmumbai.maharashtra.gov.in/floristic%20survey.html
. He has been regularly contributing on Efloraofindia with his vast knowledge.
.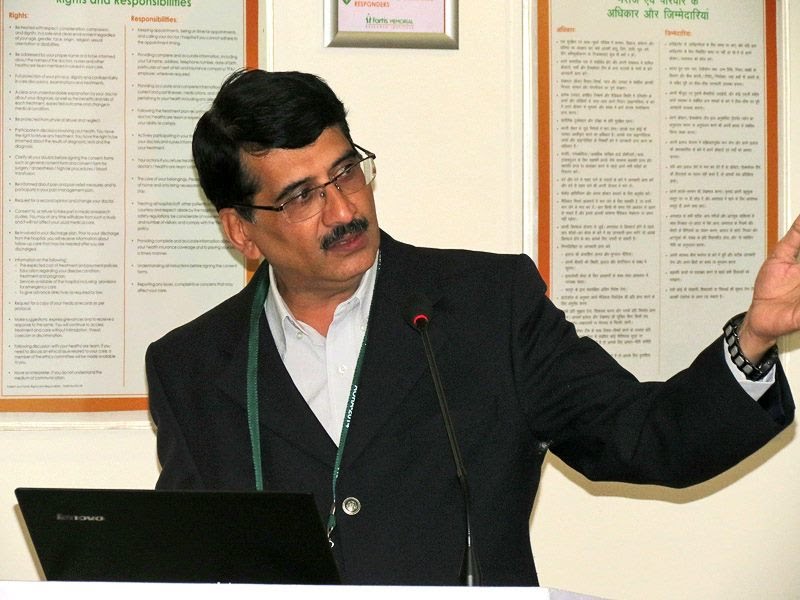 Satish Phadke, M.D.
Though Anaesthetist (Doctor) by Profession, he has been devoting regular timings since July'07. He has been almost a founding member of 'Indiantreepix' (now Efloraofindia) & his continued & consistent support/ guidance has brought 'Indiantreepix' to this stage of making it No.1 e-group in India. If we call him Mr. Dravid of Indiantreepix, it will be just right. He has enlightened us with around 50-60 families from time to time. And has developed a wonderful blog on different families of Indian Flora at: http://satishphadke.blogspot.com/. His contribution to Efloraofindia is immense.
She is from a very beautiful little town Sawantwadi, District : Sindhudurg, Maharashtra State. She did her M.Sc. in Botany from M.D, College Parel, Mumbai & B.Ed. from Gokhale College of Education Parel, Mumbai, Maharashtra. She is working as a Biology Teacher at S.V. S Vidyalaya Mangaon, Sindhudurg. She loves to take pictures & study wild plants with special interest in Orchids. She loves to explore forests in her area and also Himalayan area whenever possible & love to learn from everyone.
.
He worked on Family Euphorbiaceae of India and Flora of Andaman and Nicobar Islands. Also worked on Flora of Sikkim Volume 1 (up to Moringaceae) and Flora of Goa.
Present position:
Scientist – D, Botanical Survey of India, Kolkata
He is a Forest Officer of Govt. of Karnataka, presently working as the Deputy Conservator of Forests, Working Plan, Chikmagalur, Karnataka and currently associated with drawing up of Working Plans for certain Forest Divisions. The job revolves around assessment of growing stock of the forests, biodiversity status and to evolve suitable management practices for protection, conservation and sustainable utilization of forest resources. He is certainly blessed for having the opportunity to go around, explore and and to "know the unknown".
MD Research and Medicine is her avocation, done a lot of micro, macro , electron microscopy in past, and now studying Ethnobotany. Her motto is "Trees Are Our Mashima©"….. Photographing Trees of Calcutta is one of her ambitions esp tracking down and documenting trees that Benthill wrote about.
.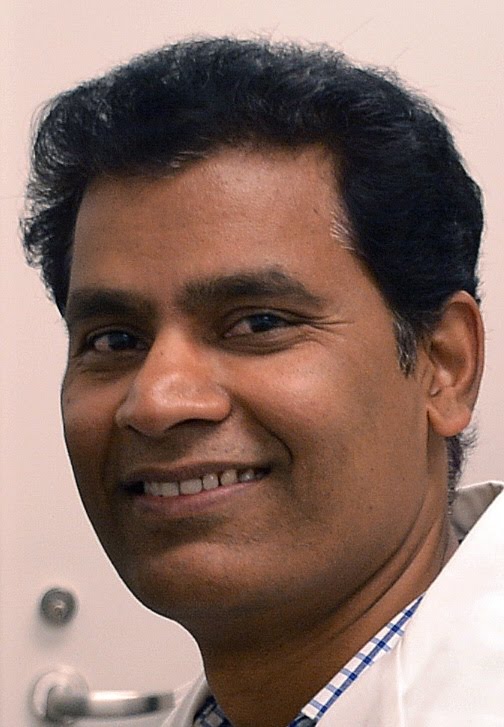 Vijayasankar Raman, Ph.D.
Dr. Raman is currently a Research Scientist at the National Center for Natural Products Research (NCNPR) in the University of Mississippi, USA. He received his doctoral degree from Manonmaniam Sundaranar University for his work "Floristic and ethnobotanical inventories of Tiruvannamalai district, Tamil Nadu". During his ten-year tenure at the Institute of Ayurveda and Integrative Medicine (previously FRLHT), he conducted extensive botanical surveys in different bio-geographic zones and vegetation types across India, and collected and identified a number of medicinal plant species. He has actively involved in the establishment of the National Herbarium of Medicinal Plants, a Repository of Botanicals and an Ethnomedicinal Garden at FRLHT, Bangalore. He has identified and authenticated several thousand herbarium specimens collected from across India; developed an image library of plants and digitized herbarium and raw drug specimens; and assisted in the development of a multidisciplinary database on medicinal plants of India. He actively involved in several ex situ and in situ programs for the conservation of medicinal plants in India. At NCNPR, he is responsible for identification and authentication of botanicals used as dietary supplements in the USA. He manages light microscopy and scanning electron microscopy labs as well as the repository of botanicals. He is also involved in the development of herbarium and medicinal plant garden at Ole Miss. He conducts GMP training on authentication of botanicals for the FDA inspectors. He has published a number of research papers and books, and also serves in the editorial boards of several peer-reviewed international journals. He is an active member and one of the major contributors of efloraofindia.
---