Giant Cane, Carrizo, Arundo, Spanish cane, Wild cane, Giant reed;
---
Arundo donax L. (?) from Hooghly:
Habit & Habitat :

tall grass, avg. 5 feet tall, leaves 40 cm x 3.8 cm approx.; a few at far end are more than 8 feet and with broader leaves; beside railway track
Date : 28/7/12, 9.10 A.M.

Place :
Balarambati (Hooghly)
---
The grasses there had no inflorescence at that time (yesterday), wish to keep it on my watch list..
---
This is Arundo donax. The most distinguishing vegetative character is the amplexicaul leaves (the leaf base circling the stem). This feature is not found in Phragmites.
---
I have read the "amplexicaul" feature of the Arundo donax leaves, though in Bengali, not the term itself, but the leaf base circling the entire internode area. But didn't know that Phragmites lacks this feature.
---
I have recorded "amplexicaul" feature of the Arundo donax leaves. I learn, from a Bengali booklet on grasses, the hollow stems of this grass are used to make flutes of snake-charmers and for children. I recorded these pictures in yesterday evening.
---
Attaching inflorescence of the same grass, same community, recorded yesterday.
I forgot my mission and meanwhile either the place was cleared by the Railway or the grasses were collected, leaving a few individuals only.
3 or 4 of those individuals are more than 10 feet high.
grass Arundo again? from Hooghly 15/11/12 sk2:
Found this grass beside a BALI-KHAD (don't know the English term, it is a medium to large water body created by evacuation of sands, long long ago). But BALI-KHAD is secondary, though it has a story, long long ago it belonged to my grandfather (maternal) whom, unfortunately, i never met.
The primary concern is the grass, Though it looked like images available of Phragmites karka in the net, yet i think it has amplexicaul leaves. The last three pics of inflorescence (with purplish spikelets) is from another individual, half km away from the first one.
Species : CONFUSED
H & H :
about 10 feet high, stem hollow, leaves avg. 60 cm x 5 cm, both sides glabrous
Date : 14/11/12, 12.01 p.m.
Place :
Hooghly
---
Yes, it is Arundo donax.
---
---
---
m_DSCN0008 seems to be Arundo donax
---
---
Grass id
–
Pl. ID the  tall grass at
Khanderi island, Alibag
:
#
(18.12.10, 4 pictures, 4 messages);
---
---
Seen this bamboo at many species
in Mahabaleshwar, MH in March 2020.
Not sure whether it is wild or cultivated.
Requested to please ID.
---
Check with Phragmites karka …
---
Phragmites karka ??
---
Not a bamboo. It is Arundo donax– the amplexicaul leaf base is the identifying feature
---
---
---
The plant uploaded seems to be Pleioblastus simonii variegatus
commonly known as variegated bamboo
---
Thanks for the suggested id.
---
Thanks … Your observation looks more closer. There are lots of variants of variegated bamboos commonly called variegated bamboos.
---
Isn't it Arundo donax var. versicolor,
---
There are several species of variegated leaf grasses including bamboos. But the amplexicaul leaf base clearly indicates that it is Arundo donax as suggested by ….
---
.
---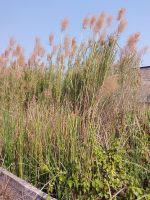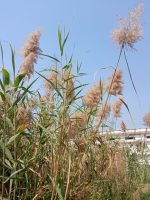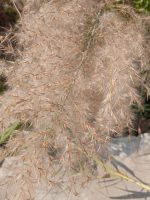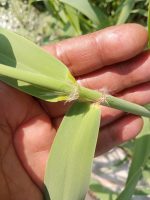 Hooghly 14Feb2023 surajit : Phragmites karka (Retz.) Trin. ex Steud.?: 6 high res. images.
I share images of a grass I came across
today (14.2.23), at a place near Dankuni, Hooghly.
It is around 10 ft.,
taller than 
Arundo donax
, that I recorded quite a few years ago, and the leaves and culms are narrower in this species.
Please, identify the species.
---
I guess ID is correct !
---
Amplexicaul leaf base is a character of Arundo donax and not in Phragmites.
Another way to differentiate is to check whether the hairs are on the lemmas (Arundo) or whether the hairs are on the rachis (Phragmites)
---
Thank you … for explaining the differences between the two species. Hope, someday I will find Phragmites karka!
---
References: