Yellow Trumpet Vine;
---
Images by Ranjini Kamath (ID by Kenneth), (Inserted by Gurcharan Singh & J.M.Garg) (Click link to see details).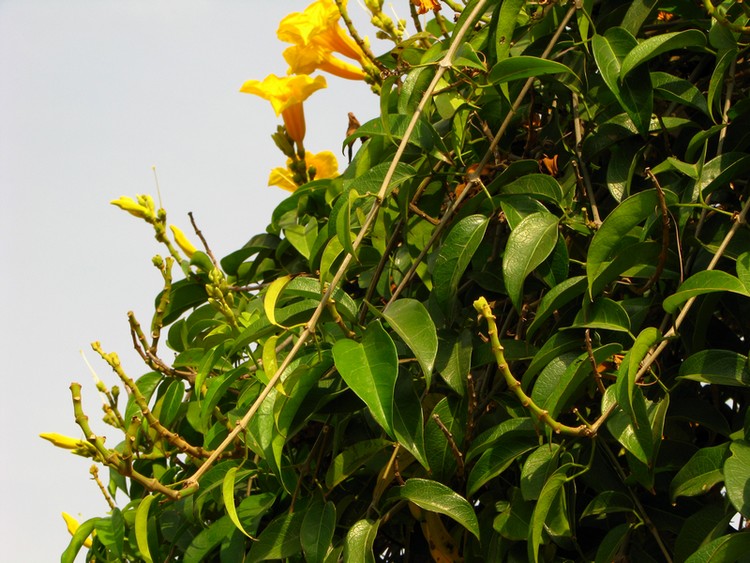 Climber for ID -110410-RK :  Attachments (4). 4 posts by 4 authors.
Do not know if these are half-opened or the other way…
Date/Time – 4th April 2010 around 9.15am
Location – Labagh Botanical Garden,Bangalore.
Habitat – Garden , Urban.
Plant habit – Climber.
Ht –
Leaves type –
Inflorescence –
Flowers size – 21/2 – 23/4.
Fruits type – Did not notice any.
---
Possibly Adenocalymna comosum.
---
The parts were having the milky I believe.
Seems to be a close relative of Allamada cathartica of Apocynaceae..
If the latex was absent..
Based on the calyx structure, an equal chance to any member of family Bignoniaceae.
Anyway.. The flowers are marvelous.!
---
This plant is indeed
Adenocalymna (Adenocalymma)
comosum,
Synonym:
Bignonia comosa
Family:
Bignoniaceae
Common Name:
Yellow Trumpet Vine
Origin: South America

I am adding
a link
 to see the photos of this plant in a different angle from yours.
---
Pics taken in Lalbagh, Bangalore on 04-04-2010 at 9.15am. Request ID.
---
Any possibility of Dolichandra unguis-cati of Bignoniaceae familly?
---
Could be a Bignonia species but not B.unguis-coti (wherein you can see three stipular hooks for climbing)
---
---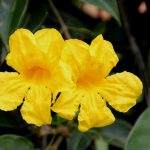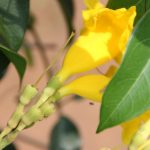 Adenocalymma comosum from Lal Bagh Bangalore-GS11012021-1
Adenocalymma comosum (Cham.) DC.
Photographed

from Lal Bagh,

Bangalore, 29-9-2015
---