Thelypteris prolifera

(Retz.) C.F.Reed, Phytologia 17: 306 (1968) as per

POWO

;

.


Ampelopteris prolifera

(Retz.) Copel.,

Gen. Fil. (Copeland) 144 144 1947

. (syn.

Abacopteris prolifera (Retz.) W.C. Shieh

;

Ampelopteris elegans Kunze

;

Ampelopteris firma

Kunze;

Aspidium proliferum (Retz.) H. Christ

;

Aspidium proliferum (Retz.) Hieron.

;

Cyclosorus prolifer (Retz.) Tardieu in Tardieu & C. Chr.

;

Dryopteris prolifera (Retz.) C. Chr.

;

Goniopteris meniscioides

Fée;

Goniopteris prolifera (Retz.) C. Presl

;

Hemionitis prolifera Retz.

;

Meniscium proliferum (Retz.) Sw.

;

Nephrodium proliferum (Retz.) Keyserl.

;

Phegopteris luxurians (Kunze) Mett.

;

Phegopteris meniscioides

(Fée) Ettingsh.;

Phegopteris prolifera (Retz.) Kuhn

;

Polypodium luxurians Kunze

;

Polypodium proliferum (Retz.) Hook.

;

Polypodium proliferum

Roxb. (ambiguous synonym);

Thelypteris prolifera Voster

;

Thelypteris prolifera (Retz.) C.F. Reed

);

.

Tropical & Subtropical Old World:

Angola, Assam, Bangladesh, Borneo, Burkina, Burundi, Cambodia, Cameroon, Central African Repu, China South-Central, China Southeast, East Himalaya, Guinea, Hainan, India, Jawa, Kenya, KwaZulu-Natal, Laos, Lesser Sunda Is., Madagascar, Malawi, Malaya, Maluku, Mauritius, Mozambique, Myanmar, Nepal, New Caledonia, New Guinea, Northern Provinces, Northern Territory, Pakistan, Philippines, Queensland, Senegal, Sri Lanka, Sulawesi, Sumatera, Taiwan, Tanzania, Thailand, Vietnam, West Himalaya, Western Australia, Zambia, Zaïre, Zimbabwe

as per

POWO

;
China (Fujian, Guangdong, Guangxi, Guizhou, Hainan, Hunan, Jiangxi, Sichuan, Yunnan), Taiwan, Sumatra, Java, Borneo, Sulawesi, Moluccas, New Guinea, Cambodia, Laos, Vietnam, Moluccas (Seram), Lesser Sunda Isl. (Lombok, Alor, Timor), peninsular Malaysia (Kinta River, Perak), Pakistan (Lahore, Hazara),

Jammu & Kashmir (Kashmir), India (Andhra Pradesh, Arunachal Pradesh, Assam State, Bihar, Chhattisgarh, Goa, Himachal Pradesh, ?Jharkhand, Karnataka, Kerala, Madhya Pradesh, Maharashtra, Manipur, Meghalaya, Mizoram, Nagaland, Odisha, Sikkim, Tamil Nadu, Tripura, Uttarakhand, Uttar Pradesh, West Bengal), Bangladesh, Sri Lanka, Nepal, Bhutan, Myanmar [Burma],

Philippines, Thailand (widespread), Australia (NW-Western Australia, N-Northern Territory, Queensland), New Caledonia, Senegal, Guinea, Bioko Isl. (Fernando Poo), Congo (Brazzaville), D.R. Congo (Zaire), Central African Republic, Burundi, Kenya, Tanzania, Zanzibar, Angola, Malawi, Mozambique, Zimbabwe, Zanmbia, Botswana, South Africa (Limpopo, Mpulamanga, KwaZulu-Natal), Swaziland, Madagascar, Mauritius
as per
Catalogue of Life
;
.
---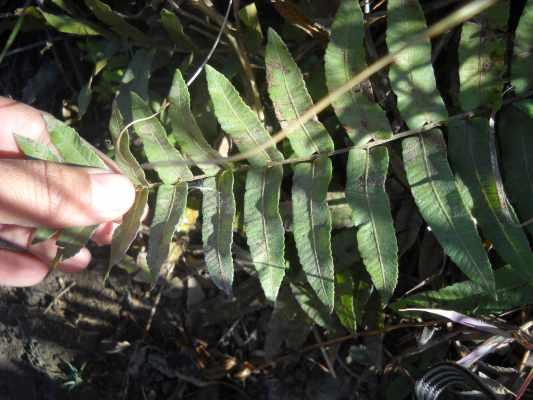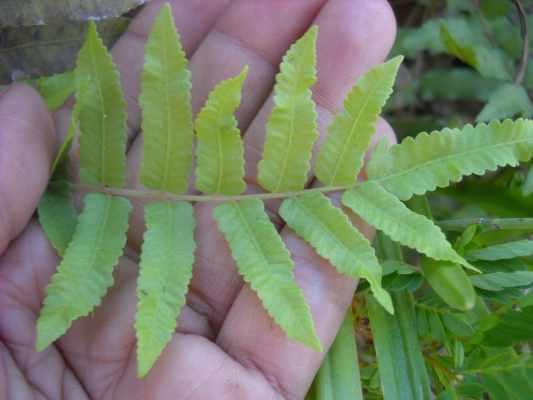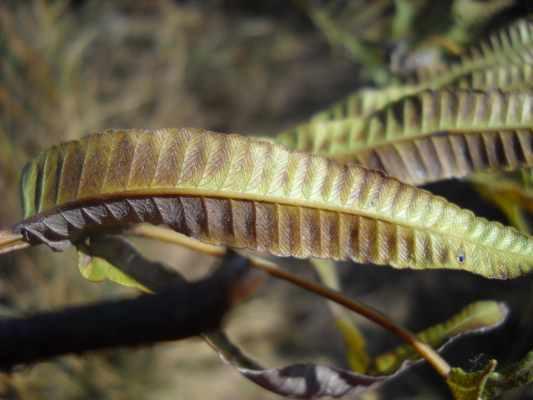 Fern for ID 110512JP01:
3 images.
After browsing through … Fern photographs, I too remembered that I had some photographs of an unidentified fern
the photographs are of a fern seen in dense colonies on the Banks of River Godavari in Nashik in December 2011
---
Diplazium sps.
---
Could you check if there are some axillary buds on the rachis?what is the shape of sori?
---
That's Thelypteris prolifera – we've had it several times before. Very common throughout India.
---
---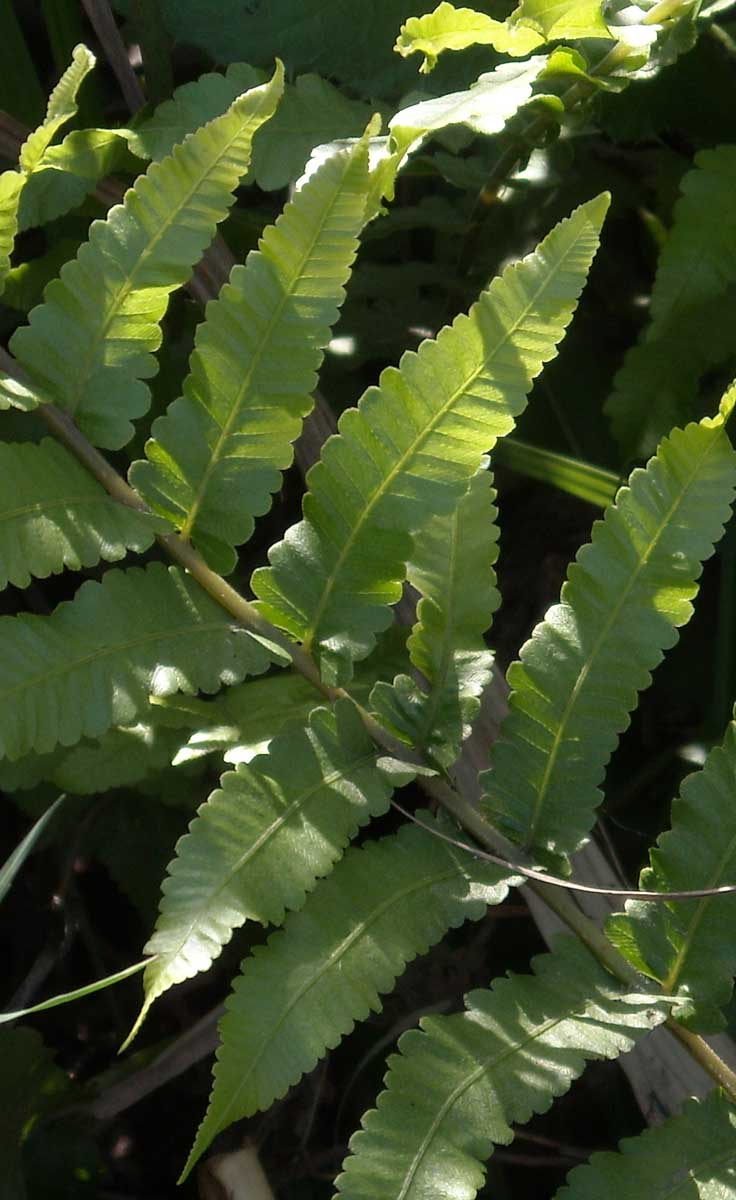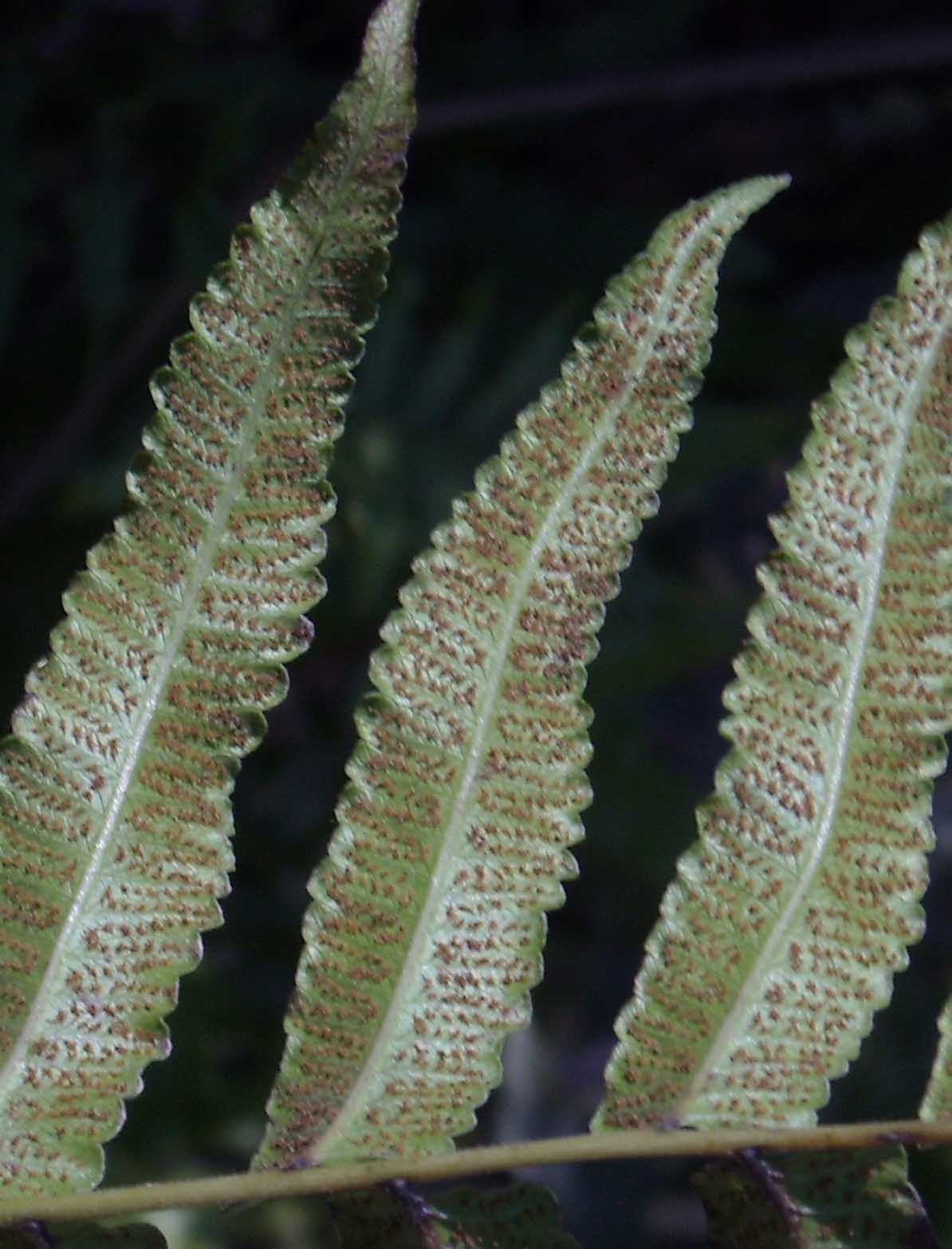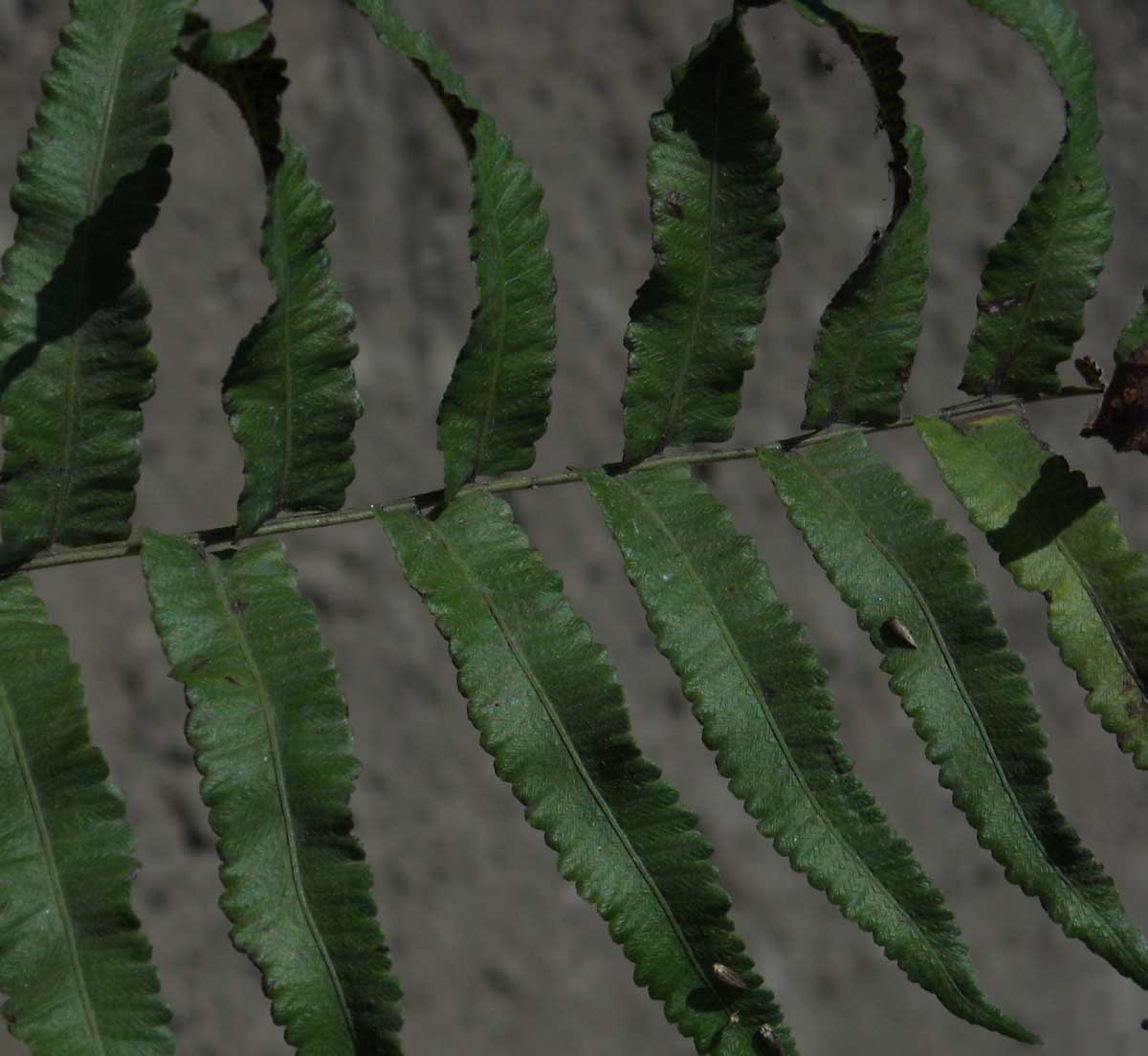 Fern for id From Panipat Near Yamuna River – efloraofindia | Google Groups : 7 posts by 3 authors. Attachments (3)
Fern for id please
Photo Taken on 13 March 2010
Collected from-
Yamuna River Bank

Panipat
Size- 1-2 m; leaves 50-60 cm
---
The fern in the attched photo is Dryopteris chrysocoma (Christ) C.Chr. from the family Dryopteridaceae. This a very common fern seen in damp places, mostly in North India. Please Validate my identification.
---
I was a bit confused so I didn't reply earlier. I was of the notion that Dryopteris should always have kidney shaped sori, on the basis of which I had considered … name as incorrect. But then … told me that its not necessary. So we both did some home work and came to the conclusion that the above plant cant be Dryopteris chrysocoma (Christ) C.Chr.. Infact D. chrysocoma does have a kindey shaped sori, but during mature condition the shape may not be clear.
Secondly, according to Jenkins (followed by Dr. S.P.Kullar), Indian Dryopteris genus has been grouped into 2 sub genus, 1. DRYOPTERIS and
2. NEPHROCYSTIS.
D. chrysocoma belongs to subgenus Dryopteris; Section Pandae, where the pinna margin is supposed to be deeply lobed to the costa, which is
not in the present case.
Description of D. chrysocoma also says that the indusium is reniform, persistent and they hardly shrivel. In the present picture the indusium seems to be missing!! and secondly the species is supposed to be distributed from 1700m – 3300m asl so it cant be a common fern distributed in North India.
But we cant conclude anything due to insufficient evidence.
So we hereby request members who are posting fern pictures, that
please do send the pictures of:
1. complete plant
2. one complete frond with the rhizome and stem
3. closeup of one pinna (both surface)
4. Closeup of pinnule (both surface)
5. Closeup of sori.
This will greatly help in the identification of the species correctly.
---
Over the chat in talk I told you that it is not necessary that Dryopteris sp will always have a reniform sori but you insisted on the matter. I also told you that I too had this idea before was proved wrong when I investigated Panchmari Reserve Forest and in Eastern Himalaya where I extensively worked on pteridophytes for nearly 1 month at each location which really turned my view for this plant group. You suggest me Ampelopteris prolifera but I told you that in Ampelopteris prolifera the leaflets are shortly petiolate (sometime regarded as sub-sessile) but in Dryopteris the base of the leaflet lay completely on the rachis (sessile) and I hope this is an universal character for this genus. I am extremely happy that my research on pteridophytes were worthy and proved me right in this occasion and many others. I am extremely thankful to you for further investigations and bringing the fact to me which proved my thought was right regarding the ID of the plant.
---
We (… and myself) had another round of discussion over this picture and we could conclude that this is infact Ampelopteris prolifera.
I would really request Vijay sir to give his views on the identification.
---
Two days before i got two books by Prof. S P Khullar on Ferns of Western Himalayas and after going through them i am fully agree with your id A. prolifera Syn. A. elegans, A. firma, Dryopteris prolifera,Thelypteris prolifera
this is the commonest fern in Haryana (except hilly areas of Morni region) as per my surveys of Ambala, Yamunanagar, Jind, Karnal, Panipat, Sonipat, Kurukshetra and Kaithal districts particularly along distributaries arised from Yamuna River
---
Thats a good coincidence. We used the same reference (two volumes) and just for the information of all, … has done his PhD under Dr. Khullar. This is supposed to be good book to refer to for northern India and western Himalaya.
---
---
PM 22-08-2018
: 7 posts by 4 authors. Attachments
(5
)

presenting few images of
Thelypteris dentata
( syn.
Pronephrium nudatum
) showing mature sori.
identified by … earlier
clicked at Panjab University

Chandigarh
22-08-2018
---
INCORRECT
Please note I certainly did NOT identify these photos as Thelypteris (Sect. Christella) dentata at all and have never seen them before.
The identification and supposed synonymy are a figment of imagination of the person posting the photos! Presumably he transferred a determination I might have made of a specimen of T. dentata to these photos.
Thelypteris (Pronephrium) nudata is also an entirely different species from both T. dentata and the present species.
The present photos are of
Thelypteris
(Sect.
Ampelopteris
)
prolifera
.
One cannot just transfer determinations to other photos and just imagine what they are.
---
Sorry sir
It was a blunder by me
T.dentata is entirely different and not a syn. of P.nudatum, u are right.
I clicked both the plants Thelypteris dentata and P. nudatum at the same locality so it was typing mistake.
The specimen u have identified was Pronephrium nudatum and I found a similar plant (in the pics) with fronds looking like P.nudatum and posted it as.
Thanks for the correct id 
---
References: