Mexico (Hidalgo, Oaxaca, Puebla, Queretaro, San Luis Potosi, Tamaulipas, Veracruz), Darjeeling (I), USA (I) (California (I))
as per
Catalogue of Life
;
C. fasciculatum and C. elegans are similar in appearance, the usual difference being cited as C. fasciculatum having larger flowers. C. elegans also tends to have flowers which are in the "pink" range while C. fasciculatum flowers are usually described as being scarlet.
The outer surface of  the calyx and corolla is also cited as being pubescent in C. fasciculatum but glabrous in C. elegans.
However C. fasciculatum cultivar "Newellii" (also as C. Newellii) is considered to be a hybrid between C. fasciculatum and C. elegans, most horticultural sources citing it as having glabrous corollas; true distinctions are unclear.
---
I hope this particular shrub is also found planted as ornamental in temperate areas of India and by photographs of ..; it is recorded
at Kodaikanal hills of TN.
Name: Cestrum fasciculatum Miers
Family Solanaceae
Native: Mexico
---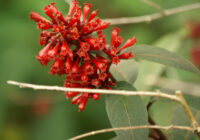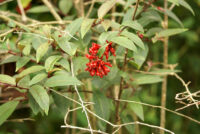 Cestrum fasciculatum from California-GS08112020-2
 : 1 post by 1 author. Attachments 
(2)
Cestrum fasciculatum (Schltdl.) Miers 
Syn: C. newellii (Veitch) Nivholson

Photographed from SFO 

Botanical Garden

, California, 16-7-2008
---