Image by (Aarti Khale – Identified by Gurcharan Singh & Satish Chile ), (Inserted by Bhagyashri Ranade)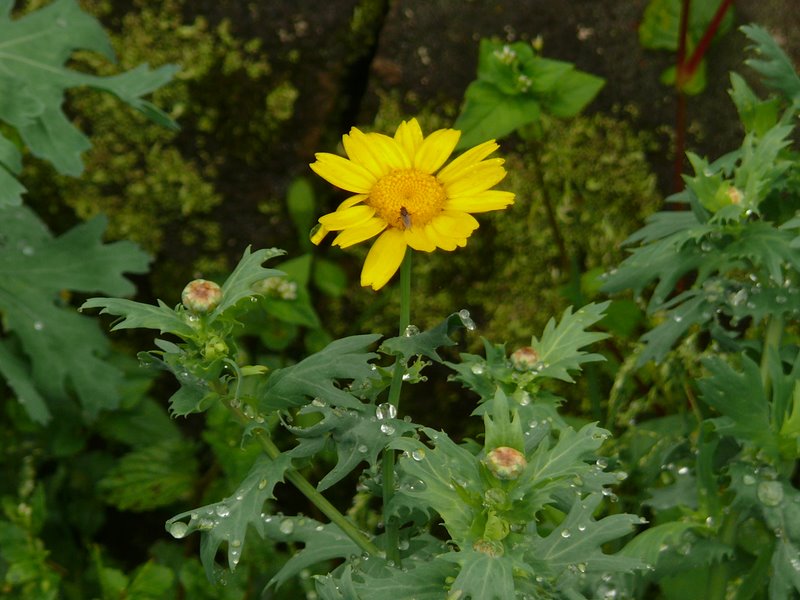 ---
Glebionis segetum (syn. Chrysanthemum segetum) is a species of the genus Glebionis, probably native only to the eastern Mediterranean region but now naturalized in western and northern Europe as well as China and parts of North America.[2][3][4] Common names include corn marigold and corn daisy.
Glebionis segetum is a herbaceous perennial plant growing to 80 cm tall, with spirally arranged, deeply lobed leaves 5–20 cm long. The flowers are bright yellow, produced in capitulae (flowerheads) 3.5-5.5 cm in diameter, with a ring of ray florets and a centre of disc florets.[5]
Glebionis segetum is widely naturalised outside of its native range, colonising western and central Europe with early human agriculture; it can be an invasive weed in some areas.
(From Wikipedia on 5.1.16)
---
Date/Time : 23rd of October, 2008/ 10.59 am.
Location Place : Kodaikanal … Altitude : 2100 meters … GPS : 
Habitat : Garden … Type : cultivated
Plant Habit : Herb … Height : small plant … Length : 
Leaves Type :  … Shape : as seen … Size : 
Inflorescence Type :  … Size : 
Flowers Size : about 2 inches … Colour : Yellow … Calyx :  … Bracts : 
Fruits Type :  … Shape :  … Size :  … Seeds : 
Other Info :
Fragrance : did not smell …  Pollinator :  …  Uses :  
Is it Chrysanthemum?
---
I think this is not Crysanthemum sp this is variety of Sunflower or Helianthus sp.
---
It is most probably Chrysanthemum segetum
---
Thank you Sir I was not atall aware of this Chrysanthemum species ….hence it fooled me and I said it looks like sunflower. thank you sir for updating me.
---
This seems to be Chrysanthemum segetum.
---