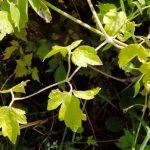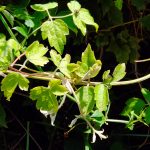 I'd requested 13
: 2 high res. images.
Location: Rajouri, j and k
---
No flowers yet ? Looks like Clematis sp.
---
Not yet!
---
I think this is cardiospermum sp?
---
Yes looks like. If you have something in mind do not hesitate to
mention it at the beginning !
---
What are the species of Clematis reported from your area?
---
Clematis montana in kashmir valley
---
Clematis montana, C. grata, C. gouriana, C. connata are very common in Kashmir valley
Of the two possibilities on leaflet shape, this looks C. grata (leaves pinnate) as C. montana has ternate leaves.
---