Crawfurdia speciosa Wallich, Tent. Fl. Napal. 64. 1826. (syn. Gentiana kingdonii C. Marquand; Crawfurdia wardii C. Marquand.);
Showy Gentian Vine; 
---
Images by Tanay Bose, inserted by Gurcharan Singh (Click links to see details).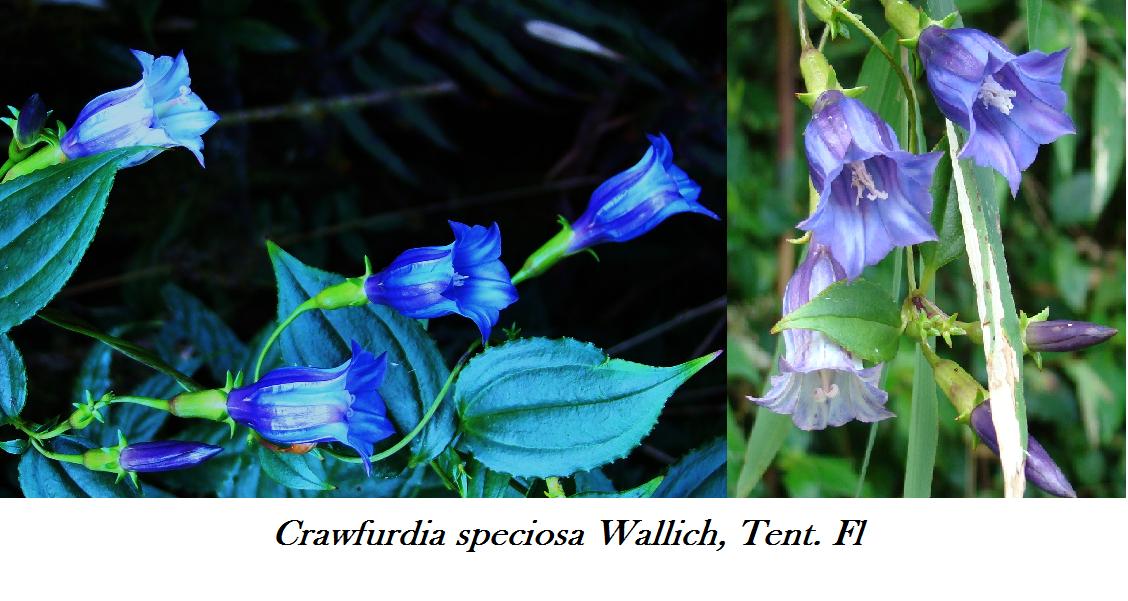 Crawfurdia speciosa : 1 post by 1 author. Attachments (1).
Name:
Crawfurdia speciosa
Wallich, Tent. Fl
Family: Gentianaceae
Date/Time- November 2009
Location- Place, Altitude, GPS- Rishap/8500ft
Habitat- Garden/ Urban/ Wild/ Type- Wild
Plant Habit- Tree/ Shrub/ Climber/ Herb- Annual/ climbing plant
Height/Length- 4.5-5 meters
Stem- Stems twining, terete, glabrous, internodes 5-13 cm. Petiole 5-7 mm
Leaves Type/ Shape/ Size- leaf blade ovate, 4-7 × (1.5-)2-3 cm, leathery, base rounded, margin crenulate, apex acuminate, veins 3-5.
Inflorescence Type/ Size- Inflorescences 1-flowered or cymes. Pedicel 1-6 cm; bractlets 1 pair, lanceolate, less than 10 × 2 mm
Flowers Size/ Colour/ Calyx/ Bracts- Calyx campanulate; tube 1-1.2 cm, apex with a transparent intracalycular membrane, entire or less often split on 1 side; lobes triangular, 2-3 × 1-1.5 mm, apex acute. Corolla blue-purple to purple, campanulate, 4-4.5 cm; lobes broadly ovate-triangular, ca. 3 × 5 mm, apex acute; plicae semiorbicular to truncate, oblique, ca. 1 × 3-4 mm, margin crenulate. Stamens inserted at middle of corolla tube; filaments linear-subulate, 1-1.3 cm; anthers sagittate, ca. 6 mm. Nectaries narrowly ovate. Style linear, ca. 8 mm including linear stigma lobes
Fruits Type/ Shape/ Size Seeds-  Berry 32-60 mm long, 30-45 mm in diameter, mammose, the basal protuberances 3 or 5, orange, shiny.
Other Information like Fragrance, Pollinator, Uses etc. Capsules dark brown, ellipsoid, compressed, 2-3 × ca. 1.2 cm, included in corolla to exserted; gynophore 1.5-3.5 cm. Seeds brown, discoid, ca. 1.5 mm in diam., broadly winged. Fl. and fr. Sep-Dec.
---
References:
Indian Gentianaceae: A Check-list 

By Sunita Garg

 (1988- Crawfurdia speciosa Wallich, Tent. Fl. Napal. 64. 1826. (syn. Gentiana kingdonii C. Marquand; Crawfurdia wardii C. Marquand.; Gentiana speciosa (Wall.) Marq.);