Cucurbitaceae Week: Cucurbita moschata cultivars:
Here are some important cultivars of Cucurbita moschata photographed from California
---
very nice, top ones from california…ok, are butternut squash.. loce them baked or in our Indian style curry…
but those from delhi have a different skin coloration and blotches and shape…
so the genes and mRNA for shape and skin must be different, yet is the the taste and the pulp same?
OR IS THE diagnosis based on the stalk and its insertion only?
---
Yes … It should be C. moschata only. In addition to fruit shape, pedicel tip, the calyx lobes are also expanded (foliaceous).
This should be Kashi phal or Halwa Kaddu
---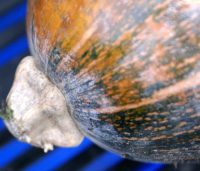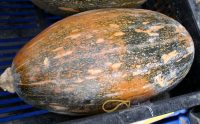 Elusive Petha and Kaddu in India: thanks Ushadi for initiating my fresh visit to Sabzi mandi:
Having seen so many cultivars of Cucurbita maxima, C. moschata and C. pepo in California, and common names pumpkin, squash and gourd being so interchangeably used for any of these, I found the same confusion regarding Indian names Petha, kaddu and others being used in local markets.
The comments yesterday by … about Kaddu fruits uploaded by me prompted me to make a revisit to the Keshavpur Sabzi mandi in our neinghbourhood (a big mandi in West Delhi) today morning. Luckily I could locate all the three types of so called petha in the market. One is very distinct especially when you attach Agra before it, the Ash gourd or white pumpkin, commonly used for making sweet.
---
In Hindi it is called kaddu or Kashiphal.
References: