Cyrtomium caryotideum (Wall. ex Hook. & Grev.) C. Presl
,
Tent. Pterid. 86, pl. 2, f. 26 86 1836
. (Syn:
Aspidium caryotideum Wall. ex Hook. & Grev.
;
Aspidium falcatum var. caryotideum (Wall. ex Hook. & Grev.) Baker
;
Cyrtomium caryotideum var. attenuatum T. Moore
;
Cyrtomium caryotideum f. attenuatum (T. Moore) Ching
;
Cyrtomium caryotideum f. hastosum (H. Christ) Ching
;
Cyrtomium falcatum var. caryotideum (Wall. ex Hook. & Grev.) Bedd.
;
Dryopteris caryotideum (Wall. ex Hook. & Grev.) Underw. ex A. Heller
;
Polystichum caryotideum (Wall. ex Hook. & Grev.) Diels
);
.
Pakistan to Temp. E. Asia and Philippines, Hawaiian Islands:
Assam, China North-Central, China South-Central, China Southeast, East Himalaya, Hawaii, Japan, Korea, Myanmar, Nepal, Pakistan, Taiwan, Tibet, Vietnam, West Himalaya
as per
POWO
;
Dwarf holly fern;
.
---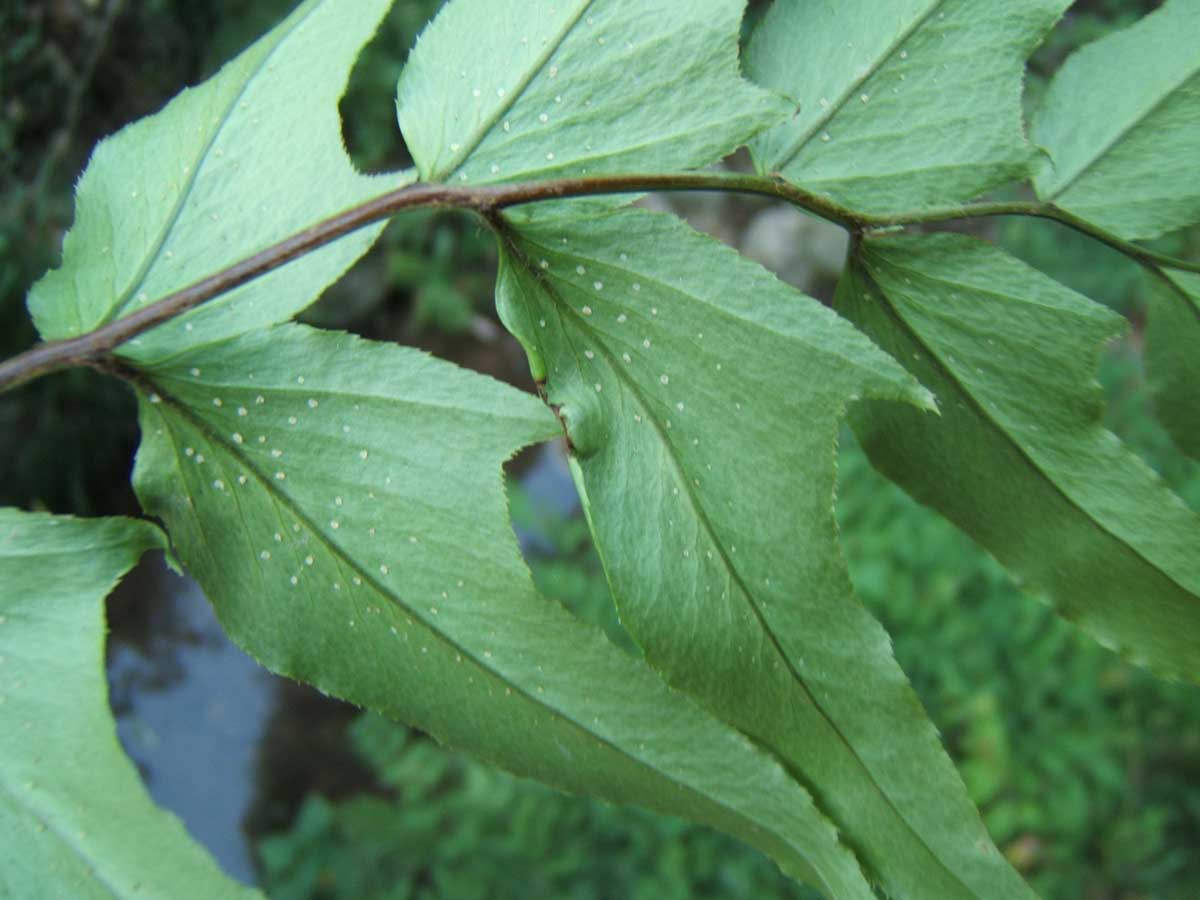 Fern From Kandaghat Solan – efloraofindia | Google Groups:
Cyrtomium caryotideum from Karol Gufa (Pandav Gufa) Kandaghat Solan Himachal Pradesh
---
its is undoubtedly Cyrtomium caryotideum (Wall. ex Hook. et Grev.) C. Presl. from the family Dryopteridaceae commonly known as Dwarf holly fern. Do you have the photo of the complete with you if you have can you kidly post it so that we all can see!!
---
---
Lower Plants of Chakrata: Cyrtomium sp from Chakrata:
Cyrtomium sp from Chakrata
May be Cyrtomium falcatum
pls validate
---
IT IS CYRTOMIUM CARYOTIDEUM
---
Cyrtomium caryotideum. Sorry, just seen it as I am now coming down from 8 days trekking in the Annapurna Himal.
---
I've just seen the comment that it may be C. falcatum – but please note, as long since published by Prof. Khullar and I and in much international literature, C. falcatum does NOT occur in India – it is a native of Japan and E. China – occasionally grown in pots in the old ferneries in S. India, but nowadays hardly so. We have corrected this idea so many times! I think it better that people need to look up the authoritative literature before going back to the same old chestnuts! Surely Khullar's W. Himalayan book and papers, at least, must be well known here?! (if not my book on taxonomic revision of 300 species). Becoming familiar with the main standard literature of the region is so very important and can't really be side-stepped merely by having photos identified for one.
But I agree if people are not specialising in ferns it usefully saves time by having them determined for one.
---
---
Location
: Godawari

Botanical Garden

, Nepal 
---
Cyrtomium caryotideum – a well known native species that occurs nearby on walls in Godavary village and in lower Phulchowki Darrah.
---
Thank you …!
Cyrtomium caryotideum (Wall. ex Hook. & Grev.) Presl
Nepali Name : काली निउरो Kaalee Niuro 
---
Kalee niuro??? I rather doubt that. I'm almost sure it has no local name. I do think the application of Nepalese names you sometimes give is often a bit unexpected and different from usual.
Who would give it a name and from where, one wonders?  What does Kalee mean?  Could it be a confusion with Kalo niuro?
Would be good to use the standard international authority abbreviations- as there were two Presl authorities – this is the son, C.Presl. 
---
it is in the book "A Compendium of Medicinal Plants in Nepal"
published by WWF/IUCN.

By the way Kaalee / Kaalo both mean Black. 
---
Yes, this is inaccurate and merely an improperly researched mistake, as I suspected immediately I saw it.  That name refers properly only to Tectaria coadunata. That medicinal book is seriously careless and inaccurate with very poor quality input, as I think I mentioned before – and is rather typical of a lot of the publications in that field on usage etc. It is not the publisher you need to be impressed by- it is a question of who provided the data and how well they researched it and in that field it is frequently not at all well!
I think it best not to just follow such things and repeat it on the website – after all there is no need to.
---
Very difficult for a lay person like me !
---