---
Derris cuneifolia Benth.
(Nepal to China (Guangdong, S. Guangxi) and Peninsula Malaysia, Sulawesi: 
Assam, Bangladesh, Cambodia, China Southeast, East Himalaya, Hainan, India, Laos, Malaya, Myanmar, Nepal, Sulawesi, Thailand, Vietnam 
as per 
POWO
)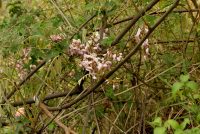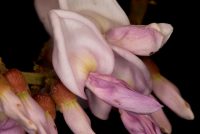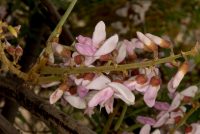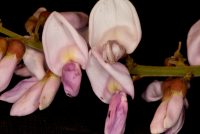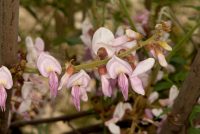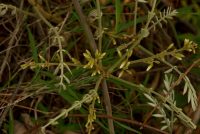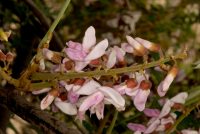 ---
---
---
.
Sanjappa (1992) have mentioned presence of the following species of Derris in India:
Derris acuminata Benth. [vars. acuminata, sikkimensis]
D. andamanica Prain
D. benthamii (Thwaites) Thwaites [vars. bentamii, wightii]
D. brevipes(Benth.) Baker [vars. brevipes, coriaccea]
D. canarensis (Dalzell) Baker
D. cuneifolia Benth. [vars. cuneifolia, longipedicellata] (

Derris

cuneifolia

var.

cuneifolia

Benth.

=

Paraderris cuneifolia

(Benth.) R. Geesink)

D. elegans Benth. [vars. elegans, vestita]
D. elliptica (Wall.) Benth. [vars. elliptica, chittagongensis]
D. hainesiana Thoth.
D. heyneana (Wight & Arn.) Benth.
D. kanjilalii K.C. Sahni & H.B. Naithani
D. lushaiensis Thoth.
D. macrocarpa Thoth.
D. marginata (Roxb.) Benth.
D. monticola (Kurz) Prain
D. ovalifolia (Wight & Arn.) Benth.
D. pseudorobusta Thoth.
D. robusta (DC.) Benth.
D. scandens (Roxb.) Benth. [vars. scandens, saharanpurensis]
D. secunda Baker
D. thothathrii Bennet
D. trifoliata Lour.
Note-
Derris ferruginea is taken as D. elegans var. vestita in Sanjappa (1992) which is now a distinct species.
Derris microptera is taken as a synonym of D. acuminata in Sanjapa (1992) but it is now a distinct species.
Sanjappa, M. 1992. Legumes of India. Bishen Singh Mahendra Pal Singh, Dehradun.
---
| | | | | |
| --- | --- | --- | --- | --- |
| Binomial | Habit | Notes | Ref. | Distrib. |
Derris
benthamii (Thw.) Thw. var.
benthamii

Climber

Western Ghats,
Evergreen Forests
Flora of Tamil
Nadu, VOL. I, 1983; Thothathri, 1961
Theni,
Tirunelveli

Derris benthamii

(Thw.) Thw. var. wightii (Baker) Thoth.

Climber

Western
Ghats, Evergreen Forests
Flora
of Tamil Nadu, VOL. I, 1983; Gamble, 1957

Tirunelveli

Derris brevipes

(Benth) Baker var. brevipes

Shrub

Western
Ghats, Evergreen Forests
Flora
of Tamil Nadu, VOL. I, 1983
Coimbatore,
Dindigul,  Nilgiri, Theni, Tirunelveli

Derris brevipes

(Benth) Baker var. coriacea Baker 

Shrub

Western
Ghats, Evergreen Forests
Flora
of Tamil Nadu, VOL. I, 1983; Thothathri, 1961
Dindigul,
Nilgiri

Derris canarensis

(Dalz.) Baker

Shrub

Western
Ghats, Moist Deciduous Forests
Flora
of Tamil Nadu, VOL. I, 1983; Fyson, 1932

Madurai

Derris scandens

(Roxb.) Benth

Climber

Plains
to Low Altitude
Flora
of Tamil Nadu, VOL. I, 1983
All
districts

Derris thothathrii

Bennett 

Climber

Western
Ghats, Moist Deciduous Forests
Flora
of Tamil Nadu, VOL. I, 1983; Thothathri, 1961
Coimbatore,
Dindigul

Derris trifoliata

Lour.

Climber

Plains
especially Coast
Flora
of Tamil Nadu, VOL. I, 1983, Thothathri, 1961; Matthew, 1983
Chennai,
Coimbatore, Cuddalore, Kanchee puram, Madurai,
Ramanatha puram, Thanjavur
---