Dendrobium phalangium 
Schltr., Fl. Schutzgeb. Südsee Nachtr.: 154 1905. (syn:
Diplocaulobium phalangium
(Schltr.) Kraenzl.);
.
Papua New Guinea as per
POWO
;
.
---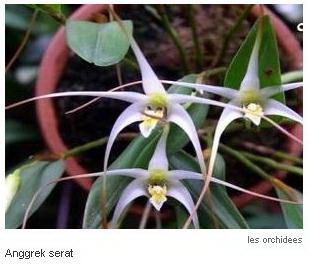 Indonesian Orchid
1 image.
I have a picture of my colleague's orchid which was found
in Papua.
I want to know the name.
---
can you share a better (high resolution) picture please?
---
Genera= maybe Diplocaulobium
---
I was thinking of some Dendrobium, but realised that it have been separated out of Dendrobium as Diplocaulobium !!
Diplocaulobium validicolle most probably!!
---
Just got a reply from Dr. Andre from Royal Botanic Gardens Kew.
This could be Diplocaulobium phalangium.
---
I can agree with this, Diplocaulobium phalangium.
---
---
.
References: POWO  Catalogue of Life  The Plant List Ver.1.1  WCSP