Tamil: Karimaram  Malayalam: Kari  Kannada: Kare mara
---
Dioecious trees, to 15 m high, bark 5-6 mm thick, greenish-black, smooth; young shoots pubescent. leaves simple, alternate, bifarious, estipulate; petiole 8-14 mm long stout, grooved above, rugose, glabrous; lamina 7-15 x 2.5-5 cm, oblong or elliptic-oblong, base acute, attenuate, cuneate or obtuse, apex obtusely acuminate, margin entire, coriaceous, glabrous when mature, lateral nerves 9-11 pairs, slender, pinnate, faint, intercostae reticulate, obscure. Flowers unisexual, pale yellow; male flowers: 7-8 mm across, sessile, in dense tawny tomentose, axillary fascicles; calyx 5 mm long, tomentose; lobes 5, ovate, acute or subobtuse; corolla urceolate, more than twice as long as the calyx, fulvous-hairy outside; lobes 5, ovate, acute; stamens 10, in unequal pairs; filaments glabrous; anthers lanceolate, acute; female flowers: 10-12 mm across, sessile, 2-10 in tawny tomentose, axillary fascicles; calyx hairy on both side; lobes 5, ovate, acute, margin reflexed; staminodes 4 or 5; ovary superior, tomentose, 4-celled, ovules 1 in each cell; style 2-5, slender, tomentose; stigma hairy. Fruit a berry, 2.5 cm long, conical, green; calyx flat or shallowly cupuliform, the lobes triangular with reflexed margins; seeds 3-4, usually compressed; endosperm ruminate.
Flowering and fruiting: April-March
Evergreen, semi-evergreen and moist deciduous forests
Peninsular India (Endemic)
---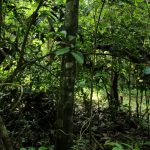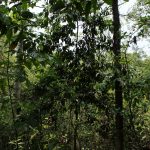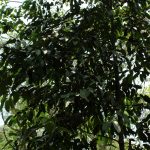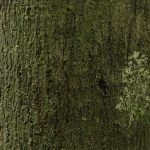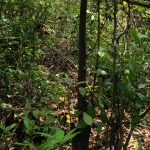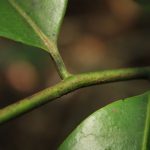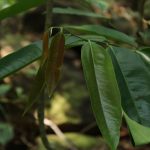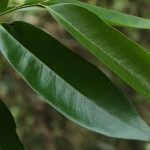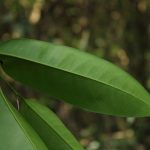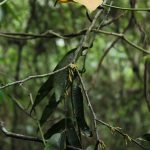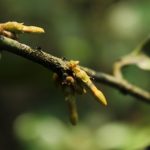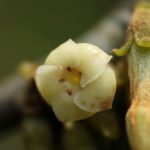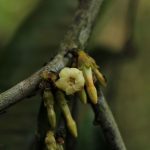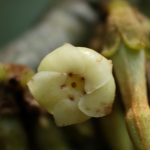 306 ID wild tree
:
Please ID wild tree (specimen was sheds flower),
Location: near Reserve Forest, Chathamattom, Ernakulam District, (Kochi) Kerala PIN:686671

Altitude: 1400fsl

Flower date: 31.03.2022, 11.55am
Habitat: wild, moisture, shady

Plant habit: tree, erect, branches, hard woody stem 30 inches base circumference, rough black bark, long lasting

Height: 12 meters
Leaves: alternate, ovate/oblong, apex, glossy, greenish purple young shoot, size up to:16×5cm

Flower:  blooming at night; sheds early morning, axillary racemose, clustered, diameter:07mm, off-white, good fragrance

Fruit: drupe ovoid, green into orange, size:05×3cm, edible
Seed: 
Camera: CANON EOS1500D +rr
---
Diospyros candolleana….?
---
Great dear …, yes, it is Diospyros candolleana, thank you very much for ID my plant,
---
Please compare the characters with the specimen before the final conclusion ..
---
Thank you very much for the message. My plant's flowers are very close to this screenshot at Kew Science, but not familiar with fruits, only saw a ripened fruit in orange colour at very height in previous year,
---
Probably Diospyros candollena
---
.
---
Diospyros candolleana Wight
: Attachments (5). 3 posts by 2 authors.
Diospyros candolleana
wight seen last week
at Amboli, Maharashtra
, not seen this so far in Mumbai !. 
---
Thanks for sharing
I had posted a Diospyros from Amboli in Jun 2010. It was IDed as Diospyros nigrescens.
will you please compare and comment on it.
---
Yes …, in fact I recollected your posts when I saw this species since there was a along discussion on the same. On relooking at the pics I feel there is a difference and probably our final conclusion was correct. If possible I will get this verified by …
---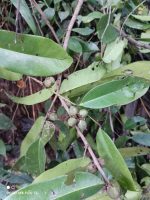 ID KZD 07/23
: 1 image.
Please identify this
large shrub
from Kozhikode in Kerala.
4/11/23
---
Diospyros candolleana Wight [Ebenaceae].
---