---
---
Eulophia explanata Lindl., Gen. Sp. Orchid. Pl.: 180 (1833).
Synonyms:
Graphorkis explanata (Lindl.) Kuntze, Revis. Gen. Pl. 2: 662 (1891).
Lissochilus explanatus (Lindl.) Schltr., Repert. Spec. Nov. Regni Veg. Beih. 4: 160 (1919).
Distribution: Himalaya to India
---
Nice Presentation again
---
.
---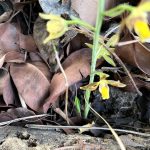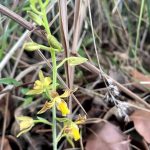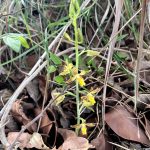 ID Request – 270521AS01- Orchidaceae maybe a sp. of Habenaria?
: 3 images.
Could you please help me identify which plant is this?

——————-

Date/Time- 26th May 2021, 6:15 pm

Location- Reni Pani Village, near Satpura National Park, Madhai. 350 m
Habitat- Wild

Plant Habit- Small herb with yellow flowers with red streaks, found in humus rich moist soil.

Height/Length- about 8.5 cm
Leaves Type/ Shape/ Size- Not visible
---
Eulophia explanata Lindl. ??
---
Does seem very similar to what I have seen. Thanks for IDing it!
---
Thanks, …, for id as Eulophia explanata
---
Very nice to see this plant after so long. This is Eulophia explanata.
---
Thanks everyone! I was reading about it and it says it is usually found further north. Surprised to find it in MP at about 350m elevation.
---
It is known in Central India and I have also seen it in Bihar, Jharkhand, Chattishgarh and Orissa. Further south I haven't heard of it.
---