---
---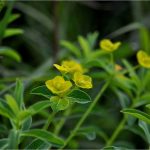 Dachigam, J&K Flower ID request: 28May12 – SJ 1: 2 images.
Would appreciate the ID of this flower taken by my brother at Dachigam WLS, J&K on 20th May 2012.
---
Some Euphorbia sp.
---
May be Euphorbia cornigera 
---
Or perhaps E. cognata now correctly E. cashmeriana, since leaves appear entire.
---
Not aware of the local species but the Cyathium like flowers tell it to be from Euphorbiaceae
---
i think if spines is prominent than E.milli may be.
---
E. millii is a totally different plant, being an undershrub, more or less woody and cyathium enclosed by showy bracts. This one is a herbaceous plant, common in Dachhigam.
---
.
---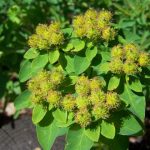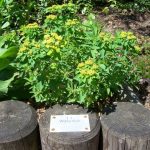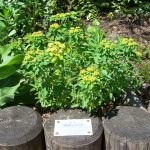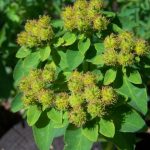 Wolfsmilch (Euphorbia) from Blindengarten in Bremen for ID 130611NB2:  in the garden for blind in Bremen I saw this plant. Fotos taken on 1.6.11. The nameplate says it is Wolfsmilch (Euphorbia). I have Wolfsmilch in my garden as weed and that looks different.
Is this really Wolfsmilch (Euphorbia)? Never seen flowers with red "tentakel". If these fotos are not enough shall try to get more fotos in the next days.
---
This is a Euphorbia species.
---
.
---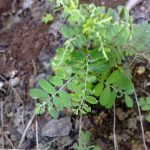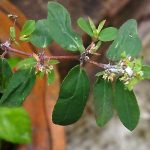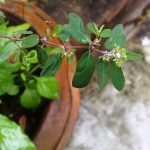 efloraofindia:"For Id 18092011MR1'' plant with green berry like fruits Pune:
Request for identification
Location-Place, Altitude, GPS-

Pune
Habitat-
Garden
/ Urban/ Wild/ Type-Wild
Plant Habit-Tree/ Shrub/ Climber/ Herb- plant
Height/Length- about a foot
Leaves Type/ Shape/ Size- green
Flowers Size/ Colour/ Calyx/ Bracts- look light orange
Fruits Type/ Shape/ Size Seeds- green berry like fruits

Is the plant in pic unknown2 the same as unknown and unknown1? leaves look similar but color of stem in unknown2 is red
---
I think the first two pictures and last (3rd) picture belongs to different species?
---
Are the first 2 pictures of Purslane and the last Phyllanthus sps
---
The plant one in the last picture is Phyllanthus sp. Do you have a picture of the first plant in which the tip of the branch in focus? Kindly upload pictures of different species in different threads.
---
I know we have to post different sp in different threads but the plant in the last picture looked similar to the other plant and I wanted to be sure that it is so. I went to take pic of the plant that I last photographed but unfortunately somebody had trampled upon but I could get a close up of similar plant near it I hope it is of help
---
I think this belongs to the family Euphorbiaceae.
---
After you identified the plant I looked up the net. Can it be Spotted Spurge: Euphorbia maculata
---
just out of curiosity how do you experts identify these innumerable plants so easily ? Do you know them by heart or is there some method of arriving at the correct id?
---
Your id may be correct. Please check the following link for a nice picture of Euphorbia maculata. upload.wikimedia.JPG
Would it be possible for you to get a picture with inflorescence and flowers in focus.
---
I have tried to get pics again but this is of a nearby plant to the existing. Someone very unkindly has uprooted the plant in the pot along with this plant and has stolen the pot. It is terrible what people do I hope it helps looks quite similar to the link you have kindly provided. But I have so little knowledge. This does not show berry like fruits yet
---
Now, with these clearer pictures, I think this could be Euphorbia hypericifolia (Syn: Chamaesyce hypericifolia) of Euphorbiaceae family.
…, please validate the same.
---
… oh yes, … Euphorbia hypericifolia (syn: Chamaesyce hypericifolia) referring to the new set of images … a1.jpg AND 190920111752.jpg
In the set of images posted initially in the thread, in the third picture unknown2.jpg – seems to me a different plant in the foreground – most possibly a Phyllanthus species.
The other two images in the set unknown1.jpg AND unknown.jpg the details are not clear OR are lost.
Some pictures in my photostream of Euphorbia hypericifolia ... flickr
---
After reading on the net after identification I have found that it has a lot of medicinal properties. The info found is in Marathi we say "Dokya varun jaat ahe". But for Botanists and experts like you it will be interesting. Thank you again for id
---
Is it Euphorbia erythroclada as identified in … post:
efi thread
#

---
.