---
Rhizomatous herbs; rhizome small, 3 x 0.2 cm, conical, light yellow-grey inside; roots many, thick and fleshy, root tubers elongated. Leaf shoots 30-90 cm tall, lower vegetative bracts green to reddish-green, sparsely pubescent. Leaves shortly petiolate or sessile; ligule 2-3 mm long, membranous, bipartite, densely pubescent; lamina 5-20 x 2-5 cm, oblong-lanceolate, tip acuminate, lower surface densely pubescent, upper surface sparsely pubescent. Inflorescence terminal, 10-20 cm long, erect, bearing few to many slender branches in the axils of bracts, lower bracts subtend small, downwardly pointed conical bulbils; bracts small, 5 x 2 mm, ovate, prominently 3-nerved, glabrous, greenish-yellow, each fertile bracts subtends a cincinnus of 2 many flowers on a 4 mm stalk; bracteoles small, 3 x 2 mm, triangular, orange. Flowers 3.5-4 cm long, orange. Calyx truncate, 8 mm long, shortly 3-lobed, lobes equal, glabrous, greenish to yellowish-green. Corolla tube 1.8-2 cm long, orange, densely pubescent; lobes unequal, spreading; dorsal lobe c. 6 x 3 mm, cup-shaped with an apical hood, orange-yellow, lower middle portion minutely pubescent; lateral lobes c. 5 x 3 mm, ovate, orange-yellow, glabrous. Labellum much longer than the corolla lobes, 12 x 4 mm, linear, tip emarginate, orange-yellow, glabrous. Lateral staminodes c. 16 x 3 mm, linear, tip acuminate, orange, outer surface pubescent. Filament c. 2 cm long, slender, white, orange towards tip; anther small, c. 4 mm, thecae parallel, without any appendages, connective slightly projecting to form a hood at the tip. Style long, exserted from the anther lobes, mouth of the stigma hairy. Ovary 2 x 1 mm, wall smooth, unilocular with many ovules on three parietal placentae. Fruit c. 2 x 1.5 cm, globose to ovoid, slightly warted, dehiscent; seeds ovoid, hairy throughout, with a basal, lacerate aril.  
Flowering and fruiting: July-September
Along stream sides in evergreen forests
---
Common in south-central Myanmar and the Western Ghats of India. In Thailand, only known from a few localities in Tak and Mae Hong Son provinces. Recorded to occur from 200 to 375 m asl in Thailand.
---
Family: Zingiberaceae
Date: 12th September 2015
Place: Thattekadu Bird Sanctuary, Ernakulam District, Kerala
Habit: Herb
Habitat: Semi-evergreen forest
---
Wild
Zinziberaceae
herb
near Thammakutthu water falls, Thodupuzha Kerala,
bulbils are produced in the inflorescence, which are germinating.
---
Plant list has treated like this. Globba sessiliflora Sims (= Globba ophioglossa Wight).
---
This herb was spotted en-route Munnar.
Looks like Globba sessiliflora? Pl. confirm the ID..
Family: Zingiberaceae
---
---
Thanks, …. But it is only reported from Himalaya to S. China as per WCSP.  Can it be some other species like Globba orixensis or it has been recently reported from Kerala ?
---
Globba ophioglossa (=G. sessiliflora) ?
Here I attached the picture of Common Banded Demon nectaring from
Zingiberaceae famiy flower…this plant is

very common

in the undergrowth of evergreen forests (Western Ghats)
This picture taken from

Arippa forests (Kulathupuzha), Kerala.
The flowering of this
Zingiberaceae during monsoon and post monsoon period.

Please identify this flower.
---
Globba sp. Probably Globba multiflora
---
Globba sp of Zingiberaceae. I have to check for the species. Will do later. A monsoon flowering herb in the lower-storey of almost all habitats.
---
Globba species alright… common in shaded woody areas in West Bengal…
the flower panicle shape and overall density of flowers is different from the ones I have seen here…
---
Globba marantina for me
---
It is Globba ophioglossa
---
I think this is Globba schomburgkii
---
It is Globba ophioglossa
---
160 ID wild plant Globba sp.: 18 images.
Please ID wild plant,
Location: near Reserve Forest, Chathamattom, Ernakulam District, (Kochi) Kerala PIN:686671

Altitude: 1400fsl

Flower date: 25.08.2021, 02.45pm
Habitat: wild moisture

Plant habit: erect/slight obliquely, weak fleshy stem, lite aromatic, rhizome, annual

Height: 03.5 feet
Leaves: alternate, oblong, apex, lite aromatic, size:35×8cm

Flower: pyramidal racemose, clustered, size:4×2×1cm, yellow, non fragrant

Fruit: globular green
Seed:

Camera: mobile Samsung Galaxy A21s
---
Globba ophioglossa Wight !
---
Please verify !
---
Yes, it is G. sissiliflora, I am verified
---
Yes ! Correct is Globba sessiliflora Sims !
---
Globba sessiliflora (G. ophioglosa)
---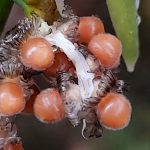 Sharing more information and image.
Fruit: semi globular green diameter:9mm edible lemon tasted
Seed: semi globular brown up to 18, hairy, diameter:02mm
---