Indian Subcontinent to Nansei-shoto and Indo-China: Andaman Is., Assam, Bangladesh,
China South-Central, China Southeast,
East Himalaya,
Hainan,
India, Myanmar,
Nansei-shoto,
Nicobar Is., Sri Lanka,
Taiwan, Thailand, Tibet,
West Himalaya as per
POWO
;
.
---
Flora of CRF_7
: 4 images.
Pl help me in identifying this
Shrub/small tree

from Assam.
Time of Coll.: September, 2010.
---
… some species of Phyllanthus ?
---
Can it be some Rhamnus or other member of Rhamnaceae!!
---
How about Glochidion?
---
Yes it is a species of Glochidion. fruits are very much important for species identification
---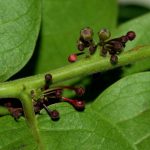 I agree with …, It could be any species of Glochidion. In the same location I have photographed another species similar to this one but have yellow flowers and fruit shape is also different. Pic No. 1 is about the earlier post (*fruit) the second one is new. I think These will help for better ID of the species.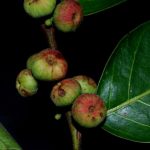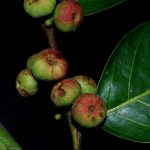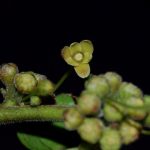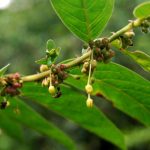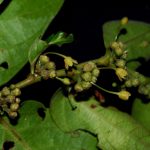 ---
Are these images also of Glochidion zeylanicum var. hirsutum?
---
This is clearly identifiable as Glochidion zeylanicum var. zeylanicum.
---
The characters are: pedunculate and/or supra-axillary inflorescences and the unlobed fruits. If all parts are glarous then var. zeylanicum or else if all parts are pubescent/hirstue/tomentose then var. hirsutum.
---
Then we should take it as var. hirsutum
---
Okay
---
Does it have both red and yellow flowers?
---
This is a widespread and highly variable species and such differences in colour of sepals are insignificant.
---