hab-en-AR-ee-uh
— from the Latin
habena
(rein or strap) referring to shape of orchid's spur…
Dave's Botanary
¿
pun-cha-gan-ee-EN-sis
? — of or from Panchagani, Satara, Maharashtra, India
commonly known as: Panchgani habenaria • Marathi: पाचगणी हबेअमरी pachgani habe-amri
Endemic to: Western Ghats (of Maharashtra, India)

---
hab-en-AR-ee-u — from the Latin habena, meaning rein or strap, referring to shape of orchid's spur
¿ pun-cha-gan-ee-EN-sis ? — of or from Panchagani, Satara, Maharashtra, India
commonly known as: Panchgani habenaria<https://sites.google.com/site/indiannamesofplants/via-names/english/p…>
 • Marathi: पाचगणी हबेअमरी pachgani habe-amri<https://sites.google.com/site/indiannamesofplants/via-names/marathi/p…>
botanical names: Habenaria panchganiensis Sant. & Kapad. … synonyms: no synonyms  – – – – – – – – – – – – – – – – – – – – – – – – – – – – – – – – – – – – – – – – – – – – – – – – – – – – – – – – – – – – – – – – – – – – – – – – – – – – – – – – –
Photographed at Tableland, Panchagani on 24 AUG 10
---
It has one synonym Habenaria variabilis Blatt. & McCann (nom. illeg.)
---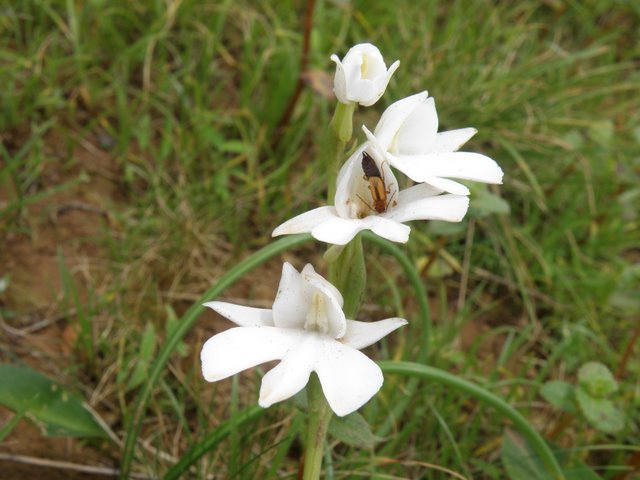 Kaas Week : Habenaria panchganiensis:  The rare orchid of WGs, Aug-2009
---
Kas Week :: DV :: 25 AUG 10 – 0215 :: Habenaria ¿ species ?: Kas plateau … about 4000 ft asl
… one of the 39 World Heritage sites in the Western Ghats of India
Date/Time: August 25, 2010 at 2.15pm
Habit: herb, about 20 cm tall
Habitat: lateritic plateau
---
Habenaria panchganiensis. 
---
Habenaria panchganiensis
Kaas, Maharashtra
July, 2013
---
Habenaria panchganiensis Sant. & Kapad.
hab-en-AR-ee-uh
— from the Latin
habena
(rein or strap) referring to shape of orchid's spur…
Dave's Botanary
¿
pun-cha-gan-ee-EN-sis
? — of or from Panchagani, Satara, Maharashtra, India
commonly known as: Panchgani habenaria • Marathi: पाचगणी हबेअमरी pachgani habe-amri
Endemic to: Western Ghats (of Maharashtra, India)

References: Flowers of India • Flowers of Sahyadri by Shrikant Ingalhalikar
at Panchagani Tableland on 24 AUG 10
---
I should visit western Ghats especially for Habenaria 🙂
Thanks for sharing this beauty…
---
Very good pictures again. Similar to H.plantaginea but still different.
---
Habenaria ¿ species ?
Dear friends, cannot recollect much about the dimensions.
… herb standing about 15 – 20 cm; flower about 15 – 20 mm across.
on Kas plateau, on 25 JUN 10
---
Hmmmm…. I would say this could be new species but very close to Habenaria panchaganiensis.
Interesting…. made me scratch my hairs !!!
---
Dear …, salutes! … you are very consistent with your diagnosis. These were almost the same words you responded three years ago when I showed you the above photos. Very nice to know it could be of new species. Putting another photo below – hoping it is the same plant — saw this one on Panchagani tableland a day earlier
on Panchagani tableland, on 24 JUN 10
… some species of Habenaria in full glory
---
Yes sir, the main issue is for me I will need proper flowers of both to dissect and study. From pics, they do look different from normal Habenaria panchaganiensis. The biggest question, HOW MUCH DIFFERENCE MAKES IT REALLY DIFFERENT.
If they are not occuring together with each other but isolated then surely they can atleast be a new variety.
Unfortunately Indian laws doesnt allow you to send material outside otherwise it would take less than one week for me to check morphology as well as DNA.
---
OK, let us hope you will be in this part of Western Ghats during last week of some June in coming years
---
Came across this
Habenaria
sp. at Kalsubai.
Bot. name: Habenaria pachganensis
Date/Time: 22-08-2010 / 2:30PM
Habenaria panchganiensis
Sant. & Kapadia
Orchidaceae
Image from the Morjai Pleateu, Gaganbawada, Kolhapur, Maharashtra
Sept 2009
---
WONDERFUL 
---
Very good photographs of a nice healthy specimen!
---
References: