---
Terrestrial, leafy herbs, stem short, tubers ovoid or oblong tubers 2-2.5 cm long, with fleshy root-fibres. Leaves radical, about 5 x 0.9 cm, lanceolate, acute, coriaceous, veins obscure but the midrib prominent on the under surfaces, bases sheathing the stem. Flowers 5 mm across, yellowish-green, spreading in many-flowered racemes; peduncle 9.5-11 cm long with 3 or 4 minute, lanceolate, sterile bracts, the lower ones larger; floral bracts 4.1-4.4 x 2-2.2 mm, ovate, finely acuminate-acute, 1-veined. Dorsal sepals 2.2 mm long and as broad, orbicular-ovate, truncate, 3-veined; lateral sepals 3 x 2 mm, obliquely ovate, obtuse, 3-veined, the outer edge folding over or reflexed forming a flap. Petals 2.4 x 1.4 mm, obliquely triangular-obovate, truncate which one main vein giving off two lateral branches; petals along with the dorsal sepals forming a hood over the column. Lip 3-lobed, the trunk quadrate, 5-veined; lateral lobes subulate, recurved, 4.8 mm long, 2-veined; midlobe shorter and straight, 1-veined with two branches from the adjoining veins; spur 1.3 cm long, longer than the ovary and parallel to it, slightly broader at the end; column minute; stigmatic processes long and clavate, projecting beyond the mouth of the spur. Anther lateral, 2-loculed, tubes short, upcurved; pollinia 2, pyriform, 0.8 x 0.6 mm; caudicles short and glands small. Ovary with pedicels 1.1 cm long. Fruit an erect, fusiform ribbed capsule. 
Flowering and fruiting: September-October
Among sedges and grasses in laterite hillocks in the plains
India, Sri Lanka, Thailand and Indo-China
with the interest growing with the posts of numerous beautiful Orchids; am sending a set of pictures of Habenaria sp.
Name: Habenaria viridiflora (Rottl. Ex Sw.) R. Br.
Family: Orchidaceae
Location:
Nanmangalam RF (within Chennai peri-urban);
a scrub forest
Date: 02 Jan 2009

Source for confirmation: Flora of Presidency of Madras by J S Gamble
---
Thanks a lot for sharing the plant. Frankly, I have never heard of this plant before. Is it very common there? If it is common then you may send me a harbarum specimen if possible.
---
Very common and localized sir, indeed I made a best herbarium specimen of this during my Master's.
Will make herbarium and send you sooner.
---
if possible 4-5 flowers in vile in 70% alcohol. Is it still flowering these days?
---
I haven't been to this field recently and might visit after a week sir.
---
Now the plant H.vridifolia is in fruiting stage. I got a chance to see this species and try to plant that in my garden. Unfortunately it not survive. September I saw this plant in full bloom.
---
Dont worry, it may be having its perrenating tuberoids underground.
Wait for next year and dont disturb the soil… let the baby sleep!.
---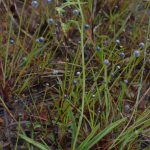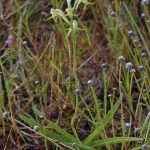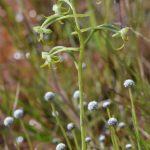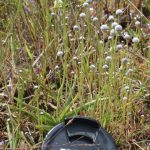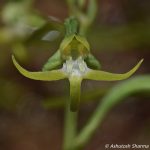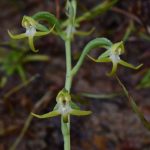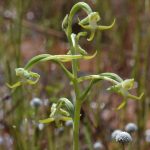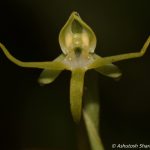 Habenaria viridiflora (Rottler ex Sw.) R.Br. ex Spreng. submission AS17 December21
:
Here i am sharing some images of beautiful and not so common Habenaria species.
Habenaria viridiflora (Rottler ex Sw.) R.Br. ex Spreng.
Green Flowered Habenaria 
Family – Orchidaceae
Habitat – Marshy paddy field edges growing with Eriocaulon sp., Drosera burmannii and Utricularia spp. 
Photographed near Jarakabande Kaval, Bengaluru Outskirts, Karnataka
---