Chuukese: aruru ponape, mwakumwak • English: crab claw, heliconia, lobster claw, parakeet flower, parrot's beak, parrot's flower, parrot's plantain, psittacorum • Maori (Cook Islands): tiare parata'ito • Samoan: vae paa ;
Place :   Nirvana Park, Powai, Mumbai
Date  :   February 2009

---
I think this is "Orange Parrot Heliconia " – Heliconia psittacorum 'choconiana'
---
Images by Dr. Balkar Singh (Validation by Vijayasankar Raman), (Inserted by Bhagyashri Ranade)- three different cultivars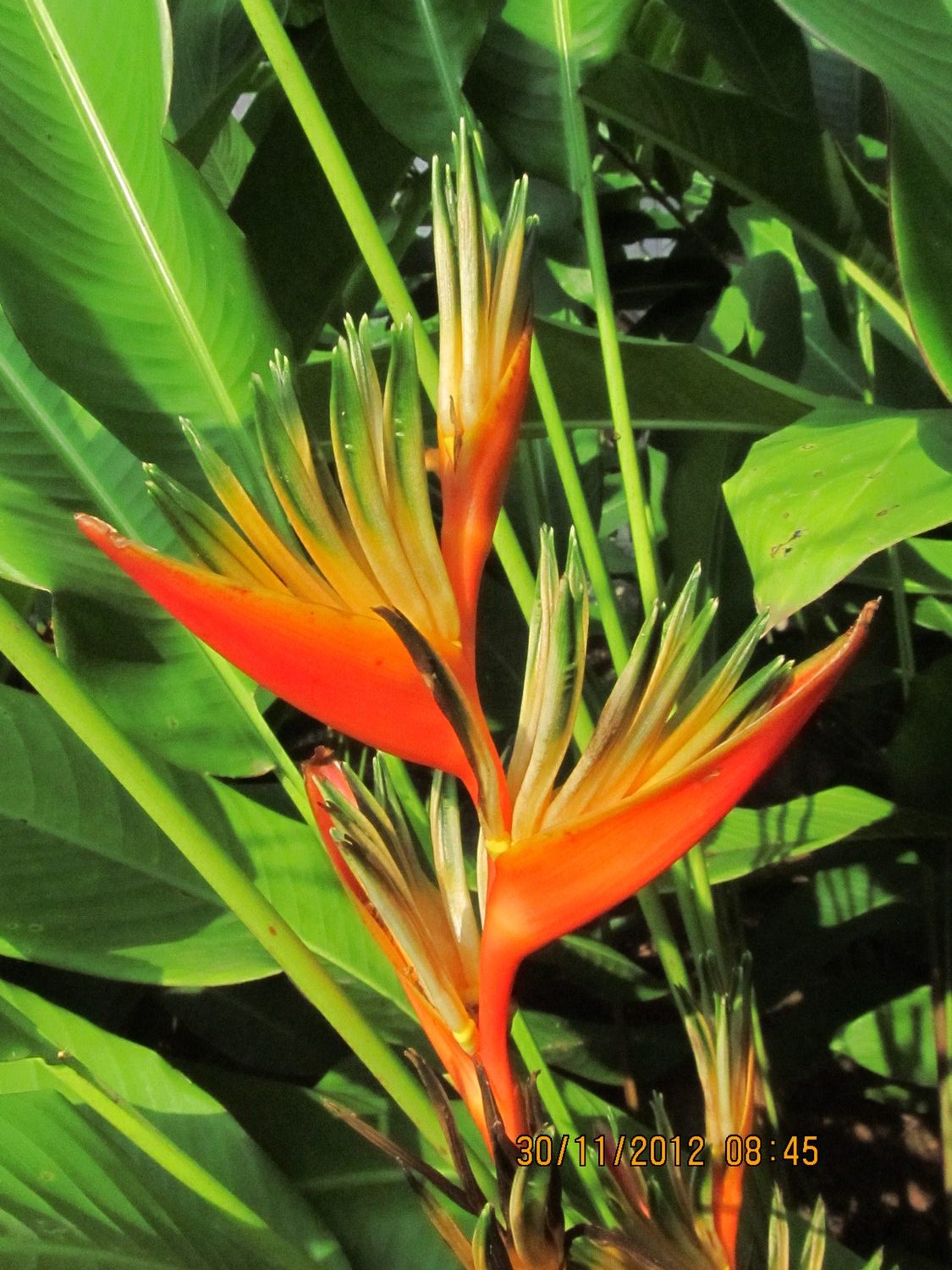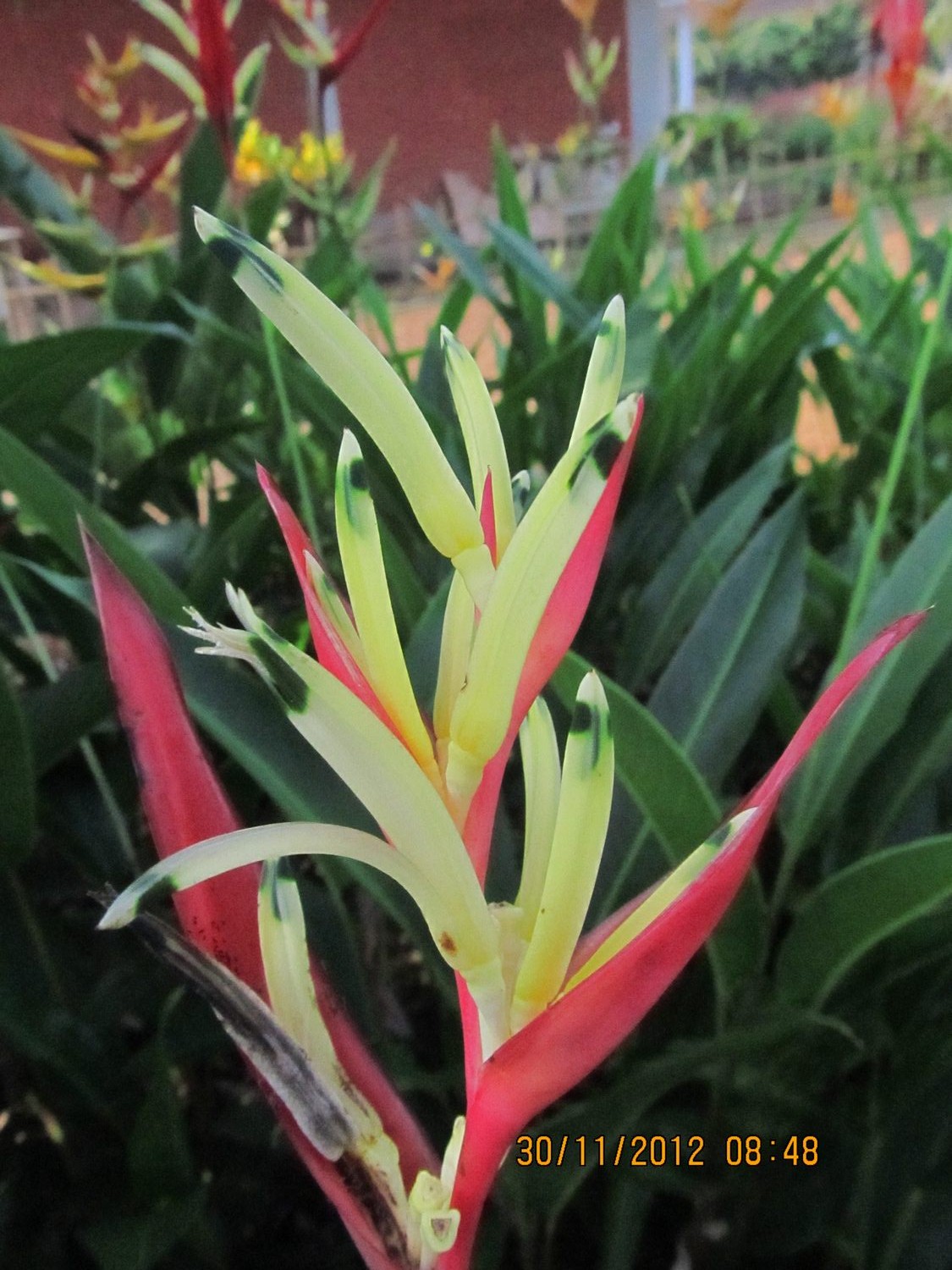 Flora of Kerala: Heliconia psittacorum L. f. from Calicut University Campus:
Heliconia psittacorum L. f.
Common Garden plant in Calicut University Campus
Shot in Dec 2012
Pls Validate id
---
I agree with the id. But the last two pictures perhaps represent a different cultivar,
like this one
.
Image by 
E.Thiruvengadam (Identified by Ajinkya Gadave), (Inserted by Bhagyashri Ranade)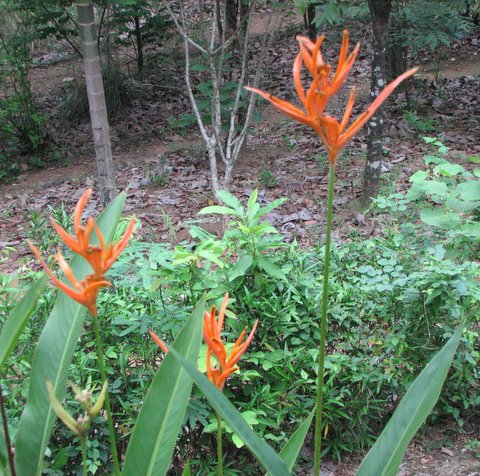 To share 120910 ET – efloraofindia | Google Groups
 : 5 posts by 5 authors.
This flower pictures I took, near Waynad Wildlife Sanctuaries, Kerala
Date/Time-     —— May 16, 2010     —-Morning time
Location- Place, Altitude, GPS—— Waynad Wildlife Sanctuaries
---
Heliconia

 angusta
---
The last picture is certianly Heliconia angusta.
---
---
---
---
---
In this pix, a Blue Throated Barbet is sitting on a flowering tree.
Please help me for ID of the tree. I think it is not Heliconia.
---
Yes …! It is Heliconia humilis. I think in common parlance it is known as bird of paradise. It is ad makers' darling.
---
I think its common name is Parrots Beak – and I am not too sure if that belongs to the Heliconia group. Bird of Paradise, which is a Heliconia, is distinctly different from this.
---
…! I checked up from Wilkepedia. Yes Bird of Paradise belongs to sterilitzia group. What … saw very much from the heliconia group. It is also known as False Bird of Paradise. Other common names are lobster claw and wild plantain.
---
Location: Bangkok, Thailand
Date:  07  December 2019 
Elevation: MSL
Habitat: Cultivated
Heliconia psittacorum L.f. ??
---
---
References: