IUCN Red List Status: Endangered (EN)

Hopea parviflora Bedd., 
Fl. Sylv. S. India t. 7 1869
.;
Images
by Anurag N Sharma (Inserted by J.M.Garg) (For more photos & complete details, click
on the links)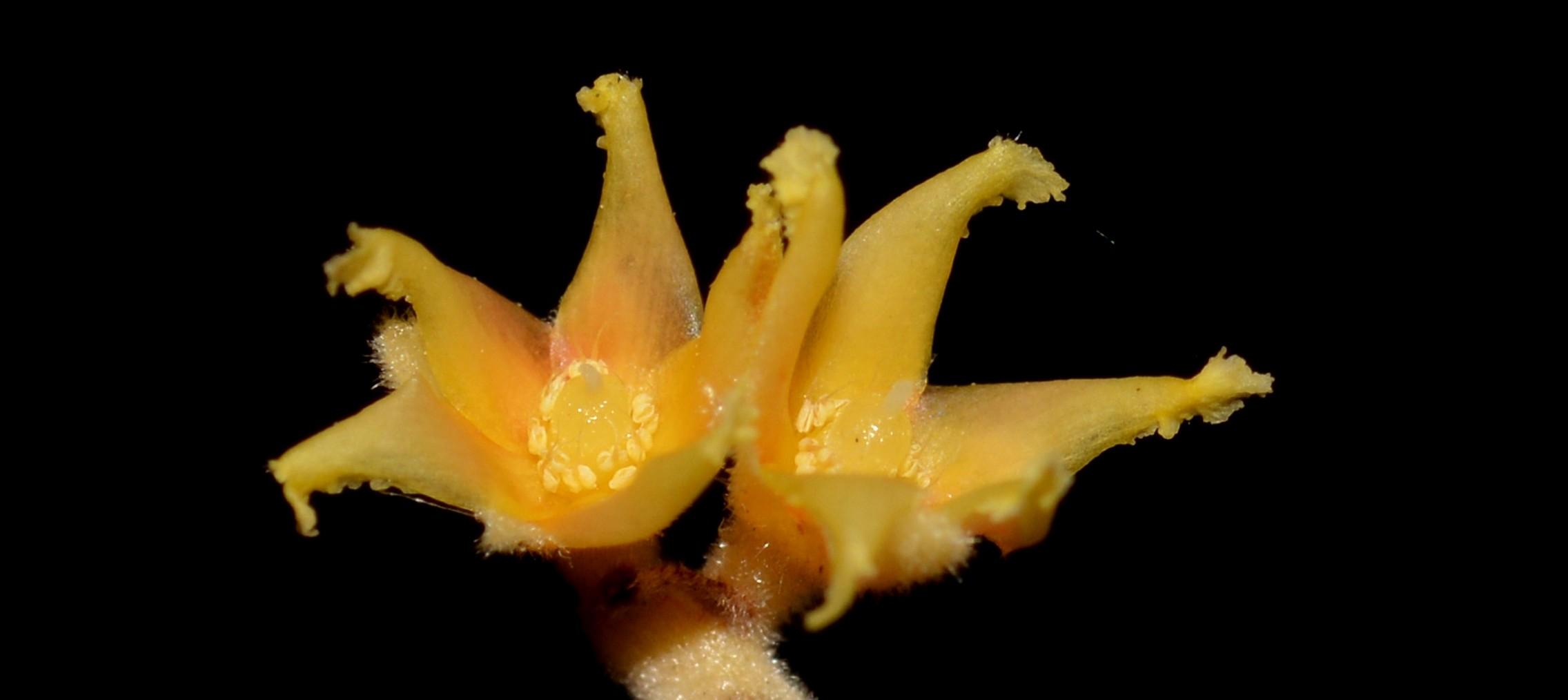 Tamil:
 Irubogam, Kongu, Pongu, Vellaikongu. 
Malayalam: 
Irimpakam, Irumbogum, Kambagam, Kampakam, Kongu, Pongu, Tampakam, Urippu. 
Kannada:
 Bovu mara, Kiralbhogi, Sannele bogi (from
Biotik
)
---
Habit- Trees up to 35 m tall.
Trunk & Bark -Bark brown, scaly.
Branches and Branchlets- Branchlets terete, pubescent when young.
Leaves- Leaves simple, alternate, spiral; stipules caducous; petiole to 0.6 cm long, slightly canaliculate above, pubescent when young; lamina 4.5-10 x 1.5-3.5 cm, lanceolate or narrow ovate, apex narrow acute to gradually acuminate, base rounded to subcordate, margin entire, chartaceous, glabrous except few scattered hairs at margin and on midrib beneath; domatia at the axils of secondary nerves, but not on all the leaves; midrib raised above; secondary nerves 5-12 pairs, raised above, lowest pair opposite and closer to the next secondary nerve; tertiary nerves closely horizontally percurrent.
Inflorescence / Flower- Inflorescence panicles, tomentose; flowers white.
Fruit and Seed- Nut with accrescent calyx lobes; seeds 1.
Common emergent to canopy trees in evergreen forests, up to 900 m.
Endemic to the Western Ghats- South and Central Sahyadris.
Attributions-
B. R. Ramesh, N. Ayyappan, Pierre Grard, Juliana Prosperi, S. Aravajy, Jean Pierre Pascal, The Biotik Team, French Institute of Pondicherry from India Biodiversity Portal)           
---
Kiral bhogi, Hopea parviflora, Dipterocarpaceae family.
This hard wood is considered to be one of the largest and old trees in this region. (girth about 5 1/2 meters, roughly estimated to be more than 150 years old. Locals say a 70 year old kiral bhogi normally has a girth of 1-2 meters).
Majority of the tree species in this western ghats region are generally soft wood.
I Sincerely hope this tree survives for many more decades.
Bolpe reserved forest, Kukke Subramnya, Dakshina Kannada,
Mar 2009
Hopea parviflora is a species of plant endemic to India.
---
Family:
Dipterocarpaceae
Date: March 2016
Place: Karkala, Dakshina Kannada, Karnataka
Habit: Tree
Habitat: Semi-evergreen forest
---
Please identify this tree of riparian habitat with massive flowering from Kannur Kerala
---
This seems to be from Dipterocarpaceae/ Shorea?..- from …
---
Comparative images of
Shorea
 species in efi
---
To me it seems to be Shorea robusta.
---
Hopea parviflora 
---