.
in-dee-GO-fer-uh — bearing indigo … Dave's Botanary
lin-AY-eye — named for Carl von Linné, Swedish botanist often referred to as the Father of Taxonomy
.
commonly known as: Birdsville indigo, nine-leaved indigo • Bengali: ভোনিয়াগলি bhonyagali, ভুইগুলি bhuiguli, লতাহাই latahai, নীল গাছ nil gach, ফাটাকিয়া phatakiya • Gujarati: ભોંયગળી bhonyagali • Hindi: पाण्डरफली pandarphali • Kachchhi: પટગરી patagari • Kannada: ಚೆನ್ನೆ ಗಿಡ chenna gida, ಕೆನ್ನೆಗ್ಗಿಲು kenneggilu, ಕಿರಿನೆಗ್ಗಿಲು kirineggilu • Malayalam: ചെം‌പുള്ളടി cempullati • Marathi: भिंगुले bhingule, भुईमुळी bhuimuli • Odia: ଲଟାହାଇ latahai • Rajasthani: बेकरियौ bekario • Sanskrit: हंसपादी hamsapadi • Tamil: செருப்புநெருஞ்சி ceruppu-nerunci, சிலாபேசி cilapeci, சிறுநெருஞ்சி ciru-nerunci • Telugu: చలపచ్చి chalapachi, చెర్రగడ్డము cherragaddamu, యెర్ర పల్లేరు yerrapalleru • Tulu: ಎಲ್ಯ ನೆಗ್ಗಿಲು elya neggilu
.
Native to: s China, Indian subcontinent, s-e Asia, n Australia
.
A mat-forming, prostrate, annual or perennial herb with appressed hairy stems. Leaves 2.5-4 cm long, imparipinnate. Leaflets 5-9, hirsute, subsessile, oblanceolate or oblong, apex mucronate, base retuse or obtuse, stipules ovate. Flowerssmall, bright red. Pod 0.2 x 0.1 cm, oblong. Seeds 2, with a partition between them.
.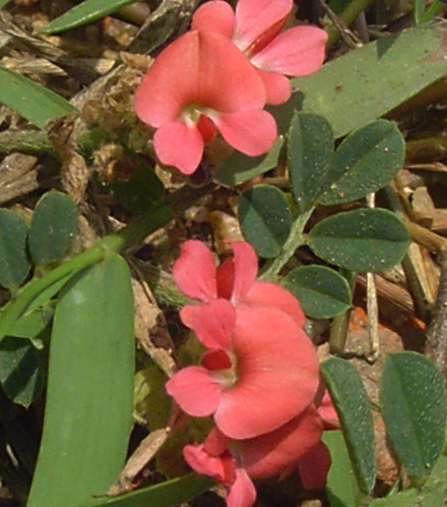 Yes …, I guess you are right !
References: