---
---
E. alsinoides is a tiny wild herb spreading on ground and the flowers are solitary and just 5-7 mm. Jacquemontia violacea is a large twining climber found in gardens, the flowers are in clusters and about 2 cm dia. It looks to be Jacquemontia but you are best placed to differenciate depending on the size and where you clicked them.
---
yes it is Jacquemontia (twining climber) and not Evolvulus (small prostrate herb)
---
---
---
---
---
---
Jacquemontia sp. For ID
Pune
Most probably a planted one.
---
J pentantha may be
---
---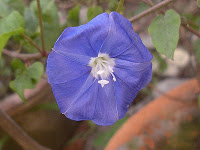 Ipomoea indica ? :: 25-03-12 :: Hooghly (WB) SK-3:
Please NOTE : The flowers are not this blue what appear in these images. They have a faint violet hue. My camera failed to display their true colour.
Species : UNKNOWN
---
---
References: