Cynoglossum stylosum
subsp.
stylosum
(syn:
Lindelofia angustifolia
(Schrenk) Brand;
Lindelofia benthamii
Hook. fil.;
Lindelofia stylosa
(Karelin & Kirilov) Brand (ambiguous synonym);
Lindelofia stylosa
A. Brand (ambiguous synonym);
Solenanthus angustifolius
Schrenk;
Solenanthus nigricans
Schrenk;
Solenanthus stylosus
Lipsky) as per
Catalogue of Life
;  
Images
by Sushmita Jha & Satish Phadke (Id by Prashant Awale & Tabish), Ushaprabha Page (Id by Chris Chadwell) & Nudrat Sayed (Id by Tabish & Gurcharan Singh) (Inserted by J.M.Garg) (For more photos & complete details, click
on the links)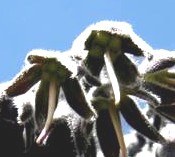 Common name: Protruding Style Lindelofia • Ladakhi: མཀཔེན Makpen
---
Please identify. By any chance does this plant belong to genus Aconitum
---
This would be fruiting Primula macrophylla.
---
Rather a member of Boraginaceae, perhaps Pseudomertensia parviflora, exserted stamens are characteristic
---
pic 7b shows calyx and style. There is no corolla. Besides
the flowers (fallen) are in umbel and not scorpioid as in
Boraginaceae. Pls have a look again
---
But perhaps you did not notice four nutlets at the base of style in 7b.  Also Primula macrophylla (rather most Primulas) has basal rosette of leaves and not cauline leaves like we see in 7a. Also the leaf arrangement, leaf surface and inflorescence is typical of Boraginaceae.
Enlarging a portion of 7b to show nutlets. Attachments (1)
---
how about Pseudomertensia echioides
---
Sorry, I think I am wrong. Looks more close to Lindelofia stylosa.
---
Lindelofia stylosa is my view too.
---
Yes, I also agree
---
Please help with the ID of this flower. Sorry, not very good photos.
---
This should be a Pseudomertensia species, probably Pseudomertensia echioides, which is the only Himalayan species of Pseudomertensia with
the style protruding out of the flower.
---
I have been watching your nice collection from Ladakh.
Himalayan flora is a very interesting subject.
I find that few of the flowers you have recorded are similar to what I have done so during My Lahaul Spiti visit in last week of Jun 09.
Of course both regions are climatically similar; often described as cold desert. Thanks for sharing.
Bye the way I have this distant shot of the flowers which are similar to the one shown by you.
In the heat of capturing this beautiful rose finch I forgot to record the macro of this flower.
---
Thank you very much for the ID, … I am wondering why this plant is called a 'Psuedo…' :-))
---
thank you for your remarks. Yes, indeed Himalayan flora takes ones breath away – as do most flora (and fauna), in fact. This collection has actually been photographed by my brother who lives there and he requested IDs. When I visited Ladakh late May/early June, most of these flowers were probably only preparing to surface to show their beauty. Now is the right time to visit this heaven on earth. 
Thats a nice shot of the Rosefinch. Being a birder myself, flora and fauna keep tossing me around between the two. Very distracting, but supremely exhilarating.
---
Does not seem to match with images of this species at 
Pl confirm id. Is it Lindelofia ? sps?
---
The image is
Lindelofia stylosa
,
Boraginaceae
 – a plant of dry inner valleys @ 3000-4500m incl. Ladakh with records from Nubra, Dras & Zanskar.  But please take and post more than just one photo per plants (several, covering close-ups of flowers and foliage plus habit and of habitat make areal difference; with the advent of digital cameras this can now be done at no cost). Sometimes a species is distinctive and can be recognised from a single image, as in this case for me but not always (and not everyone can) also do give an altitude and approximate location each time.
---
I cannot locate any Lindelofias on eFI.  Have they all been transferred to another genus?

I note Lindelofia anchusoides is NOT an accepted name in 'The Plant List'.
In the mean-time I attach some lovely images taken by Feroze Khan & Mudita Badwhar thanks to Deepak Badwhar – which show the young, fascinating fruits of L.stylosa.  Plus a single image scanned in from a slide taken in the 1980s for Chris Chadwell.

Flowers of the Himalaya says Lindelofia stylosa is common in Ladakh, forming large clumps on stony slopes & steppes @ 3300-4700m from Pakistan to Himchal Pradesh.
Stewart considered this to be a plant of the dry inner valleys from N.Pakistan to Ladakh @ 3000-4500m.

The authors of Flora of Lahul-Spiti did lot locate this species during their travels in Lahaul but recorded it as frequent on alpine slopes and in glacial moraines at Kenlung due to a herbarium specimen collected by Bor at Dehra Dun.
Thanks for letting me know. I shall, when time permits, look further into Cynoglossum/ Lindelofia and let you know what I think.
---