L. longiscapa has a distinct purple or brown blotch in the centre and found in alpines only. Lilium nanum is even more rare and have nodding purple blue flower solitary flower.
It was originally known as
mountain spiderwort
, but is now known in
Great Britain
as the
Snowdon lily
, or in
Welsh
as
brwynddail y mynydd
(meaning "rush-leaves of the mountain").
[1]
In
North America
, it is called the
common alplily
.
For most of the year, the plant is only visible as long, curving, stiff,
grass
-like leaves, often protruding through cushions of other plants. The flowers appear from June onwards
(despite the name serotina, meaning "late-flowering"),
and are borne at the end of long stalks. The flowers themselves are white, with purple or reddish veins along the petals.
Lilium nanum from Uttarakhand. Please Validate
:  Attachments (2). 5 posts by 3 authors.
This small lily was photographed
from forested area
near Ukhimath in Uttarakhand
. Looks like
Lilium nanum
. Please validate. If otherwise please help in ID.
---
To me it seems Llyodia longiscapa Hook.. Lilium nanun would have nodding bell shaped flowers.
---
Thanks … I am uploading inner view of flower. This should help. The base is orange although not as bright as photographs by … and …
http://www.flowersofindia.TallAlplily.html.
---
Lloydea serotina (L.) Reichb.f. (Liliaceae). L. longiscapa has a distinct purple or brown blotch in the centre and found in alpines only. Lilium nanum is even more rare and have nodding purple blue flower solitary flower.
---
Thanks …
---
.
---
Llyodia serotina from above Chopta, Uttarakhand-GS06012022-2: 4 high res. images.
Llyodia serotina, photographed from above Chopta, Uttarakhand, 1-6-2013.
---
---
Please suggest id for this
tender herb
shot
from Churdhar range (H.P.), ca. 3100 m alt.
There was only one individual we could see around,
height about 15-20 cm, leaves all alike..

I am clueless on id, thus expert opinion requested !!
---
Superb photographs Sir. But do not know what this is. I noticed it yesterday, tried to my capacity, but no break, looks similar to Lloydia but the genus has 2×3 perianth segments :((
---
Thanks … for a very convincing lead..!!
---
Looks like Lloydia as also suggested by … Tepals are more than 6, though stamens looks 6 and triangular carpel suggest trimerous flower.
Attaching keys of indian species of Lloydia, hope these help (based on Dasgupta 2006). L.flavonutans is restricted to Eastern Himalaya only and characters suggests it as L.himalensis Royle.
Must be a new addition to eFI.
Attachments (1) – LLoydea.JPG
---
Thanks …, may I have your views on efi thread
---
BSI has more spp., – efi thread
---
Thanks … for the links, the things have narrowed down to the extent (attached):-
Attachments (1)
---
Yes … is right in saying that BSI have few more species in their checklist of monocots. These are L.delavayi Franch., L.mairei Levielle, and L.tibetica Baker ex Oliv. (Karthikeyan et al.1989; probably also on net). However, the more recent document also from BSI (Dasgupta 2006 in Fascicle of Flora of India 23, not on the net) recognize only 4 species mentioned in the keys attached in my earlier post.
For the plant posted by … we may have to decide between L.serotina and L.himalensis as L.flavonutans has yellow flowers and restricted to E.Himalaya while L.longiscapa (with which I am well aware) always have nodding flowers, hairy filaments and acute tepals.
To help in deciding the ID attaching a diagram from Dasgupta 2006 where I have also marked the length of style which may be considered a clear distinguishing feature of L.himalensis.
Attachments (1)- Lloydia in Dasgupta2006.JPG
---
Please also see the Plant List 2013. All species of Lloydia are now transferred to Gagea genus.
---
Thank you very much …, for key, illustrations, explaining characters all.
I have never seen one so that I can determine a species. Yet I request you to please look into the photographs one more time. I attach two enlarged photographs.
The style in those two pics doesn't look like much longer than ovary. The illustration you have arrow marked clearly shows that in L. himalensis style extends to much above the anthers. … pics do not show this character.
One more point,
L. himalensis
 is confined to Himalayan region of Kashmir, HP, Sikkim, Bhutan and possibly in China (
but in another name
). On the other hand
L. serotina
 is distributed in Asia, Europe and North America. If we search images of
L. serotina
 we will find many similar photographs in the net. Of-course perianth number would be six.
I think this species is L. serotina.
Perhaps 
efi thread
 is
L. himalensis
 which usually have single flower bearing plants and style in image number 
DSC_1141.JPG
 looks significantly longer.
What we see in Nidhan Sir's photo is possibly fruit with persistent style. The only point in favour of
L. himalensis
 is green base inside the white tepals. But this character can also be seen in uploads of
L. serotina
form different corner of the world.
Please correct me if anywhere I have gone wrong.
---
Thank you … for critically analyzing the ID based on the keys, illustration and pics (available on net). Since I was also in doubt the illustration was uploaded to compare with. I too feel that now it goes to
L.serotina
(now
Gagea serotina
) and the flower is abnormally developed with many perianths. I have seen
L.serotina
in Uttarakhand alpines many a times; it is more slender upto 10-15cm tall only and usually have brownish center which tempted me to suggest it as
L.himalensis
(an unresolved name in TPL2013).
The plant in
the link
, looks different and probably at that time I did not considered
L.himalensis
as a possibility. Yes it looks to have longer style. If we rely on this character it goes to
L.himalensis
.
---
Thank you very much Sir. … specimen is unusual, in number of perianth segments and also in shapes of those segments. I have seen and recorded segment number variations (as many as 9 segments) in Amaryllidaceae member Zephyranthes, very commonly occurring in rain-lilies. But this Lloydia or Gagea is unknown to me.
Only … can confirm what this species can be, deciding upon sizes of the flowers. It seems to me that the plate you have shared shows flowers of L. himalensis is larger than L. serotina (around 1 cm.).

---
.
I have an image of what the photographer identified as Lloydia longiscapa, which I was intending to post.
However, I am not certain, at present as to how to distinguish between this and some forms of L.serotina.
I am surprised to find there are no postings for what was Lloydia serotina on eFI.
I have some images of the latter species from the Himalaya AND Alaska.
Need to check details of the genus BEFORE posting but in the mean-time, I see that SOME authorities now consider L.serotina to be Gagea.
This appears to be quite a recent change or at least not one which is FULLY accepted.
I will leave it to others to decide if they ACCEPT the transfer to Gagea.

The NEW Flora of the British Isles (1997) still used Lloydia.
Dickore & Klimes (2005) in their check-list of Ladakh flora still had this plant as Lloydia serotina – they also have 6 species of Gagea.  Most are new to me.  I only had 1 Gagea in my informal check-list for Ladakh in the 1980s and that is NOT any of the 6 (though may prove, when I
have the opportunity to check further, to be synonym for one of them).

NONE of the 6 are on eFI.  Stewart listed 13 species for Pakistan and Ladakh – so another genus with minimal representation on eFI.
---
Pl. see Gagea serotina in efi.
---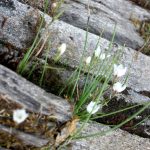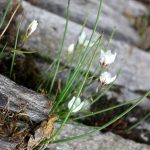 Llyodia serotina from Tungnath, Uttarakhand-GS06012022-3: 2 very high res. images.
Llyodia serotina photographed from Tungnath, Uttarakhand, 1-6-2013.
---
---
.
References:
The Plant List Ver. 1.1  Flora of Pakistan  Annotated checklist of the flowering plants of Nepal  Flora of China  Flowers of India  Wikipedia  India Biodiversity Portal