bearded darnel, Bearded ryegrass, Darnel, Poison darnel; Hindi: Mochni;  Punjab: Mostaki;
---
Lolium temulentum, typically known as darnel, poison darnel or cockle, is an annual plant that forms part of the Poaceae family and part of the Lolium genus. The plant stem can grow up to one meter tall, with inflorescence in the ears and purple grain. It has a global distribution.
Darnel usually grows in the same production zones as
wheat
and is considered a
weed
. The similarity between these two plants is so great that in some regions, darnel is referred to as "false wheat".

[1]

It bears a close resemblance to wheat until the ear appears. The spikes of L. temulentum are more slender

than those of wheat.

The spikelets are oriented edgeways to the rachis and have only a single glume,

while those of wheat are oriented with the flat side to the rachis and have two glumes.

The wheat will also appear brown when ripe

, whereas the darnel is black.

[2]
---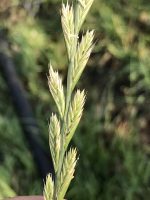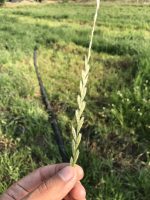 Need ID of fodder grass for buffaloes
: 2 images.
Bhopal
Lolium temulentum
---