Tamil: Vattakanni, Vattathamarei, Vuttuttamarai  Malayalam: Uppila, Vatta, Vattakkanni  Kannada:  Bettadavare, Makaranda mara;
---
Gregarious trees, bark grey, smooth; exudation red, watery; branchlets fulvous tomentose, glaucous. Leaves simple, alternate; stipules large, lateral, densely pubescent, deciduous; petiole 12-22 cm long, stout, pubescent; lamina 15-30 x 12-25 cm, ovate-orbicular or deltoid-ovate, base peltate, apex acuminate, margin entire or toothed, glabrous above and tawny-pubescent, intermingled with yellowish glands beneath; 2 large glands near the petiolar insertion above, coriaceous; 8-10 ribs from base, palmate, prominent; lateral nerves 6-12 pairs, parallel, prominent; intercostae scalariform, prominent, margin glandular. Flowers unisexual, yellow, in axillary panicles having zig-zag branches; bracts small with a large, flat glandular appendage; male flowers: tepals 3, initially connate, later spreading, concave, ovate, valvate, acute, glandular; stamens 6-8, shortly connate below, exserted; anthers 4-celled; female flowers: tepals 4, lanceolate, basally connate at base, valvate, acute, glandular; ovary superior, 2-6-celled, globose, echinate, ovules one in each cell; style lateral; stigma acute. Fruit a capsule, 7-8 mm across, globose, echinate; seeds black.
Flowering and fruiting: October-December
South and South East Asia
---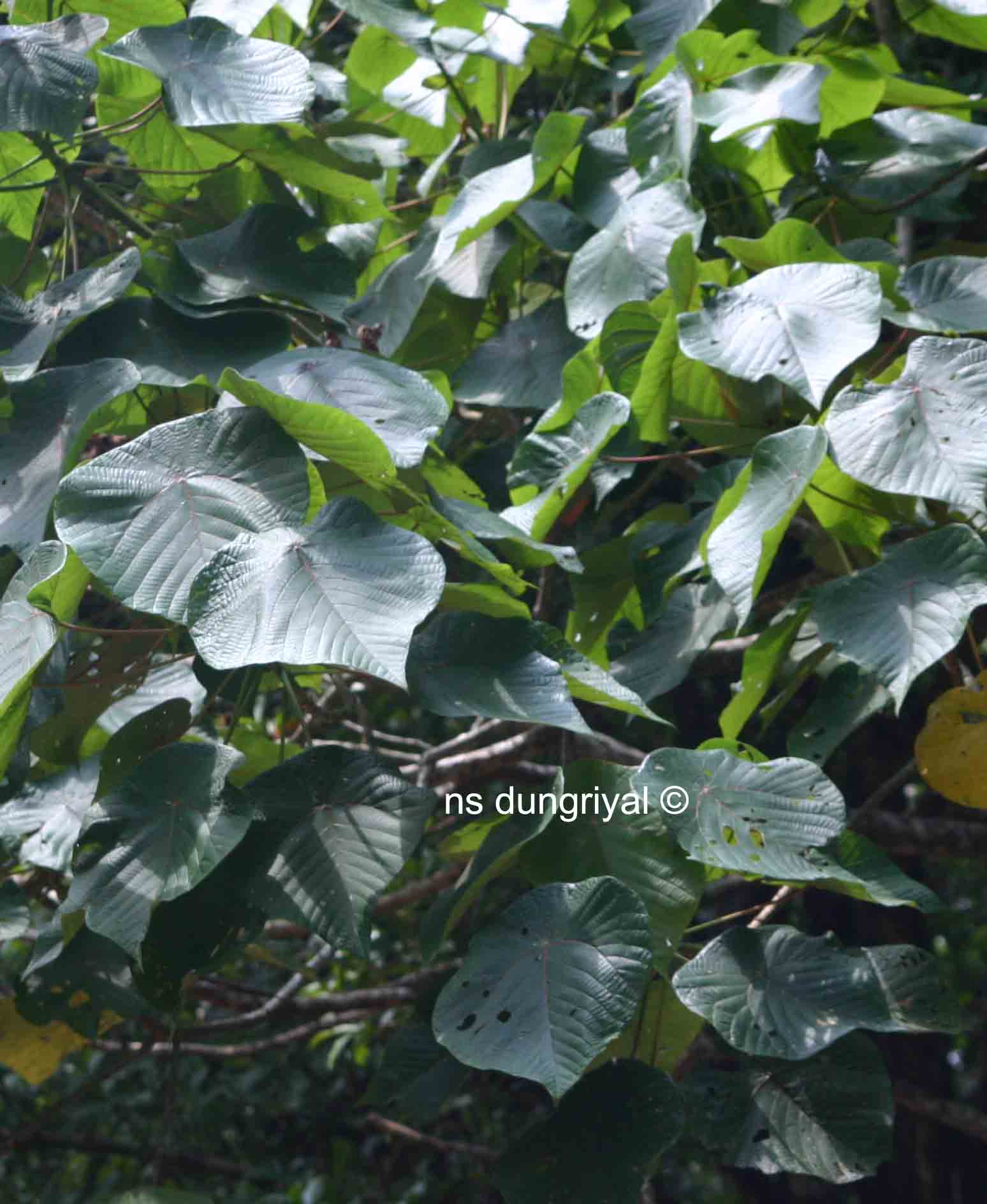 Fwd: Macaranga indica?
:
Attachments
(1). 6 posts by 4 authors.

it is
from Periyar
, i think it is
Macaranga indica
, but i am not very sure, please confirm
---
Is it the same as the picture I've attached? Is Macaranga indica synonymous with Macaranga peltata?
---