Nepeta cataria L., Sp. pl. 2:570. 1753
Common names: Cat-mint, catnip
A tall herb with triangular-ovate, 2-7 cm long leaves, prominently crenate-serrate along margins, on 1-2 cm long petioles; flowers white with bluish spots, cymes in spreading panicles;
Common in Europe and Asia;

commonly grows in Kashmir
in wastelands and roadsides.
---
Nepeta cataria L., Sp. pl. 2:570. 1753
Common names: Cat-mint, catnip
A tall herb with triangular-ovate, 2-7 cm long leaves, prominently crenate-serrate along margins, on 1-2 cm long petioles; flowers white with bluish spots, cymes in spreading panicles;

Common in Europe and Asia;

commonly grows in Kashmir
in wastelands and roadsides.
---
Nepeta cataria from Kashmir, commonly found in grazed areas and wastelands, photographed from Pampore on June 20, 2010
Common names: Catnip, Catmint
French:
Cataire, Menthe des chats
German: Katzenminze
Spanish: Hierba gatera, Menta de gato

Leaves and shoots used as flavouring; dried leaves used in stews and soups; leaves chewed in toothache; oil of catnip obtained from herb.
---
I could never understand the secret behind its common name being catnip !!
---
Perhaps this may satisfy you (biochemical reason):
"The attraction of feline mammals to the odor of catnip (also called catmint) is not limited to domestic house cats. In fact, is is apparently attractive to all members of the cat family (Felidae), including lions and tigers. The chemical in catnip responsible for the unusual and comical behavior of cats is nepetalactone, a methylcyclopentane monoterpene. It is found in the leaves, stems and inforescences of catnip plants. Dried leaves, stems and flowers are placed in catnip toys and sold in natural food stores as a medicinal tea. Nepetalactone occurs naturally in cis-trans and trans-cis isomers. These isomers have slightly different 3-dimensional shapes with respect to the position of the methyl group on the cyclopentane component of the molecule. According to the Merck Index (1983), the cis-trans isomer comprises 70-99 percent of the nepetalactone in catnip plants."
For more of this please go the original source:
---
That informative!
Thanks a lot for sharing, but just wanted to know, is it of any use to the plant in particular. I mean like the plant is pollinated by cats!!!
---
Nepetalactone in catnip causes a hallucinogenic effect. Perhaps an answer and parallel may be found in finding how Cannabis, opium and other plants which are used by man are benefited by this. If we know the answer to the second question, the first is automatically answered.
Some more interesting fact about catnit:
It is believed that cats eat catnip to bruise the catnip & therefore release more of the nepetalactone. The high produced will usually last between five & ten minutes.
One interesting fact is that when sniffed, catnip will stimulate kitty, however when eaten it will act as a sedative.
Kittens younger than 8 weeks old aren't  able to enjoy it's effects. In fact, they show an aversion to it.
Cats can smell 1 part in a billion  in the air.
Cats are better than man in one respect. 
They won't overdose on it. Most cats know when they've had enough & will refuse any further offers.
Interestingly, researchers say that nepetalactone is about ten times more effective at repelling mosquitos than DEET, which is the active ingredient in most insect repellents. It was also discovered that catnip repels cockroaches too!
---
---
Plant seen at the Flower Show in Feb this year.
---
Lamiaceae
---
One of the Mint variety. Also check https://unsplash.com/s/photos/mint
---
If so, pl. check comparative images at Mentha and Mentha × piperita L.
---
Looks like nothing matches with efi listing !
---
It was probably in their medicinal plants section.
---
I found the name.
Catnip, Nepeta cataria.
Attachments (1)
---
Great find …!
---
---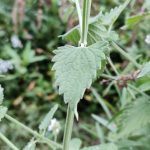 Nepeta cataria: 2 high res. images.
Date and time: 19 july 2020./ 19:18pm.
Loctaion:kulgam, Jammu and kashmir. 
Habit:Erect herbaceous plant with sharp smell. 
Height: up to 2 ft. Tall. 
Flowers white with purplish fots on petals. 
Vernacular name: Braari ghaase.
Commonly used by locals in the treatment of abdomen ache.
---
Please share if you have more images of leaves. They should be distinctly toothed in N. cataria.
---
Here is the actual photograph of Nepeta cataria leaf.
---
Yes it is
---