little seed canary grass, small-seeded canary grass, small canary grass, lesser canary grass;
---
Date/Time- 11th March, 2012
Location- Place- Merrut, Uttar Pradesh
Habitat- Wild
---
AP1- Plant for id from Ambala Cantt Haryana: please help me to identify this plant..
Photographs taken on 10 April 2012
Descriptions:
Place: ambala cantt
month: April
habitat: garden
habit: smal, herbaceous
stem: weak
---
This one should be Phalaris minor… a very common weed, in the wheat fields.
---
yes. Phalaris minor
---
---
Found this grass yesterday on roadside, at Gobra, Hooghly. H & H : about 1.5 ft. tall, there was only those seen in the first photo
---
Yes … this should be Phalaris minor Retz. most probably, a common weed of wheat crop, at times a nuisance…
---
… both are absolutly right
---
Phalaris minor
---
Yes. Phalaris minor
---
This is a
noxious weed in wheat fields..
Lesser canary, Phalaris minor Retz.
---
Yes … Nice photographs.
---
---
Phalaris minor Retz., Obs. Bot. 3:8. 1783.

A common weed in wheat and Mustard fields in winter in Delhi. Can be easily confused with species of Phleum. Photographed from Khalsa College Botanical Garden in Delhi, in February.
---
Very beautiful photographs.
---
.
---
Poaceae, Cyperaceae and Juncaceae Week: Poaceae-Phleum paniculatum from Kashmir-GS95 : Attachments (3). 4 posts by 3 authors.
Phleum paniculatum Huds, Photographed from Srinagar Kashmir, often found as weed at lower altitudes.
---
I would have definitely said Phalaris minor on seeing the above photographs, this is so close…thanks for showing..
---
This is Phalaris minor
---
Thanks … for correction. I had not known about Phalaris minor when in Kashmir, and saw it for the first time in Delhi.
As reported in FBI Phalaris minor does not ascend above 1500 m. This was growing at alt of 1700 m. May be it has now extended to Kashmir valley.
We had similar plant collected from Srinagar and Ladakh which I had identified as Phleum paniculatum. I am uploading both for confirmation.
---
The plant was collected from Salbari, P. O. : Sukna. Dist.: Darjeeling. West Bengal. 
---
looking like phalaris minor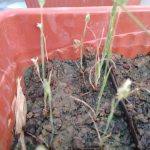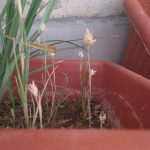 ID Requested – Monocot Species 2: 2 images.
Location – Nalanda, Bihar
Germination period- March
Dicot Species
---
The 2nd pic features Phalaris sp., cf. P. miima. 1st pic probably initial stage of the same.
---
Phalaris minor
---
References: