---
| | |
| --- | --- |
| Kannada | Ije |
| Malayalam | Kozhukkattathekku, Pincha, Naithekku |
| Others | Pincha, Kozhukkattai thekku, Peethai, Irula : Peethaimaram, Purangainari, Naithekku, Podanganari, Malaithekku |
| Tamil | Kolakattai thekku, Malai Thekku, Kolakkatti Thekku |
---
Trees, to 15 m high, bark greyish-brown, smooth; young parts with stellate tomentum. Leaves simple, opposite, estipulate; petiole 20-50 mm long, slender, tomentose; lamina 6-25 x 5-15 cm, broadly ovate, base obtuse or cordate, apex acuminate, margin entire, densely tawny yellow stellately tomentose, yellowish, chartaceous; lateral nerves 5-7 pairs, densely tomentose beneath, intercostae scalariform. Flowers bisexual, yellow, small, in terminal and axillary corymbs, 7 cm long; calyx tubular, 5-ribbed, lobes 5, stellate pubescent; corolla 7.5 mm across, 4 mm long, tube cylindric, hairy, lobes 5, orbicular; stamens 4, didynamous, 1.5 and 2 mm long; anthers rounded, 0.5 mm; ovary truncate, superior, puberulus; style 3 mm; stigma unequally 2 fid. Fruit a drupe, ovoid, 5-6 mm long, 4 mm across, black, hairy; seeds 4.
Flowering and fruiting: February-April
Peninsular India and Sri Lanka
---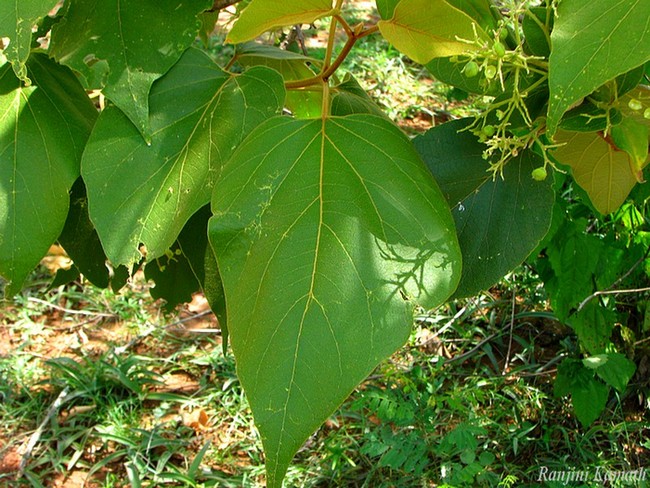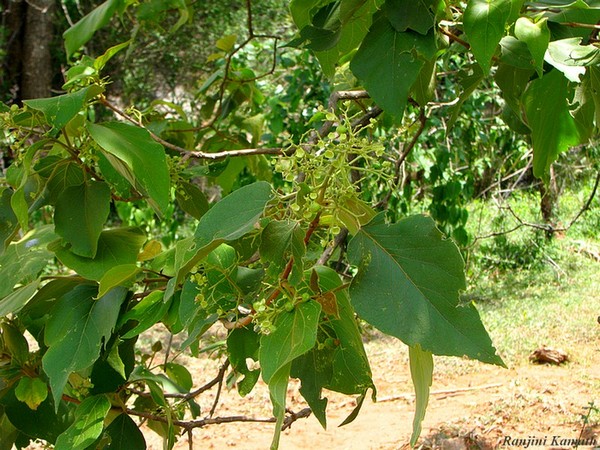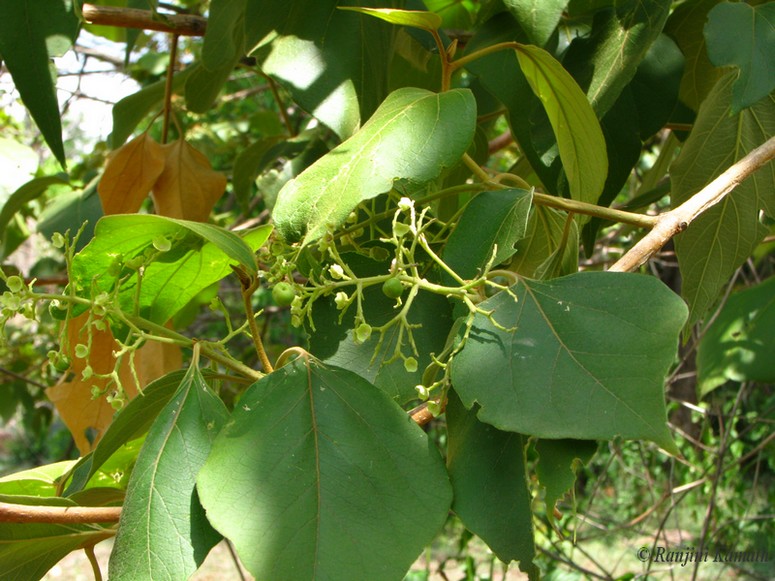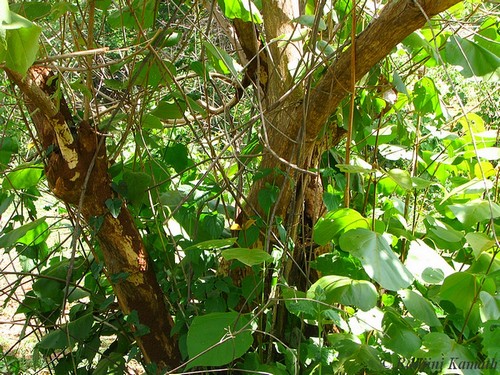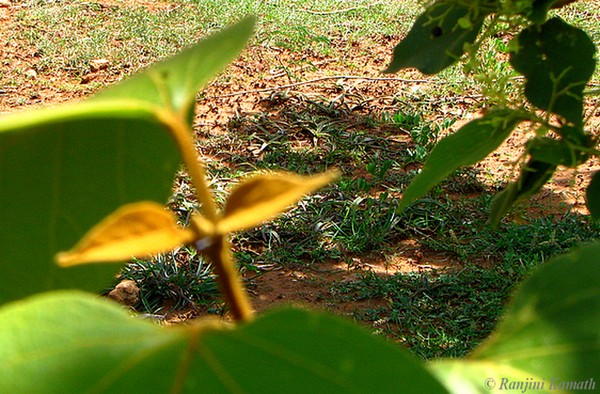 Tree for ID-12072010-RK
: Attachments (5). 5 posts by 5 authors.
Request ID of the tree.
Date/Time——– Sun 27th June 2010/ 02.04 pm
Location ——–Bangalore Outskirts
Habitat ——- Wild
Height ———- 5 mtrs [not sure ]
Leaves type —–
Inflorescence ——
Flowers size- Small
Fruits type — Did not notice any
---
It look like Premna tomentosa (Verbenaceae)
---
Premna tomentosa is quite a close call the leaves do look tomentose but not sure without any reproductive parts !!
---
Premna tomentosa bark is used in curdling milk instantly! (by Malayali tribes in TN).
In Tamil, it is known as 'Pidangu Naari' i.e. 'Purangai Naari'. Purangai = the other side of the palm; Naari = foetid/smelling. So just smell the lower surface of leaf, it emits an unpleasant odour, whereas the upper side has no smell!!!

'Etymology' of vernacular names!!!
---
That's interesting, may be some glandular hairs are present on the lower surface but absent on above….
---
---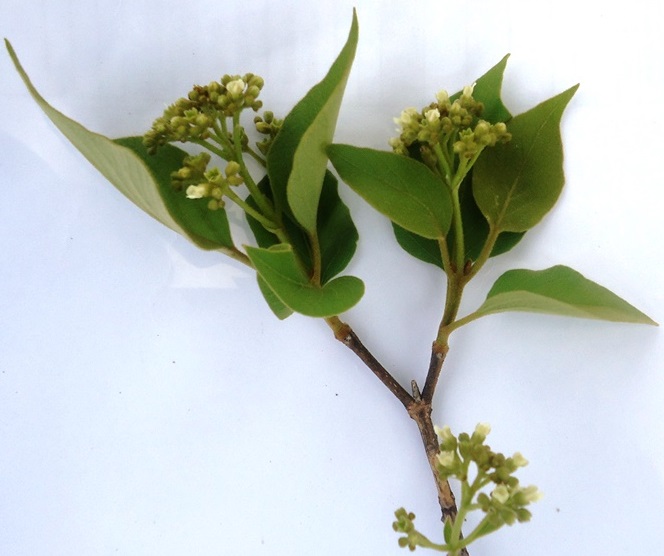 Premna tomentosa Willd. SN May 34 : 1 post by 1 author. Attachments (3).
Premna tomentosa Willd., Verbenaceae,
Medium sized tree,
leaves aromatic.
---
---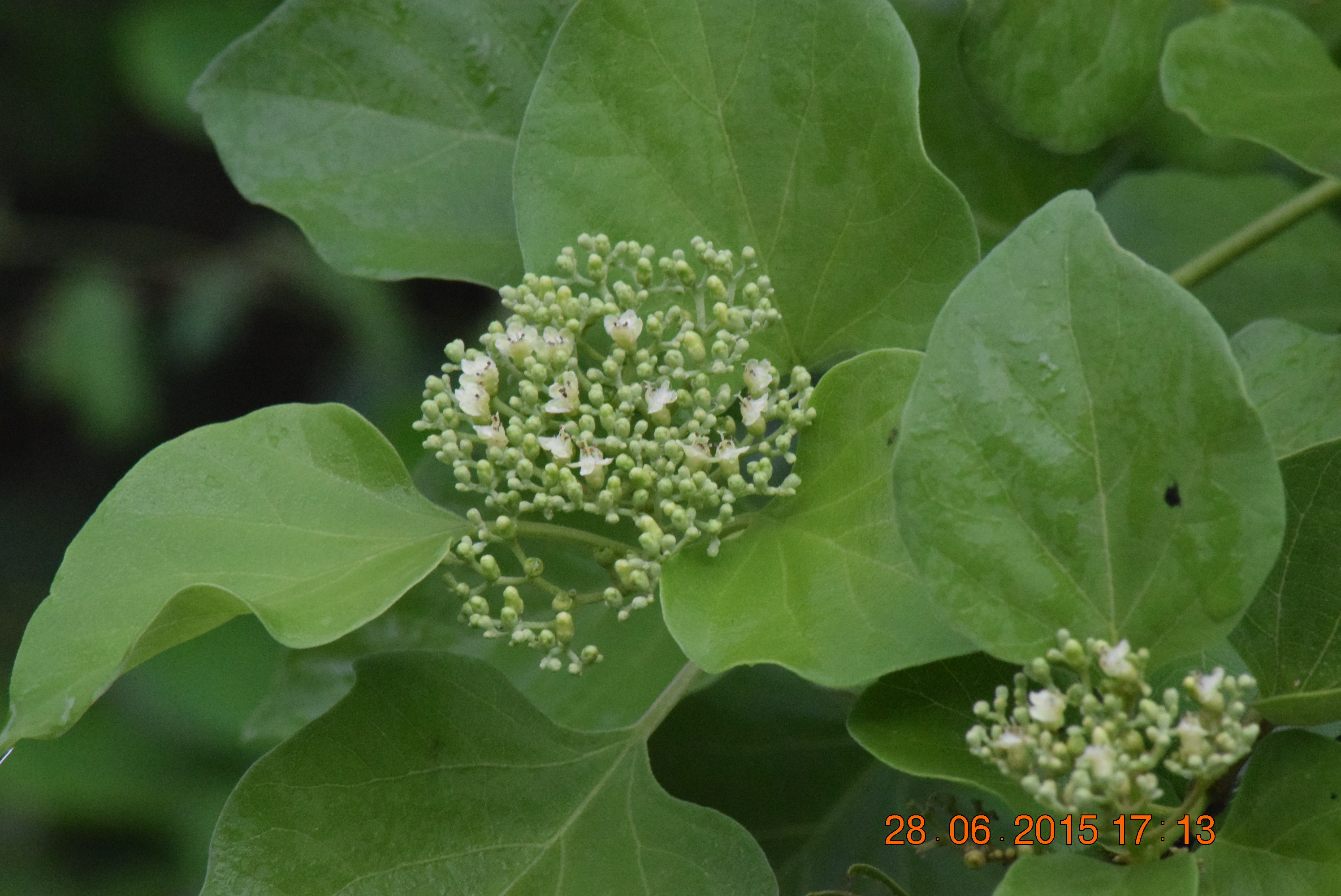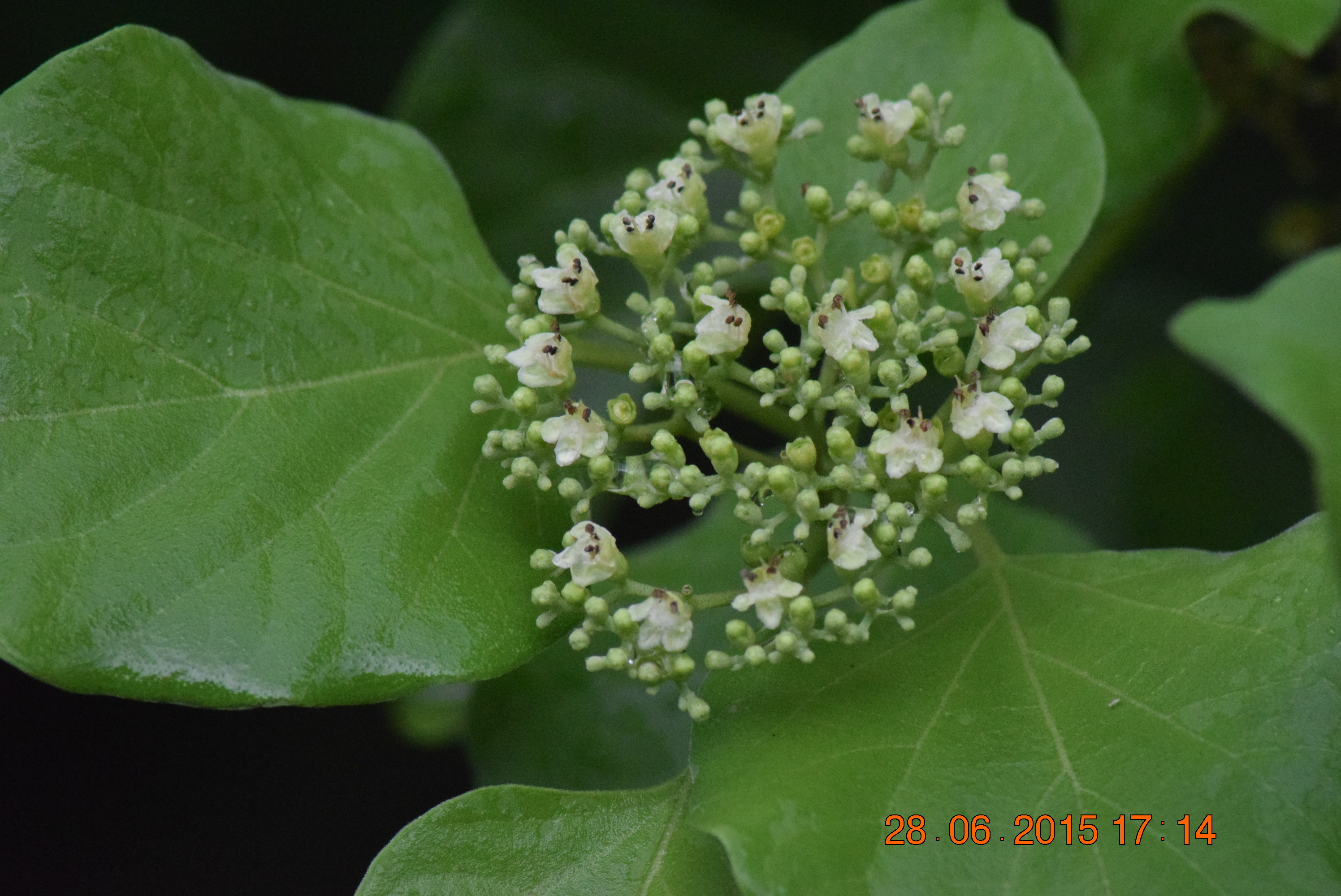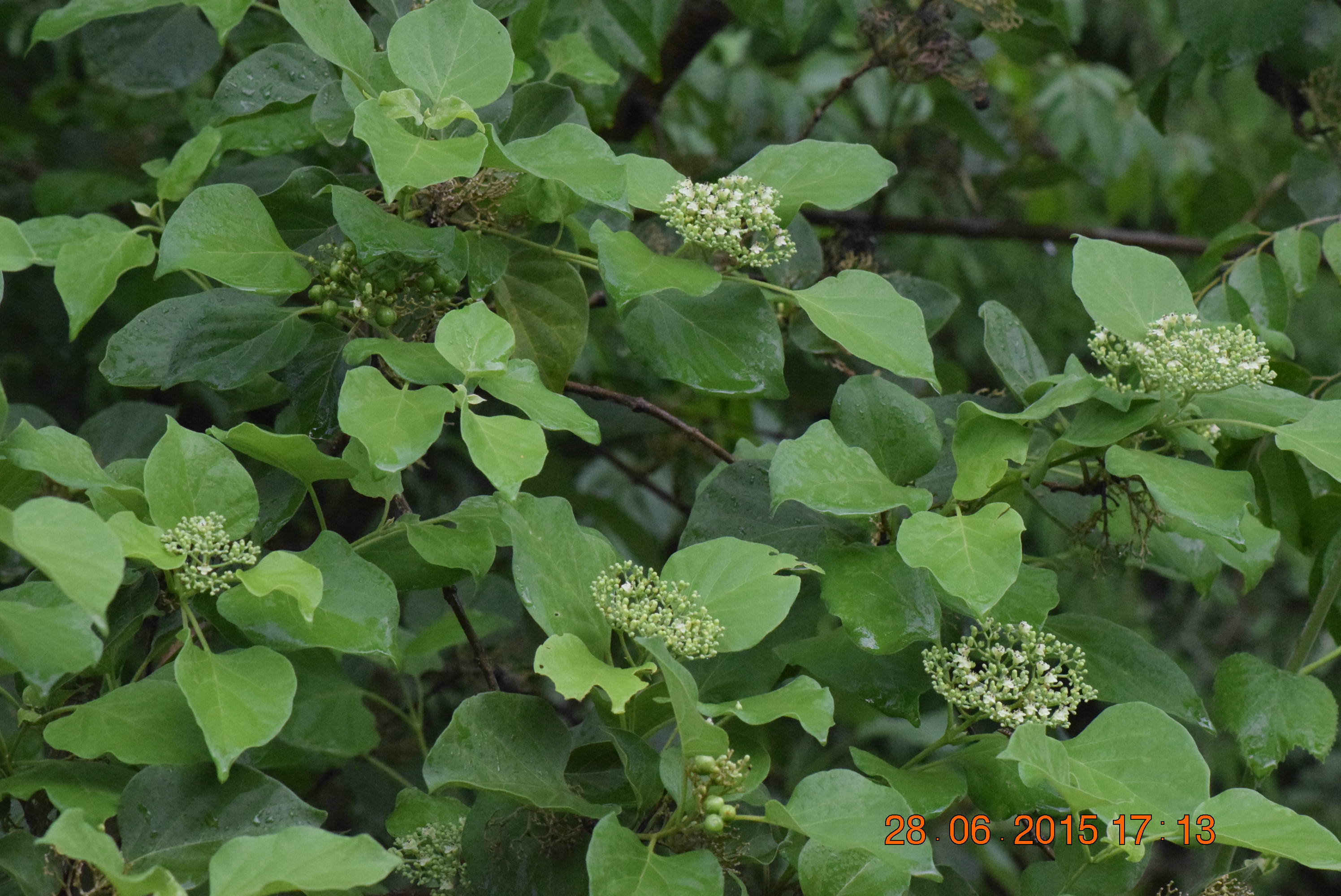 Are the attached specimens Premna tomentosa ?
: 5 posts by 3 authors. Attachments
(4)
– 1 MB or more.
Pl confirm me whether the attached specimens are of
Premna tomentosa
or not.

A small tree recorded at the bottom of the hillock near the forest side.
Leaves are smooth to touch.
---
It was recorded at Kanchaloor Forest, Katpadi, Vellore Dist, Tamilnadu on 28-06-2015
---
Yes it seems to be Premna tomentosa.
Leaves should be velvet like brown hairs. It will also give ghee like aroma.
---
---
Plant for id: 1 image.
Location: near Nandhi hills (Bangalore) – 16th June 2011
---
This plant was hairy probably tomentose hairs. No flowers at this time, it was a shrub.
---
Looks like Gmelina arboea. However, details (foliage and flower) are needed for confirmation.
---
U have more photos?
It is feel to me Premna tomentosa or Gmelina arborea.
Need more photos for confirmation
Premna tometosa
---
Also check for Gmelina arborea.
---
Not
Gmelina arborea
,
Because
Tender leaves white tomentose …… Gmelina arborea
Tender leaves brown-golden tomentose ……. Premna tomentosa.
---