Priva cordifolia (L.f.) Druce
,
Rep. Bot. Soc. Exch. Club Brit. Isles 1916: 641 1917
. (syn.
Buchnera cordifolia L.f.
;
Priva leptostachya Juss.
;
Streptium asperum Roxb.
;
Syntrichia chisosa (Magill, Delgad. & L. R. Stark) R.H. Zander
;
Tortula aspera (Roxb.) Roxb. ex Willd.
;
Tortula chisosa Magill, Delgad. & L.R.Stark
);
.
S. Arabian Peninsula, Indian Subcontinent to Myanmar:
Assam, Bangladesh, East Himalaya, India, Myanmar, Oman, Pakistan, Sri Lanka
as per
POWO
;
.
Common name:
 Heart-Leaf Velvet Bur, Heart-Leaf Priva
---
---
---
Pl. find the attached file contain few photos for ID. The bugs along with the fruits are from
Hydnocarpus pentandra
(Chaulmoogra) any one can help in id. of the bugs?
Location:
Anaikatti, Coimbatore, Western Ghats, Tamil Nadu
Alt: 650 MSL
Flowers During June, July ,2011.
---
The first picture (adai otti) is of Priva leptostachya, and the last one is of Asystasia gangetica.
---
---
Herb for Id from Panipat- 2012:
Please help me to reach to identification of this small, delicate herbaceous plant, shot today from near Panipat, (looks like Stachytarpheta australis ?), I wonder what this can be …
---
Yes think this is Stachytarpheta cayennensis (Syn: Stachytarpheta australis f. albiflora).
---
I think this should be Priva cordifolia.
---
Yes I agree with …, Priva cordifolia
---
Thanks a lot … for suggesting the id and … for reconfirmation…. I am not sure about how did this come here…does not look like any plant having a potential for being ornamental…very small inconspicuous flowers and prostrate habit…this surely does not qualify for any ornamental herb…any information about its nativity please…thanks again for id…
---
---
This herb was recorded
from Panipat
, few years back, I am to see this again..
Please help to reach id, this was tentatively identitfied as
Stachytarpheta australis
.. please give your opinion !!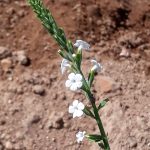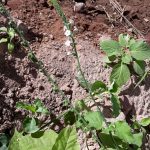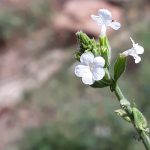 Id request of a herb
: 11 posts by 3 authors. 4 images- 1 to 6 mb each.
Request for identification of a
herb
from Coimbatore. Photographed in September 2019
---
Priva cordifolia Verbenaceae,
---
Is this too Priva cordifolia??
---
Yes it's …
---