Some related Youtube Links
---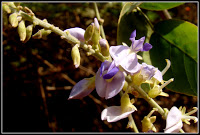 Pueraria tuberosa: Today at Kanakeshwar, Alibag
Pueraria tuberosa
Marathi name: Vikari-kand
---
Sorry, … for comment but please share all parts so that it can be compared with Pueraria lobata and Pueraria phaseoloides before coming to conclusion.
Please correct me if I am wrong.
---
Pueraria tuberosa at Kankeshwar :  Attachments (5). 4 posts by 4 authors.
---
… this could be the name in native script … শিমিআবাতরাজী … do please validate, yields no search results on internet.
Reference: Purnnachandra Ordia Bhashakosha
---
Flora Indica doesn't mention any Bengali name for this plant.
Hortus Suburbanus Calcuttensis also gives no Bengali name.
---
Have known this twiner as ખાખરવેલ / Khakhar-vel, suggestive of its trifoliate leaves akin to ખાખરો / Khakhro i.e. Butea monosperma. The Gujarati name વિદારીકંદ / Vidari-kand is indicative of the underground tubers that have to be ripped out of the ground ( વિદારવું ). Yet another Gujarati name of this plant is ફગડાનો વેલો / Phagadano Velo since the new leaves emerge in the month of ફાગણ / Phagan. 
---
Thank you very much … for the interesting names of Pueraria tuberosa in Gujarati. Thanks for the additional information. Will incorporate them into my notes post this Asteraceae Part I fortnight.
---
I am seeking a verification about the name of the scientist in whose honour this genus is named. I ask because I often visit Thailand where we have several kudzus and I have some local literature which credits
the name as M. W. Puerari. I am getting mixed results on the internet, M. W. as well as M. N. Puerari. Thanks in advance for any help in this regard and compliments for your haunting photography.
---
Thank you very much for pointing out to this confusion of M. N. and M. W. Puerari
---
---
Please identify this Liana – NS 6 : 10 posts by 4 authors. Attachments (5)
Photographed at my farm at Shahapur yesterday. Unfortunately do not have any photographs of it flowering / fruiting. Also, it is not Mucuna pruriens [Common Cowitch / Khaj khujli] which is flowering & fruiting right now.
References: