India (N); Andhra Pradesh ; Arunachal Pradesh ; Assam ; Bihar ; Delhi ; Goa ; Gujarat ; Haryana ; Himachal Pradesh; Jammu-Kashmir ; Karnataka ; Kerala ; Madhaya Pradesh ; Maharashtra; Manipur ; Meghalaya ; Mizoram ; Nagaland ; Orissa ; Pondicherry ; Punjab; Rajasthan ; Sikkim ; Tamil Nadu; Tripura ; Uttar Pradesh ; West Bengal & other countries
as per
ILDIS
;
---
---
From Chalisgaon, Maharashtra. Shot on 10 11 2019
---
I too accepted with S. surattensis,
---
very nicely done. I like the added effort spent in demonstrating the leaflet features diagnostic to the T
---
In the post quoted above, Guruji had said
"
I wonder if we really have true Senna surattensis in India. I would be happy if some one uploads one. "
This statement lingered in subconscious. 
When I saw the fb post by …, number of leaflet pairs immediately triggered that memory …it was an eureka moment !! 
I requested … and he obliged, mailed his images to me and I promptly forwarded it to group. 
(Sadly, though the name of species derives from Surat, no tree I have seen yet in Surat or outskirts.)
---
Thanks, …, for finally solving the mystery.
---
i love the detailed photography and with added thoughtfulness to show the
Glands only present on rachis between leaflets, the lowest 4 ones,
leaflets can be 3-9 pairs.
we have had a lot of discussions
but the ultimate crux is this presence of glands  and their position

http://flora.huh.harvard.edu/
china/PDF/PDF10/Senna.pdf
---
Thanks very much … for sorting the characteristics of this plant. Photo-illustration is a great help to many !!

---
.
---
Fabaceae-Caesalpinioideae (Caesalpinioideae) Week: Looking for true Senna surattensis:
There seems to be some confusion with regard to whether Cassia glauca Lam. (vol. 2, page 265 of FBI) is treated as simple synonym of now Senna surratensis (such authors naturally mention 4-9(10) pairs of leaflets) or distinct Senna sulfurea (or Senna surattensis subsp. sulfurea; with 4-6 pairs of larger (4-10 cm) leaflets) and Senna surratensis (with 6-9 pairs of smaller (2-5 cm long) leaflets).

Let us forget the nomenclature temporarily. There is no denying that both taxa occur in India
1. One with 4-6 pairs leaflets (usually 5 pairs), larger leaflets (4-10 cm long), longer stalk of fruit (10-20 mm long)..
(C. glauca of FBI, Senna surattensis subsp. glauca of many authors; Senna sulfurea of Flora China and
The Plant List)
2. Second with 6-9 pairs of smaller leaflets (2-5 cm long) and shorter fruit stalk (5-7 mm long) (C. glauca
var. suffruticosa of FBI, Senna surattensis of Flora China and the Plant List)

Most of us have been uploading the first taxon. I would request members to find and upload the second. It would be really interesting.
---
Cassia for ID :
This plant is from Riyadh gardens, KSA. It appears to be Cassia bahamensis? Pl validate
---
cassia spectabilis
---
Definitely not C. spectabilis
---
It somewhat resembles Senna sulfurea (= Cassia glauca). Let's see how the pods looks like.
Leaflets in C. bahamensis seem to have acute apices.
---
Finally I concluded that it is
Senna surattensis
(Burm.f.) Irwin & Barnay.
Thank you … for the possible clue.
---
Is this the species you were looking for all along- identified as
Senna surattensis
(Burm.f.) Irwin & Barnay by … ?
efi site link:
Senna surattensis
---
I think … finally got it. I can count up to 8 pairs of leaflets. Both S. spectabilis and S. bahamensis are much different with acute to acuminate leaflets, much longer than broad. Any focus on glands and fruiting twig would nail it.
Thanks … We were looking for it for a long time. Most Floras, especially Indian, have long been confusing S. sulphurea and S. surattensis, till Fl. China solved this confusion.
---
---
Location: Bangkok, Thailand
Elevation: MSL
Habitat: Cultivated

Cassia
?
Senna
??
---
---
---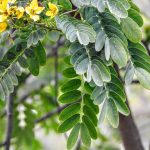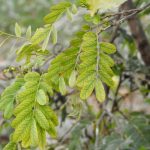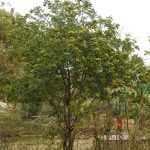 Saha 01 Jan 21: 4 images.
Need id of this small tree in public garden at Agra, U.P
Image:- Jan 21
---
Senna polyphylla ?
---
Senna surattensis
---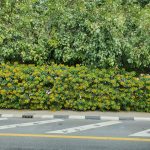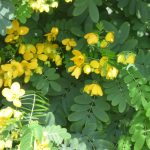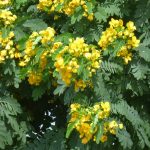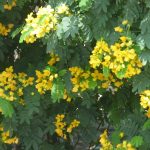 Senna Species for ID : Dubai, UAE : 29DEC21 : AK – 27
: 5 images.
Senna Species seen last year
in Dubai.
… had given the differentiating Species based on the number of leaflets.
These seem to have more than 6 leaflets.
Checking for Senna surattensis.
Could not take better pictures on the roads with very fast traffic.
These were clicked at a signal.
---
Cultivated ??
---
Sorry I forgot to mention.
They were in full bloom.
---
Your guess looks close.
---
References: