Hamata, African stylo;
India (N) ; Andhra Pradesh ; Goa ; Gujarat; Karnataka ; Kerala ; Madhaya Pradesh; Maharashtra; Orissa; Pondicherry; Tamil Nadu & other countries
as per
ILDIS
;
---
PlANT FOR ID 144 SMP OCT 09: A Fabaceae family member spotted on Sunday 4th Oct09 Pune.
Shrub.
Trifoliate leaves.
Small yellow flowers 1cm approx.
---
On checking the plant appears close to  Stylosanthes fruticosa (Syn. S. mucronata)
---
Any idea whether this can be Stylosanthes hamata or Stylosanthes fruticosa (mucronata)?
---
This plant is not reported from our area and I haven't seen this earlier, but if we compare the pics available online, your identification seems okay to me, this can be Stylosanthes fruticosa.
---
I have finalised the ID as Stylosanthes fruticosa.
If it is some other species please let me know.
---
---
Requesting to please identify this small wild shrub with yellow flowers
---
Crotalaria retusa
---
… some species of Stylosanthes ?
---
Agree with … It is Stylosanthus fruticosa.
---
.
---
---
Please help me ID this Stylosanthes sp. Is this S.hamata or S.fructicosa?
Location: Mudumalai, Nilgiris, TN
Habitat: Deciduous forest
---
I find more closer to images at
---
Need ID of this plant from Agra, U.P
---
---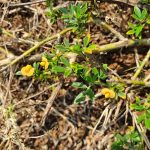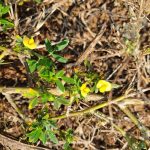 Plant for ID : Nasik : 17JAN21 : AK-12
2 images.
A very tiny plant
with yellow flowers
seen today. (17.6.21)
---
Stylosanthes fruticosa
---
I am not sure if it matches with 
Rhynchosia ravii
. But you should have shot some more
images of close ups of flower and leaf.
---
Thanks … But … suggested id Stylosanthes fruticosa seems correct since the flower and leaves are matching.
---
I agree with …
---
References: