Suregada angustifolia (Müll.Arg.) Airy Shaw (syn: Gelonium angustifolium Müll.Arg. in DC.; G. lanceolatum auct. non Willd.) as per Flora of India Vol 23 (2012) ;
W. & S. India, Sri Lanka, Bangladesh
as per
WCSP
;
India: Eastern Ghats and Western Ghats, from coastal areas to 750 m altitude. Andhra Pradesh, Tamil Nadu and Kerala
as per
BSI Flora of India
;
---
Habit- Trees up to 6 m tall.
Trunk & Bark-
Bark grey, smooth; blaze cream.
Branches and Branchlets-
Branchlets terete, glabrous.
Leaves simple, alternate, spiral; stipules caducous; petiole 0.3-0.5 cm long, planoconvex in cross section, glabrous; lamina 3.5-10.2 x 2-4 cm, obovate or oblanceolate, apex obtuse, base cuneate, sometimes asymmetric; midrib flat above; secondary nerves ca. 6 pairs, not prominent; tertiary nerves obscure.
Flowers unisexual, dioecious; male flowers small in axillary fascicles; female flowers solitary, axillary.
Fruit and Seed-
Capsule, smooth, deeply lobed, keeled on the lobes, 0.6 cm in diameter; seeds 1 per lobe. 
Trees in evergreen forests in coastal zones and dry evergreen forests in leeward side.
Peninsular India; in the Western Ghats- Malabar Coast and leeward side South Sahyadri.  
---
Suregada angustifolia – leaves look bit obovate
---
---
Suregada angustifolia(Baill ex Muell – Arg) Airyshaw : Attachments (2).  2 posts by 2 authors.
Suregada angustifolia (Baill ex Muell – Arg) Airyshaw; (= Gelonium lanceolatum aut non Willd, G. angustifolium Baill ex Muell – Arg.);
Fam: Euphorbiaceae,
Wild tree, Talakona, Chithoor dt, Andhrapradesh,
---
Nice photos.
---
---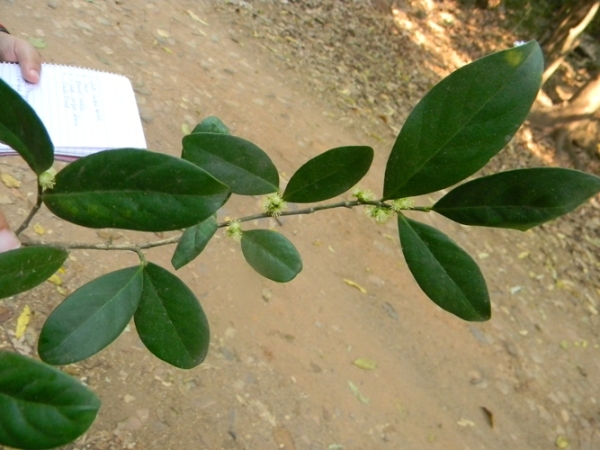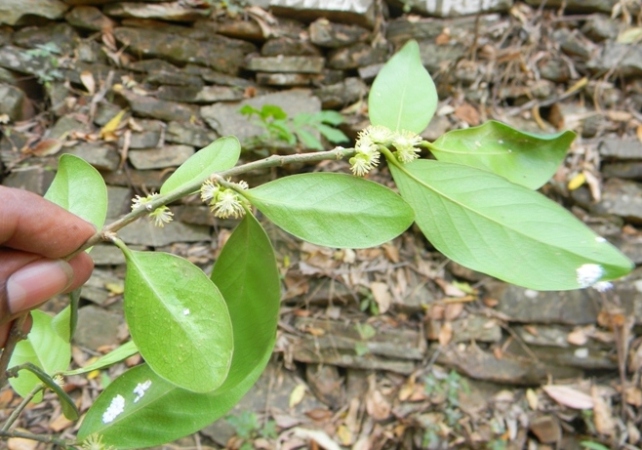 Plant for identification :: 270614MK :: June004 : 5 posts by 3 authors. Attachments (3).
Please help me in identifying this small tree species. Is this a Casearia sp.?
Location: Talakona RF, Tirupathi hills, AP

Date: 14 April 2014
---
Casearia– species in India & eFI with details & some keys
---
Suregada lanceolata of Euphorbiaceae.
---
---
Bush for ID Tiruvannamalei, Tamil Nadu NAW-OCT-17 : 3 posts by 2 authors. Attachments (4)
Kindly identify this bush photographed at the herbal garden, Tiruvannamalei, Tamil Nadu in September 2014.
Height of bush about 2 metres. Leaves about 8 to 10 cms. long. 
---
Kindly suggest if these pictures are of the male of same species or of a different species altogether. These were also photographed at the herbal park, Tiruvannamalei. Attachments (3).
---
These are female and male plants/ flowers of Suregada lanceolata.
---