Symphytum officinale L., Sp. Pl. 1: 136 136 1753. ;
.
commonly known as
: black root, boneset, comfrey, comphrey, consolida, consound, knitbone, slippery root •
Marathi
: संकूतुन sankuutan


.



Native to
: temperate western Asia, Soviet Middle Asia, Europe


.
---
Jun 4, 2008 … at Manali
commonly known as: black root, boneset, comfrey, comphrey, consolida, consound, knitbone, slippery root • Marathi: संकूतुन sankuutan
Native to: temperate western Asia, Soviet Middle Asia, Europe
References: NPGS / GRIN • Wikipedia • Cornell University
more views: Jun 4, 2008 … at Manali
---
flowers remind me of comfrey, yes.
but need to see the surface of the lower more "mature Leaves"
I am submitting my pics now
PS
was this planted in a garden or was it naturalised/ growing on its own/ wild???
---
This plant was growing untended by roadside on outskirts of Manali (towards Rohtang La).
---
Is it the same which is used in Homeopathic medicine Symphytum?
---
yes, good for bruises of/sprains of and breaks of bones
---
Yes … I photographed it only last week from Kashmir University botanical garden, and after lot of discussion with Dr. Anzar of Kashmir University we finally identified it as Symphytum officinale.
I will upload mine soon. Being busy botanizing I find little time for sitting on laptop. Tomorrow visiting Gulmarg for the third time.
---
---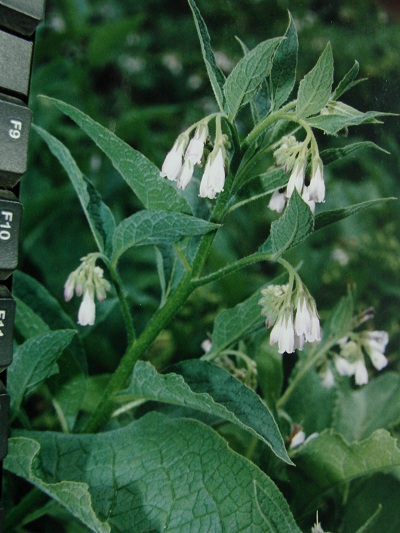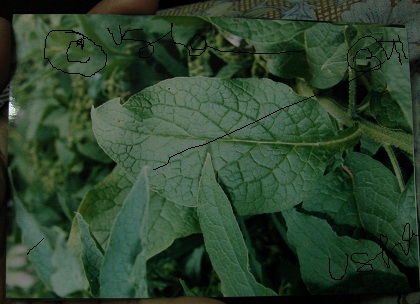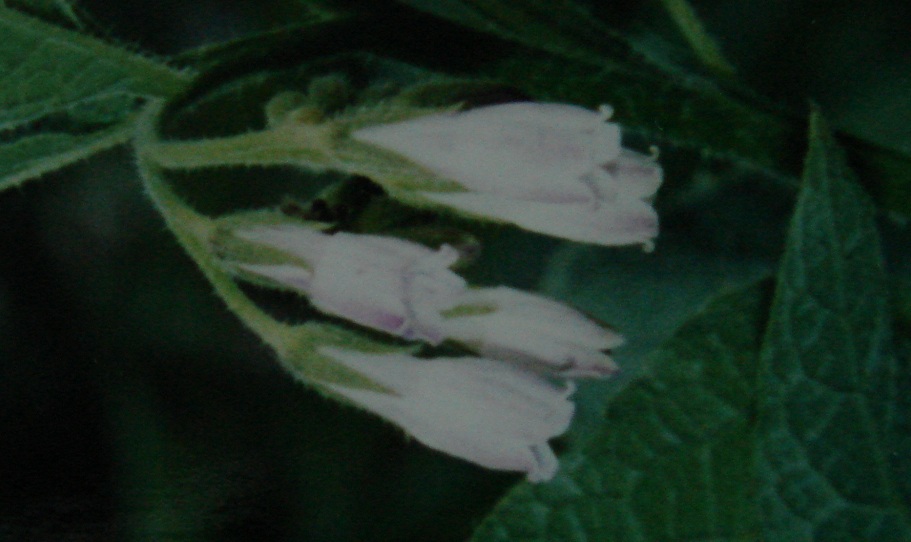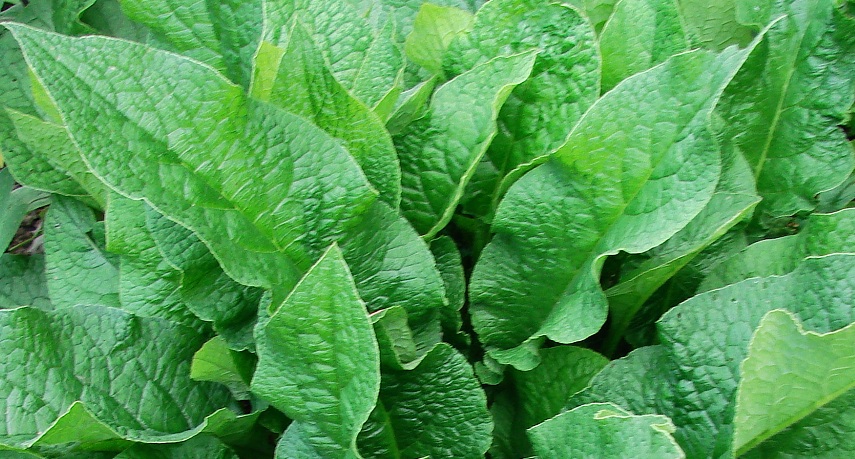 Boraginaceae Week :: UD003 COMFREY or Symphytum officinale Herbal medicine:
Comfrey is a perennial herb of wonderful herbal properties… healing not only humans, animals but also mother earth.. grows to be 2-3 feet tall with flower spikes that bear white , pink flowers… there is a wild variety with blue flowers also …
Its the knitbone of yore… for centuries past … used as poultice, cream oil and in few cases as infusion to heal bruises, fractures, inflammations such as osteoarthritis… stomach ulcers, irritable bowel syndrome and bronchitis… acne, psoriasis and even scars. 
Its reported to have allantoin which speeds epitheilal healing, inulin, saponins and and one herbal book even mentions Vit b12

along with Vit A and C, proteins and tannins… and rosemarininc acid.
BUT the roots have the high levels of pyrroziline alkaloids that lead to hepatic cellular damage and veno-ooclusive disease which may result in death… 
so in the last century it was recommended not to use without supervision
NOW HOW DOES IT HELP MOTHER EARTH?

its a rich source of micronutrients esp potassium, iodine and silicon (in useful forms) and its leaf juice (fermented), is used as an organic fertilizer esp for potatoes, vegetables , does wonders in soils depleted of these nutrients, for flowering plants and fruiting trees… its leaves make a good manure-pile starter/base…
since this plant grows abundantly in wet low lying soils and riverbanks… and high heat, i personally thin its use can be adapted in INDIA …. only problem is some varieties may become widespread weeds… ecologically a problem may develop… so careful study is needed… but this is a plant worth investigating, our soil in India is badly being depleted by indiscriminate farming and uncontrolled chemical fertilizer and insecticide use and hormone injections into vegetables!!!!!
The leaves decompose on their own an dissolve and feed the growing plants , I have seen farmers put down a couple of inches of Comfrey leaves around fruit trees an mulch…
and use leaf decomposition liquid for vegetables, green beans that thrive in proper k and other mineral containing soils and are thus good for us ….
I could not locate my digital era photos… What I am submitting is digital in-camera scans of old color prints from several years ago…. So the color reproduction of the flowers which were a very pleasing pink with some white is not reproducing as such, even though I tried darkening it in the scanner…
The last print is a recent digital pic of top surface the leaves only from a large leaf variety.
---
Good morning … and thank you for updating me with Boraginaceae members. I know only one, হাতিসুর ….. 🙂
---
yes, that's the russian comfrey…
Dr Duke wrote about it at length:
http://www.hort.purdue.edu/Symphytum_peregrinum.html
hope you enjoy the review
---
---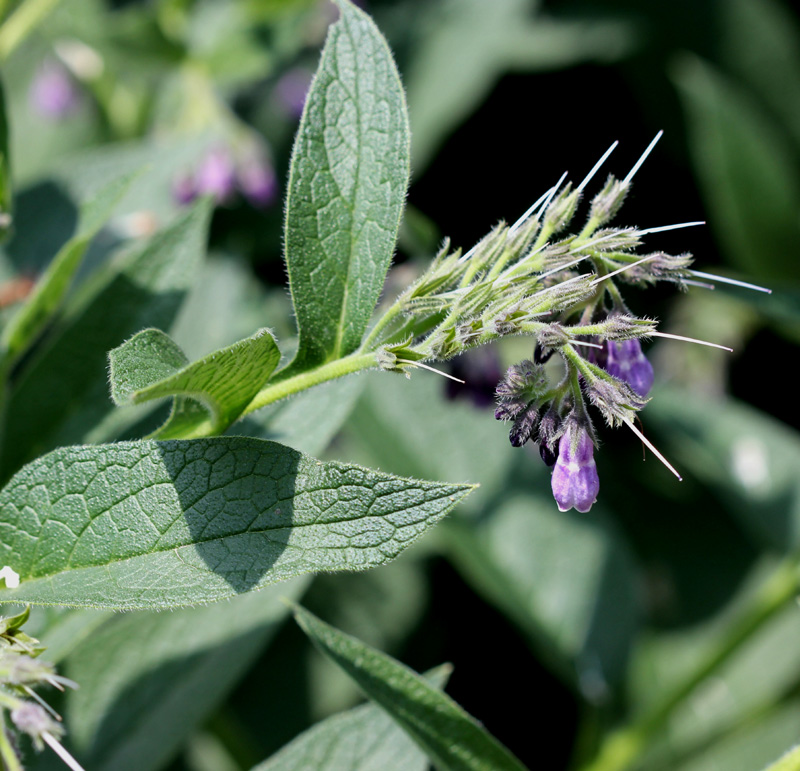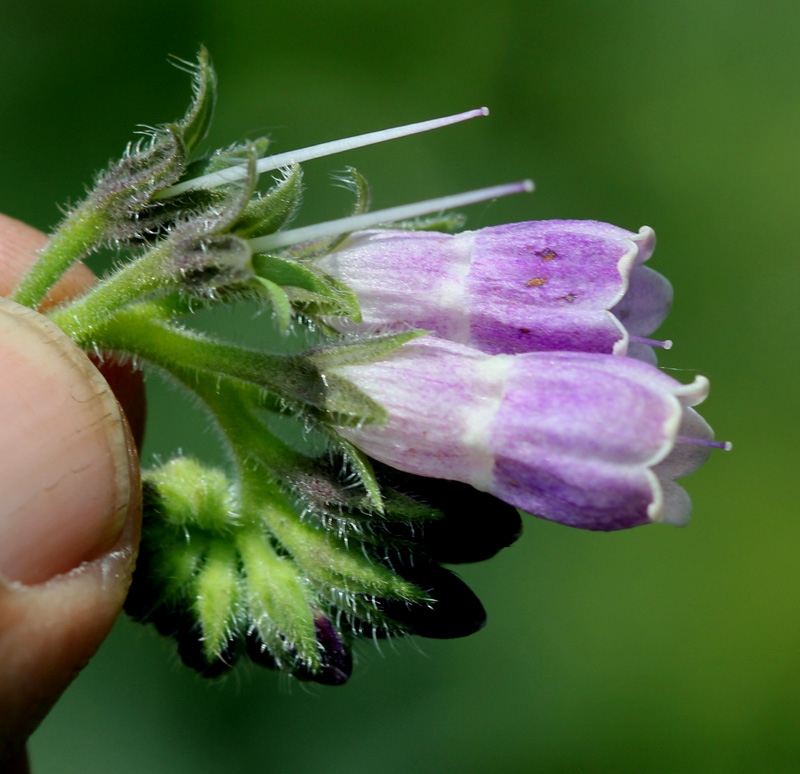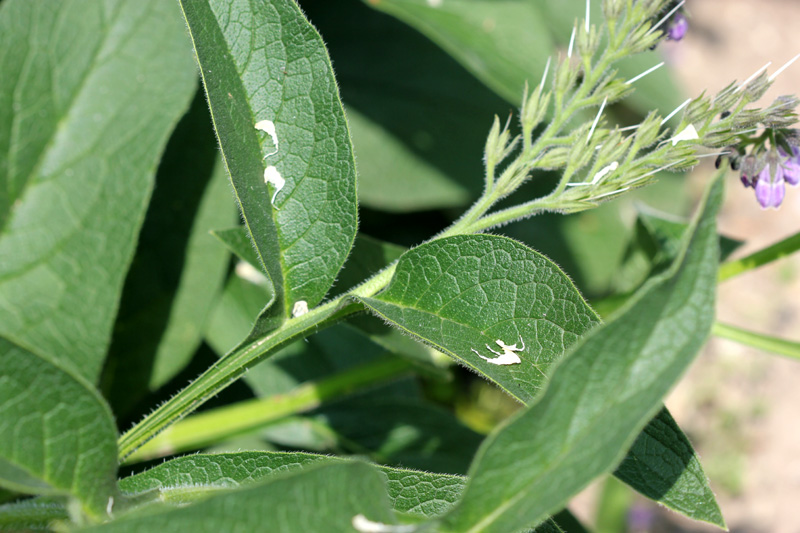 Boraginaceae Week: Symphytum officinale from Kashmir University Botanical Garden:
Symphytum officinale L., Sp. Pl. 1: 136. 1753.
Common names: Common comfrey, boneset, healing herb, knitbone, slippery root
Perennial herb up to 90 cm tall with purplish brown thickened roots; basal leaves long petiolate, ovate to lanceolate, up to 60 cm long and up to 20 cm broad; upper leaves smaller, sessile, with decurrent base; flowers usually light purple, sometimes purple-red or even yellowish-white, in many-flowered inflorescence, initially condensed, lax in fruit; calyx parted nearly to base with lanceolate acuminate unequal lobes; corolla 13-15 mm long, tubular-campanulate, slightly expanded in upper part, lobes minute with slightly revolute margin; scales and throat scales included; style exserted; fruit usually with one nutlet, black, ovoid, 3-4 mm, lustrous.

Widely cultivated plant, used in folk medicine for burns and wounds.
Photographed
from Kashmir

University Botanical Garden.
---
---
Kindly identify this
Boraginaceae
?? member
Shimla
June 2016

Plant height approx. 1m
Habit: Herbaceous

Not matching with any plant of
Boraginaceae
on efloraindia and FoI
References: