---
Tree from Lava (Darjeeling) : Attachments (1). 9 posts by 6 authors.
sharing a shot of a tree from the hills of Lava (7000 ft.).
Can someone give the ID?
---
But is it some Lauraceae?
---
Sorry, on second thought, I think I am wrong. This is not Lauraceae.
---
It was seen on the way to Algarah from Lava-Rikisum, Darjeeling district. WB. in the month of December.
---
I strongly feel its some species of Terminalia. If I am not mistaken there are a few similar trees planted in FRI dehradun. Someone can find out the species from there.
---
Looks like Terminalia myriocarpa COMBRETACEAE locally called "Panisaaz" in Nepali
---
I still feel its Terminalia myriocarpa.
Maybe a close-up will enable the experts to confirm?
---
Can you pl. confirm it as Terminalia myriocarpa as per efi thread Terminalia myriocarpa ?
---
I agree with … id. It does look like Terminalia myriocarpa.
It is a S.E.Asian plant; within India it is recorded from northeastern region.
---
Yes, I agree. Common in Sikkim, called Panisaaz in Nepali.
---
I have seen it growing in Sikkim. the flowers look very attractive
---
---
Terminalia myriocarpa (Combretaceae) : Attachments (1). 1 post by 1 author.
Trees, 10 – 15 m high in tropical to subtropical forests in East Sikkim.
---
---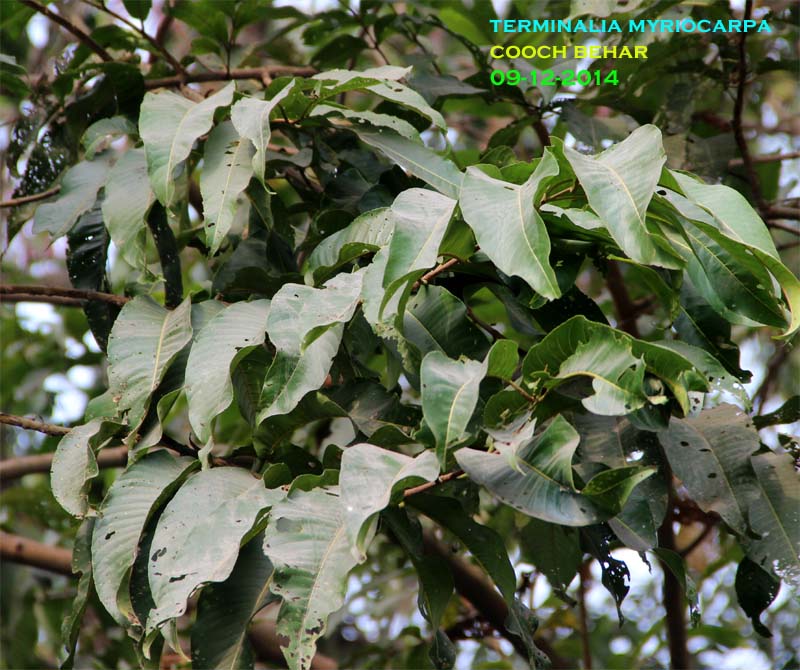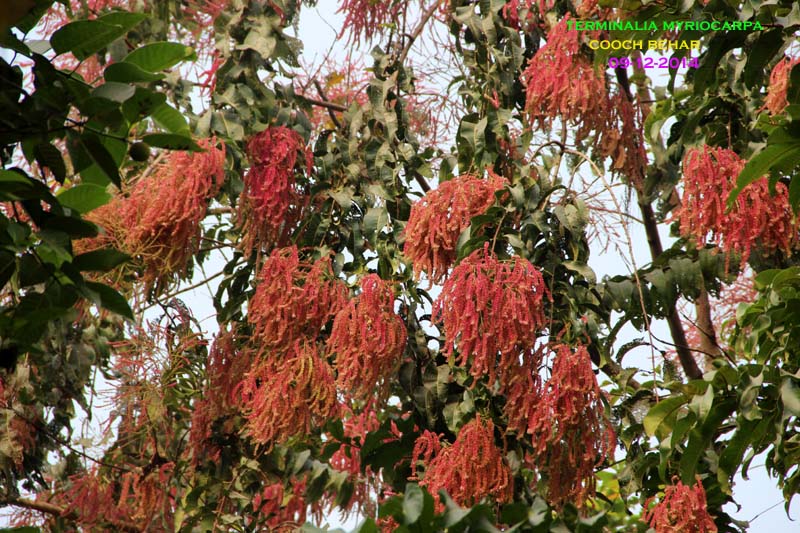 TERMINALIA MYRIOCARPA
: 3 posts by 3 authors. Attachments (2).
Attaching two images of
Terminalia myriocarpa
.

Common name of this tree is
HOLLOCK
.
---
---
Can any one help me for identification of the
tree
species
I found in
Hiranandani garden.
---
Yes. Possibly T. myriocarpa.
---
Attaching a collage of Terminalia myriocarpa. I saw this tree for the first time in the campus of Indian Military Academy. There are few trees in this town also. It is not known how long they will be standing with aggressive human invasion.
---
Location: Kalimpong, WB, India
Elevation: 1350m.

Habitat: Wild
---
Nepali name : पानी साज Panee Saaj
---
Tree sp. from Assam, KD 01, Nov, '21
: 4 images.
Attached images are Tree sp. Please ID the sp.
Date :19.11.2021
Location: Kamrup (Metro), Assam
Family : ??
Genus & species : ??
Habit : Tree
---
Terminalia myriocarpa Van Heurck & Mull. Arg.
---