bamboo grass, crabgrass, Henry's crabgrass, large crabgrass, smooth crabgrass, southern crabgrass, summer grass, tropical crab grass, tropical finger grass;
.
---
---
---
Digitaria ciliaris
---
6 posts by 3 authors.
requesting identification of this plant of family Poaceae with purple inflorescence
---
It is Digitaria species
---
this one is Digitaria ciliaris
---
Photographed today (3.10.14), this is around 1 ft high.
---
Please identify this grass found near marshy land, grass blade was 5inches long appx,. height of plant appx 1 ft.
---
Digitaria ciliaris
---
need closeup of spikelet. probable Digitaria ciliata
---
Digitaria ciliaris
---
.
---
Grass for ID : Bangalore : 17AUG20 : AK-05 : 12 posts by 3 authors. Attachments (1)
Tiny grass with red leaves seen in Bangalore growing wild.
---
I observed these colors in Apluda mutica when young, this will grow in sandy soils,
---
Great observation.
This
grass was observed in the play area of a housing complex, where this part of the play area has sand.
I observed this grass only in a small area.

Have taken more pictures, will add them.
---
Here are some more pictures taken yesterday.
Attachments (3)   
---
Thank you Ma'am but it's different from Apluda, could be another one, wait for experts comments or else we need wait for Flowering,
---
Digitaria sp.,
---
Digitaria ciliaris
---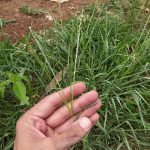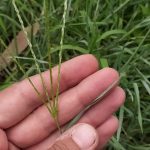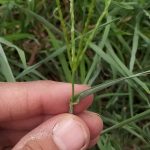 need help with grass id with long racemes: 3 images- 1 high res.
Bhopal; black soil; 7/7/2021
---
Please check for Cyanodon species
---
Also post a close up of the spikelet and inflorescence by placing on a black paper or so for better clarity.
---
Also physically  check for Cyanodon dactylon (Burmuda grass) variety.
---
Any possibility of Cynodon radiatus Roth ?? Or as usual Cynodon dactylon (L.) Pers.??
---
Digitaria ciliaris
---
---
.
References:
The Plant List  GRIN  Flora of Pakistan  Annonated checklist of Flowering plants of Nepal  Flora of China  FAO  RBG Kew: GrassBase – Digitaria ciliaris Description  Flowers of India  Flora Of Guntur District: Andhra Pradesh, India (Keys & Description)
Digitaria ciliaris (PIER species info)