Radhuni, Wild Celery • Hindi: अजमॊड़ Ajmod • Tamil: Asamtavomam • Malayalam: Ayamodakam • Telugu: Ajumoda, Vamu • Kannada: Ajamodhavoma • Bengali: Randhuni, Shah jira • Urdu: Ajmod • Sanskrit: Ajamoda;
---
Requesting to please provide ID of the plant captured at Rajgad near Pune in December 2014.
---
I guess the images are probably mixed up. The image tagged Rajgad7 & 4 seemingly belong to be Trachyspermum roxburghianum.
While others seem to be Pimpinella sp.
---
…, you are right! Rajgad4 and 7 are clicked together and at a different time than the others.
I had not noticed the difference
Thanks for the ID…..
---
---
Please ID this plant captured at Rajgad near Pune in Dec 2014. Is it some Apiaceae member?
---
Pl. check comparative images at Apiaceae
---
Seems to Pimpinella sp. please check it with local floras for sp.
---
Trachyspermumroxburghianum perhaps
---
---
FPHS, Agra
: 6 posts by 4 authors. Attachments
(4
)
Need Id of small herb from rocky habitat of Agra.
---
It is from Apiaceae …
It may be Trachyspermum roxburghianum…!!
---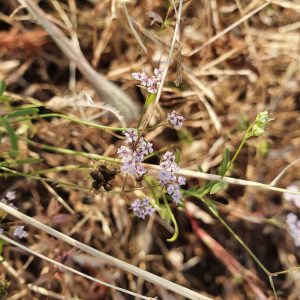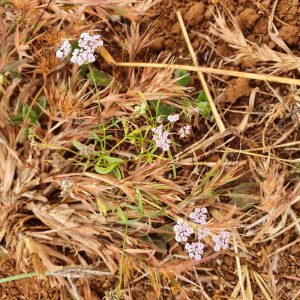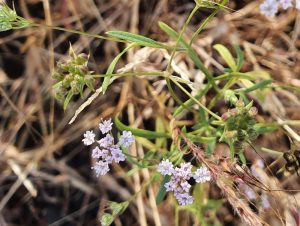 2 images. Tiny herb seen on the grasslands.
Apiaceae. You should have clicked some more images of leaves and other parts!
---
Adding a picture taken today (11.12.20). Flowers and leaves suggest Trachyspermum roxburghianum.
---
---
ID please.
Date/Time : October 19, 2007 at 1.03pm IST
Location Place : enroute Kas plateau
Altitude : about 1124 m (above mean sea level)
GPS : not sure, around 17°42'37.80″N, 73°53'11.25″E
Habitat : slope, along mountain road
Type : near human settlement
Plant
Habit : erect herb
Height : about a metre
Length : – not a climber –
Leaves
Type : not sure, oppositely arranged
Shape : pinnatisect
Size : about 5 – 6 cm x 4 – 5 cm
Inflorescence
Type : terminal umbel
Size : 20 – 25 cm
Flowers
Size : about 1 mm
Colour : white
Calyx : do not know
Bracts : – no bracts –
---
This would be Scandix stellata.
---
… any characteristic that rules out Pimpinella wallichiana ?
… 10 umbels, about 13 flowers per umbel (ranging from 10 – 18 flowers / umbel)
---
Not Scandix stellata atleast, which has only 1-3 rays (as against ca 10 here) and sessile flowers (long pedicelled here).
---
I too think its Pimpinella tomentosa… Apiaceae family
Attaching my clicks of the same, however yours is much better and clear!!
---
… many thanks to all for comments … …, any comment on differing number of umbels in plants being compared ?
Am not familiar with any of Pimpinella species, therefore the query stressing on number of umbel rays.
---
Umbels vary from 5-10 as per the references….
can go through this
http://www.flowersofindia.Hairy%20Hogweed.html
or refer Shrikant Inghalikar's – Flowers of Sahyadri, a very good pictorial guide!!
---
Many many thanks … convinced !!!
Taking this plant as P. tomentosa.
---
This is Scandix stellata Banks & Sol. … just as … suggested in this thread earlier.
---
Looks different as per images at
https://powo.science.kew.org/taxon/urn:lsid:ipni.org:names:848049-1
https://www.gbif.org/species/6026954
https://flora.org.il/en/plants/SCASTE/
---
It may also not be Pimpinella tomentosa as it looks different from images as per POWO and GBIF
What are the species of Pimpinella reported from Maharashtra ?
---
Pl. check
https://sites.google.com/site/efloraofindia/species/a—l/a/apiaceae/ammi/ammi-majus
---
It is definitely not Pimpinella tomentosa.Dalzell ex C.B.Clarke
It is not Scandix stellata Banks & Sol. as per images illustrated in various sites like POWO, GBIF.
Most probably not Ammi majus L. – an introduced plant, not recorded in northern Western Ghats.
In all probability, it must be Trachyspermum roxburghianum H.Wolff.
---
Yes, you seem to be right as per GBIF specimen and other references.
---
---
.
References:
The Plant List Ver.1.1  TropicosGRINFlora of ChinaRadhuni – Wikipedia, the free encyclopediaTrachyspermum roxburghianum – Wild Celery