Trollius acaulis
Lindl., Edwards's Bot. Reg. 28: misc. 56. 1842;
.
E. Afghanistan to W. Nepal:
Afghanistan,
Nepal, Pakistan, West Himalaya as per
POWO
;
.
India (Jammu & Kashmir (Kashmir, Poonch), Himachal Pradesh, Uttar Pradesh), Nepal, Pakistan (Chitral, Swat), Pakistani Kashmir (Astor, Deosir, Gilgit),
Afghanistan (Kunar / Nuristan)
as per
CoL
;
---
Family: Ranunculaceae
Location:
Paddar Valley J&K
Altitude:
3400 meters

Date:
17th May 2012
---
We have seen many other Ranunculaceae plants from you but this Genus seems to be new to me. Thanks for sharing this beautiful plant.
(On searching earlier mails I found a mail from … showing same plant from Rohtang Pass)
Any specific unique character which makes it different from other Ranunculaceae members?
---
Although flowers look somewhat similar to Ranunculus and Anemone, the genus differs primarily in fruit being a collection of follicles (each with several seeds) as against collection of achenes in the other two. More so the 6 orange-yellow structures you see are coloured sepals, the real petals are up to 16 in number, much smaller in size, mixed with stamens and you can see in form of linear structures below the stamens. From Caltha, which also has follicles and yellow flower represented by 5-6 sepals, it differs in deeply cut leaves and presence of petals.
---
---
---
Sorry but Trollius acaulis is NOT a 'threatened' species in India.  The ONLY way to discover the status of any species is for EXTENSIVE
surveys of the typical habitat to have taken place, e.g. in Kashmir this is the alpine meadows @ 3000-3900m.  Probably similar ecological
preferences in Himachal Pradesh. I KNOW that such surveys in these states HAVE NOT taken place…..
Such surveys require large numbers of skilled field botanists who can recognise Trollius acaulis at ALL stages of its development including
without flowers and at the fruiting stage.  The area where T.acaulis is found is VAST.  Very little field-work has taken place in said districts since
then 1930s. Very few Indian botanists possess the necessary field skills to assess the abundance or not of this species.
In such circumstances it is IMPOSSIBLE to assess its rarity or abundance.  This, of course, applies to ALL species.  Nobody actually knows which species are rare or not and under threat or not, OVERALL in the North-West Himalaya.
Dr R Stewart travelled in Kashmir and studied the herbarium specimens from this region.  I undertook FAR more extensive travels in such areas where
T.acaulis
is found in Kashmir in the 1980s and Himachal Pradesh in the 1980s and into the 2000s than any Indian botanist. I have checked the records of other Westerners who visited H.P. during this period. Due to the difficulties in Indian-controlled Kashmir, I was not able to visit for a 20+ year period. 
I support Stewart's assessment that Trollius acaulis was and REMAINS common on alpine meadows in Kashmir.
  All those interested in plants who came Kashmir prior to the start of the difficulties which impacted upon visits by foreigners, reported seeing
T.acaulis
. 
I note that 'Flowers of Gulmarg' (Naqshi, Singh & Koul) state that it was common on Khillenmarg….  and that was despite being exposed to extreme grazing pressure…..
Flora of Lahaul-Spiti records T.acaulis as 'Frequent' in glacial meadows on Rohtang Pass (which incidentally is NOT in Lahaul-Spiti i.e the south-facing side of the pass, which is in the upper Kulu Valley).
Within Lahaul-Spiti proper this species would be uncommon to rare, as is not suited to more arid conditions.  It is uncommon to rare in Ladakh.
  I have not seen it growing there.  Dickore & Klimes record it from Ladakh but presumably, it is restricted to locations close on the border with Kashmir, which have a higher rainfall.
There is nothing to suggest its typical habitat in Kashmir and H.P. has been unduly threatened in recent decades (such places have experienced grazing pressure for centuries) or even recent years – it is no doubt some years (if not decades) since this incorrect assessment was made.  In fact in areas close to the Indian border with Pakistan, it is likely that grazing and other pressures may have even been REDUCED in habitats where T.acaulis is found….
It is entirely possible that T.acaulis is an uncommon, even rare species in Uttarakhand.  I have only visited there once, never made it up to suitable habitat for this species and have little information on the flora of the region, so am not in a position to judge. This species is listed in the 'The Valley of Flowers' book, found in the Bhyundar Valley & Neighbourhood in 1937.  According to what references I have, T.acaulis extends from Pakistan to W.Nepal; in West Nepal the limited number of records give an altitudinal range of 3600-3700m.
It is NORMAL for species to have a geographic, climatic and altitudinal range.  Near the extremes of said ranges, a plant that may well be common or even abundant within its typical range, becomes, uncommon, then rare; at a certain point it cannot survive and thus DIES OUT.  To judge an assessment on the occurrence of a species at the extreme of its range is meaningless over-all, as this is what occurs with a majority of ALL species in the world.
Unfortunately, the incorrect assessment of 'Endangered' is accepted nationally (and Internationally) and repeated, over again….
The assessment is NOT based upon actual field experience in the NW Himalaya…..
---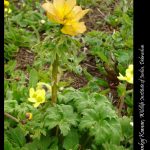 References: