cat tail;
Bangladesh (N) ; Cambodia (N); China (N); Fujian ; Guangdong ; Guangxi ; Jiangxi ; Yunnan ; Hainan (N) ; India (N) ; Arunachal Pradesh ; Assam ; Manipur ; Meghalaya; Mizoram ; Tripura ; Indonesia (N); Jawa (N) ; Laos (N) ; Malaysia (N) ; Mauritius (I); Myanmar (N); Peninsular Malaysia (N) ; Philippines (N) ; Ryukyu Is (N) ; Singapore (N) ; Sri Lanka (I); Sumatera (N) ; Taiwan (N) ; Thailand (N) ; Vietnam (N)
as per
ILDIS
;
.
Flower ID help
:
Location:
Makunda Christian Hospital campus, Karimganj District, Assam
Date:
2nd October 2010

Equipment: Nikon D300s with Nikkor AF 70-300mm VR lens
---
The flower (?inflorescence) is about 2 feet tall. I found it on the side of a jungle path along the side of a hillock (about 40 m tall).
---
How about Uraria crinita? (http://www.hkwildlife.net/viewthread.php?tid=3034).
B'cos I am sure its not U. picta, which has linear, painted leaflets and narrower raceme.
---
I am no botanist ! However, please find enclosed a picture showing the leaves of the plant. Please let me know the species
---
I think .. is right. Attaching herewith a paper for your reference. Attachments (1)
---
---
Lavender flowers : 3 posts by 3 authors. Attachments (2)
Here are some lovely, lavender-coloured flowers taken in October 08 in Dibang Valley, Arunachal Pradesh. Request identification please?
---
A botanist friend of mine ID'ed this plant as Uraria crinita.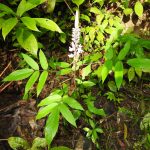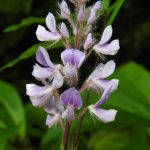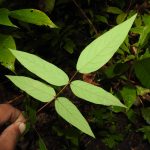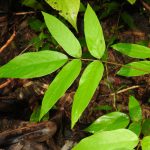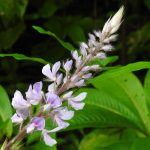 Desmodium species Identification help….
: 5 images.
A small 
Desmodium
 plant was collected
from Diglipur

scrub forest,
Photos attached for identification help.
---
I think this a Uraria, as per comparative images herein.
Are there any other species reported?
Both of these appear to be different from the posted plant.
To me it appears close to images at 
Uraria crinita (L.) DC.
, which I think has not been reported from Andamans but is likely to be found as per distribution given in 
POWO
.
Uraria crinita (L.) Desv. ex DC.
---
References: