Ventilago madraspatana Gaertn., Fruct. Sem. Pl. 1: 223, pl. 49, f. 2 223 1788. (syn: Ventilago bracteata F. Heyne; Ventilago bracteata Heyne ex Wall.; Ventilago monoica Blanco);
China (S-Yunnan),

India (Uttar Pradesh, Bihar, West Bengal, Assam, Orissa, Maharashtra, Andhra Pradesh, Karnataka),

Myanmar [Burma], Sri Lanka, Java, Indonesia, Malaysia
as per
Catalogue of Life
;
commonly known as: red creeper • Assamese: bor-kalia • Coorgi: male mythala, vembadam • Gujarati: રગતરૉહાડો ragatarohado • Hindi: केंवटी keonti, पित्ती pitti • Kannada: haruge, kanvel • Khasi: mei bynoh • Konkani: खांडवेल khamdvel • Malayalam: vempata • Marathi: खांडवेल khandvel, लोखंडी lokhandi • Oriya: ରକ୍ତପିତ୍ତା roktopitta • Sanskrit: रक्तवल्ली raktavalli • Sinhalese: yakkaduvel • Tamil: பப்பிளி pappili • Telugu: సురుగుడు surugudu ;
V. denticulata has larger leaves with prominent veins. Stems usually striate and green. Large stems striate with red and black. It is found in deciduous forests and less in evergreen. It is a large liana.
V. maderaspatana stems dry blackish, leaves are smaller and often more acute at the apex. It is found more in evergreen forests and rarely in deciduous patches. It also can be a very large plant covering many trees.


.
---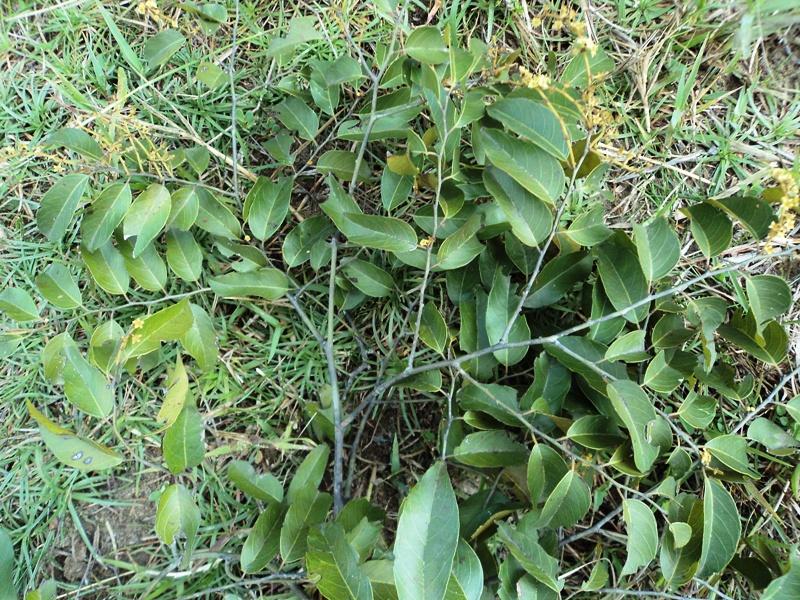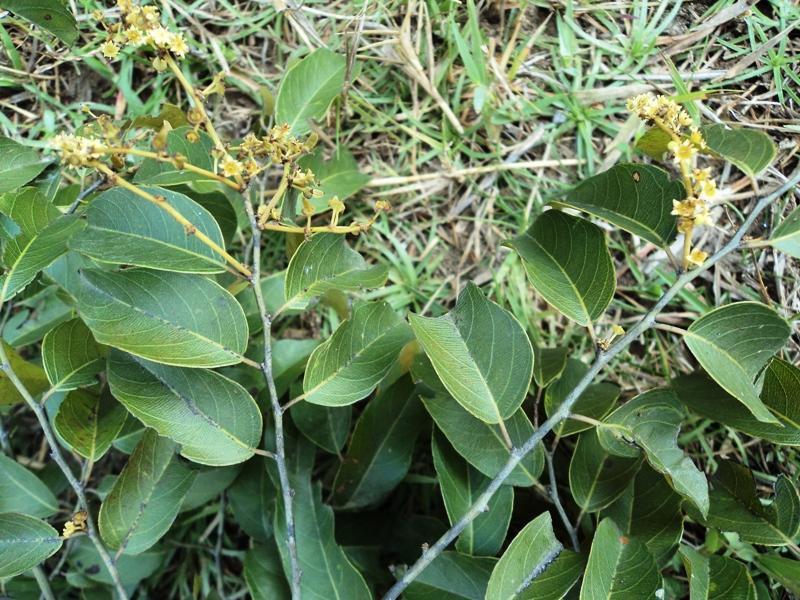 Ventilago maderaspatana Gaertn. SN Feb- 21 : Attachments (2). 5 posts by 3 authors.
Ventilago maderaspatana Gaertn., Fam: Rhamnaceae
woody climber on trees,
south Chennai, scrub jungle
Root bark reddish, forms several layer, used in medicine and hair oil, Surul pattai,
---
Just a curiosity about the species name

It is so common with many genera???
Any relation with Madras and Patna cities
---
it is madras patnam; the word "patnam" means City in Tamil. so it is called maderaspatana, it is no way related to Patna
---
Oh. Thank you. So species name coming from region where it was discovered or seen.
---
---
Found
in Vandalur -Perungalathur Hills.
(

Its a reserved forest.)
Taken
in Chennai, Tamil Nadu
---
Fruits are distinctive.
---
Yes …,  I wonder this species was really identified and given name.
---
The first and the third photographs are of 
Ventilago madraspatana
Gaertn. [
Rhamnaceae
]. The species name is often spelt (erroneously) as '
maderaspatana
'.
The fruits in the second picture are of a 
Reissantia
sp. Possibly 
Reissantia indica
(Willd.) N.Hallé [
Celastraceae
/ ex-
Hippocrateaceae
].
---
Thanks for your detailed email.
The think 3 pictures I sent is of same species Ventilago madraspatana and 3 of them has same fruits. (Correct me if I am wrong).
Any how one picture has a flower (that I think you are referring) is matching to Reissantia indica.
I believe the name madraspatana  came from MADRAS (Old name of Chennai) and Patana (Patnam, patna, Vishakapatnam) means city in Indian languages.
I think Gaertn. should have named in Chennai.
---
I have marked out the fruit of the Reissantia sp. in your second photograph attached herewith. It is distinctly different from the fruit of Ventilago madraspatana Gaertn. [Rhamnaceae] seen in the first and in the third photograph of your post. Fruiting images of Reissantia indica (Willd.) N.Hallé can be seen in the Digital Flora of Karnataka for comparison.
Attachments (1)
---
The word madraspatana comes from Madras which was earlier called Maderaspatanam and later changed to Chennai.
For more reference please watch the movie, Madrasapattinam 🙂 just kidding…
---
Thanks for kidding.
But I can't trust my belief, that's why I had given an explanation.
Additional information:
As I am from MADRAS (Chennai) I know it was named after an English men named Madras.
---
Super. Hats off for the discovery.
Second picture fruit is different from 1 and 3.
If I look bit sensitively the difference is clear by Color, Size and structure although look similar at high level.
…,
Although I usually send only same kind of species per mail as per group's rule, Nature had played with me.
Only experts like Viplav can sort this issues.
This mail has 2 species has told by …
---
No mam, Madras word originated from Portuguese who were around, before British.
---
---
Kindly help me in identification..
| | |
| --- | --- |
| Date/Time-  | 20-02-2010 / 10:00 AM |
| Location- Place, Altitude, GPS-   | CBD Belapur Hill (Navi Mumbai), 400 ft |
| Habitat- Garden/ Urban/ Wild/ Type-  | Wild |
| Plant Habit- Tree/ Shrub/ Climber/ Herb-    | Climbing  Shrub |
| Height/Length-   | Approx. 4 to 5 M |
| Leaves Type/ Shape/ Size-  | Photograph Enclosed |
| Inflorescence Type/ Size-   | Not seen |
| Flowers Size/ Colour/ Calyx/ Bracts-  | .. |
| Fruits Type/ Shape/ Size Seeds-  | Fan Blade type (Flat), 2 inch long |
---
Ventilago madraspatana Gaertn. :: Matheran :: May 22, 2023 · 11:30 AM IST: 10 images.
Ventilago madraspatana Gaertn.
Matheran, Raigad, Maharashtra :: May 22, 2023 · 11:30 AM IST :: about 800 m (2,625 feet) asl
---
.
---
Ventilago madraspatana Gaertn. :: Matheran :: Apr 1, 2023 · JUN23 DV217: 6 images.
Ventilago madraspatana Gaertn.
Matheran :: Apr 1, 2023 · 4:00 PM IST :: about 800 m (2,625 ft) asl
Many thanks to Radha Veach for suggesting the ID at 
iNaturalist
---
References: