Woodwardia
unigemmata
(Makino) Nakai,
Bot. Mag. (Tokyo) 39(461): 103 1925
. (syn
Blechnum japonicum Houtt.
;
Woodwardia himalaica Ching & S.K.Wu
;
Woodwardia latiloba Ching & P.S.Chiu
;
Woodwardia maxima Ching ex P.S.Chiu
;
Woodwardia yunnanensis Ching & P.S.Chiu
;
Woodwardia radicans var. unigemmata Makino
);
.
Pakistan to S. Central & S. Japan and N. Indo-China, Jawa, Philippines, New Guinea: Assam,
China North-Central, China South-Central, China Southeast,
East Himalaya,
Japan, Jawa,
Myanmar, Nepal,
New Guinea,
Pakistan,
Philippines, Taiwan, Tibet, Vietnam,
West Himalaya as per
POWO
;
.
---
Woodwardia unigemmata/ABFEB07
: 3 posts by 2 authors. Attachments
(5)

I have finally got around to research and narrow down the fern I collected on Sunday to a Woodwardia. Dr Khullar says that there is only one species of
Woodwardia
found in India and that is
Woodwardia unigemmata
. I can be wrong in my identification, of course, but I did not find any other fern that resembles my sample in Dr Khullar's book (both volumes). 
I did not get home till late in the evening with my sample and had to photograph it under artificial light for which I apologise. I should have carried my camera on the walk.
Woodwardia unigemmata (a common English name for the Woodwardia sp. is Chain Fern)
Above Mcleodganj, Dharamshala, HP
2000m approx.

15 Feb. 2015
---
… again;
Yes, that's Woodwardia unigemmata – a very characteristic species. The Americans might call it "chain fern"!
---
nice close ups. ok to it this way
---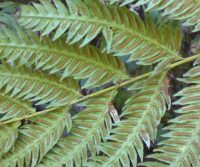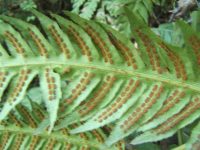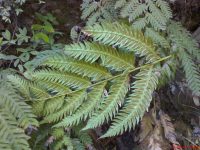 Beautiful fern from Renuka ji Himachal – efloraofindia | Google Groups
: 4 images.
A Beautiful fern
from Renuka ji Himachal Pic Taken in June 2008
Please help for id
---
I think it would be Tectaria paradoxa
---
It is Woodwardia unigemmata
---
The fern may be Woodwardia radicans. Can you send me one close up photograph of sori alone (like one I have attached  herewith) so that I can confirm the identification.
---
The plant in the attached photo is Woodwardia radicans (Blechnaceae) with two rows of elliptical to oval sori flanking both sides of the mid-rib.
---
Closeup of the fern
---
i think id is solved now
It is Woodwardia unigemmata
Syn
W. radicans, W. himalaica
(ref An illustrated fern flora of the West Himalaya by S P Khullar vol 2 pp 476-77)
Attaching two more photos of the same.
2 images.