Cassava, yuca, manioc, kappa (India), maniokka (Sri Lanka);
This is a root vegetable and it is widely consumed in the state of Kerala and Tamil Nadu. It is boiled and eaten along with fish curry. The starch extracted from the roots of Tapioca plant is used to make granules called "Sabudana" in Hindi and Marathi. From Sabudana is made the famous Sabudana Khichdi and Sabudana Wada eaten during fasting for "upvas" in Maharashtra and Gujerat;
Cassava can be cooked in various ways. The soft-boiled root has a delicate flavor and can replace boiled potatoes in many uses: as an accompaniment for meat dishes, or made into purées, dumplings, soups, stews,
gravies, etc. Deep fried (after boiling or steaming), it can replace fried potatoes, with a distinctive flavor;
The variegated ones are mostly planted in borders for its showy leaves. The one which is cultivated for the tubers is mostly the non variegated i.e. green leaved ones.
Kerala is one of the biggest cultivator of Tapioca followed by Tamil Nadu.
In Maharashtra we get Sabudana which is made from the starch of Tapioca and made snacks which is eaten during Upvas;
This is a root vegetable and it is widely consumed in the state of Kerala and Tamil Nadu. It is boiled and eaten along with fish curry. The starch extracted from the roots of Tapioca plant is used to make granules called "Sabudana" in Hindi and Marathi.  From Sabudana is made the famous Sabudana Khichdi and Sabudana Wada eaten during fasting for "upvas" in Maharashtra and Gujerat.
Botanical name : Manihot esculenta (Family: Euphorbiaceae)
Common name of the root :  Cassava   Kappa Kizhangu (Malayalam & Tamil)
Place  : Pattambi, Kerala
Date   :  May 2010
Others :  The tapioca root (Photo No.4)  photo is sent by my friend … from Philippines.
---
---
Fruits & Vegetables Week: Manihot esculenta, Yucca root, cassava or manioc
:
Manihot esculenta
,
Yucca root
,
cassava or manioc
. The name can be really confusing, sold in stores of California under the name yucca root. It is reported that even Linnaeus based his generic name on Carribean name for cassava. The roots of Yucca are not edible containing high level of saponin and used for shampoo, plant mostly cultivated as ornamental.
Cassava can be cooked in various ways. The soft-boiled root has a delicate flavor and can replace boiled potatoes in many uses: as an accompaniment for meat dishes, or made into purées, dumplings, soups, stews,
gravies, etc. Deep fried (after boiling or steaming), it can replace fried potatoes, with a distinctive flavor.
---
---
Euphorbiaceae week – Tapioca (Manihot esculenta)
: Sending photos of
Tapioca tree
.  
The roots are boiled and eaten  alongwith rice and fish in Kerala and Tamil Nadu.
The starch from the roots are used to make Sabudana which is made into Vadas or upma and eaten during Upvas in Maharashtra and Gujerat.
Place : Pattambi, Kerala
Botanical name : Manihot esculenta
Date  :  June 2009
Others:  Cultivated in farms
---
– I have seen Manihot esculenta variegata……but not this one. Is variegated one also used for Tapioca… sabudana?
---
– I have no idea.  I have seen only this variety in Kerala farms. The variegate variety is used for border as the leaves are very showy
---
---
---
---
---
---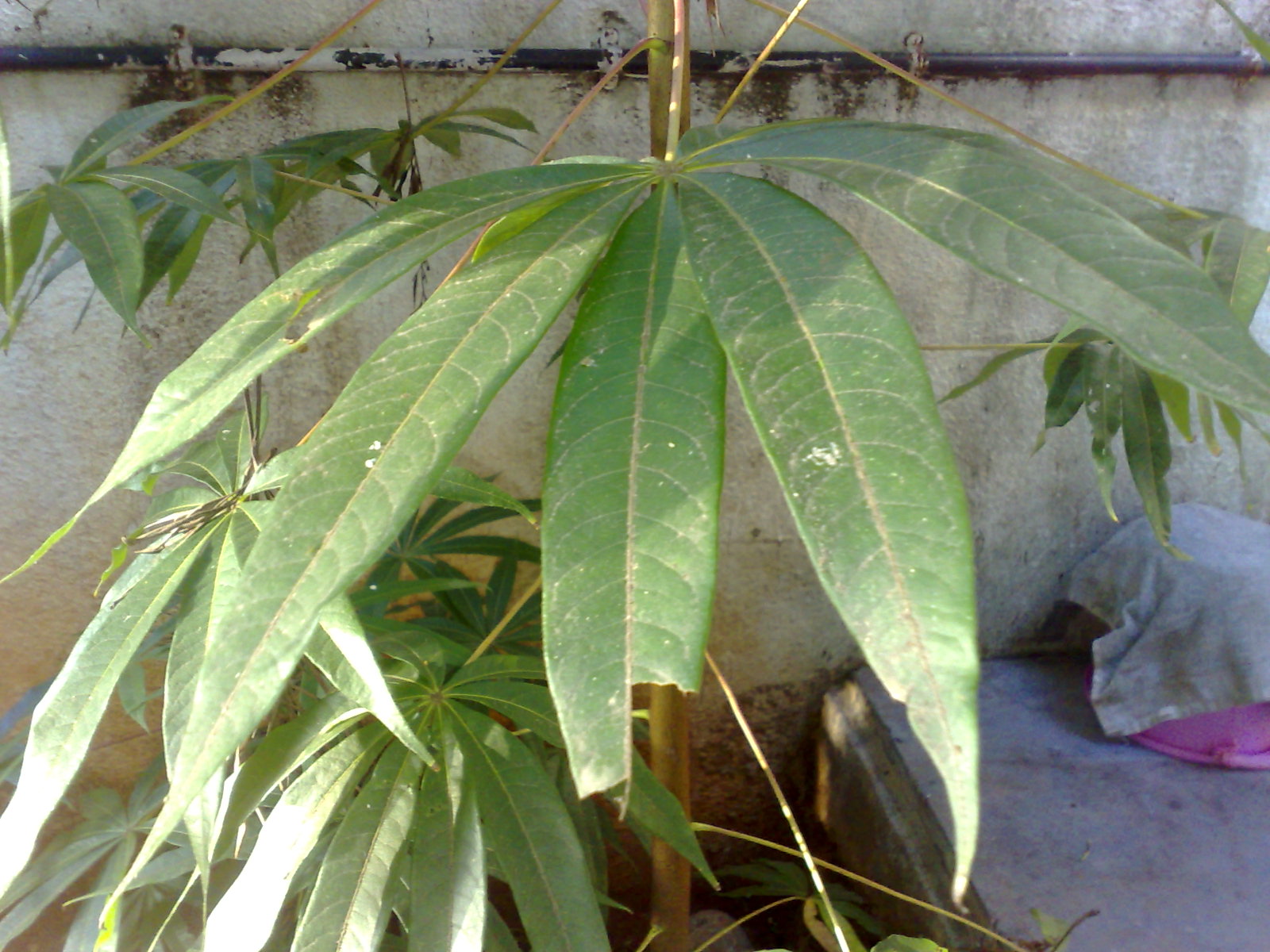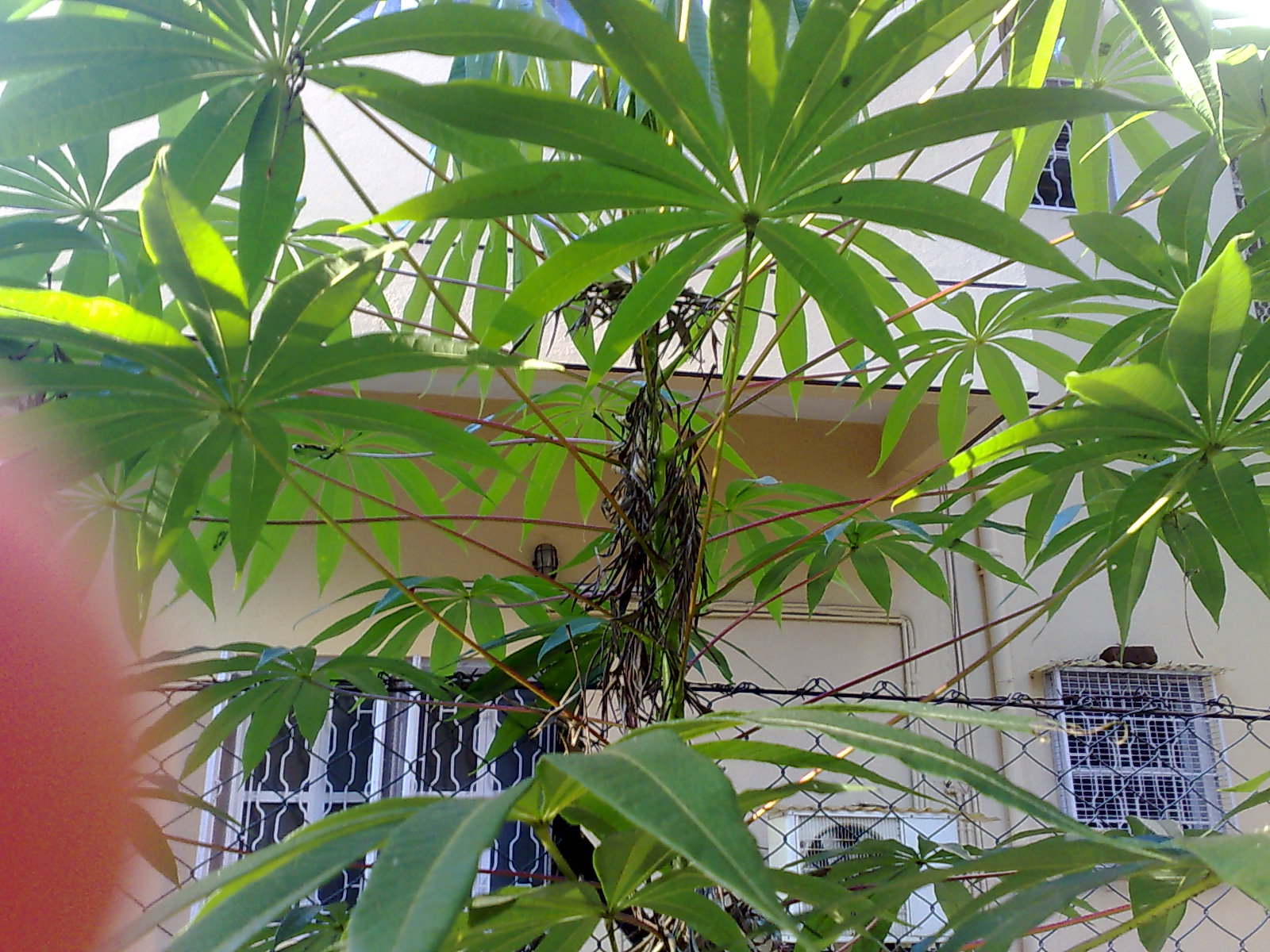 efloraofindia:"For Id 26092011MR4'' short tree with leaves in whorls Pune:  Date/Time-Sep 2011
Location- Place, Altitude, GPS-Pune
Habitat- Garden/ Urban/ Wild/ Type-Private Garden
Plant Habit- Tree/ Shrub/ Climber/ Herb- Tree
Height/Length- about 7 feet
Leaves Type/ Shape/ Size- green narrow in whorls
Flowers and fruits not seen
---
I also think Tapioca, Manihot esculenta
---
---
---
---
Beautiful leaves …
References: