Lily Thorn;
---
Plant for ID SMP1 10/1/2011:
From Kolkata botanical garden. Dec 2010.
Small tree; thorny.
Beautiful yellow flowers.
---
– This is 'lily thorn' (Catesbaea spinosa, Rubiaceae).
---
---
Rubiaceae Week: Catesbaea spinosa:
Catesbaea spinosa
Kolkata Botanical garden
---
---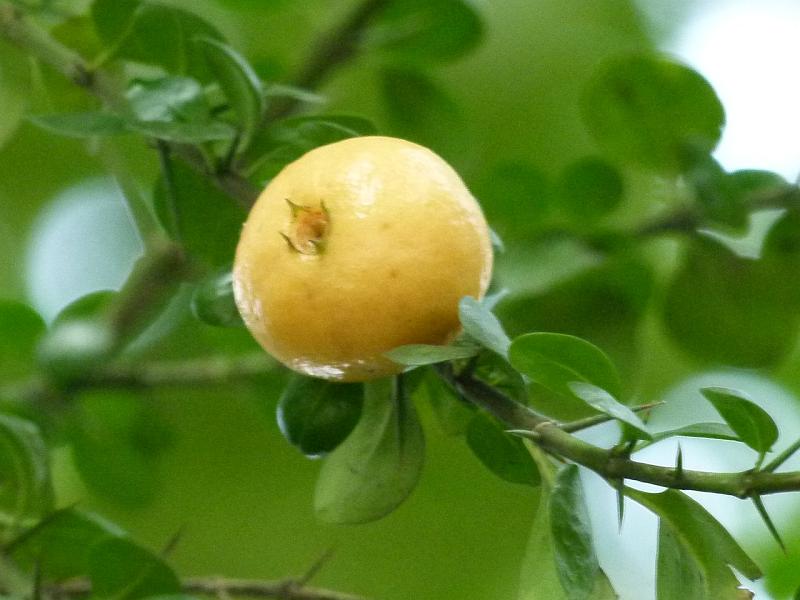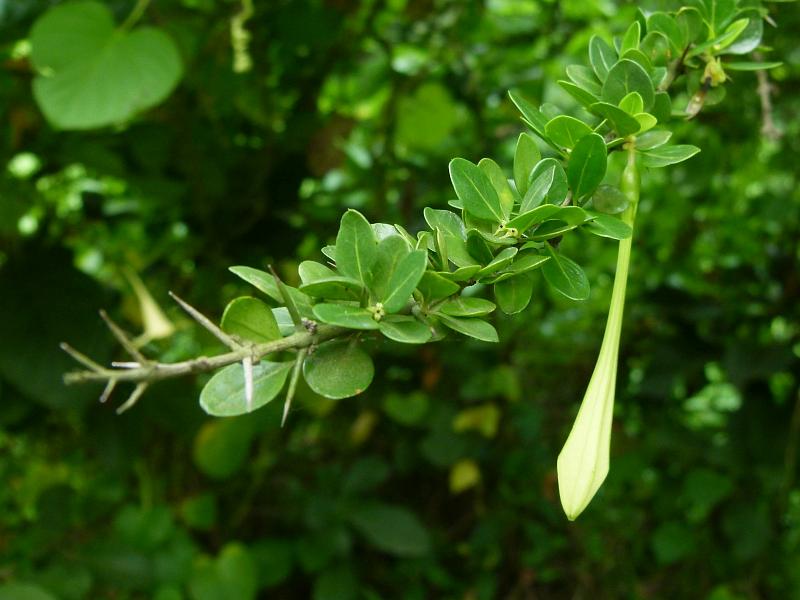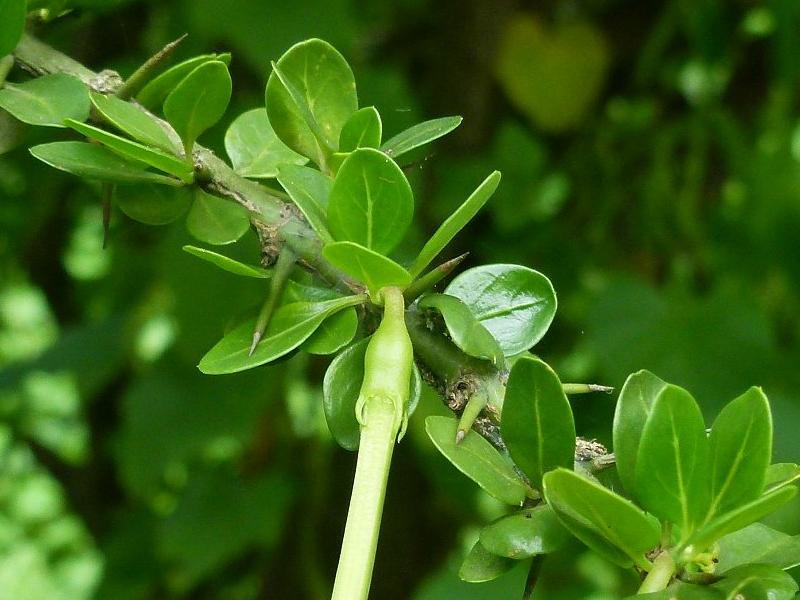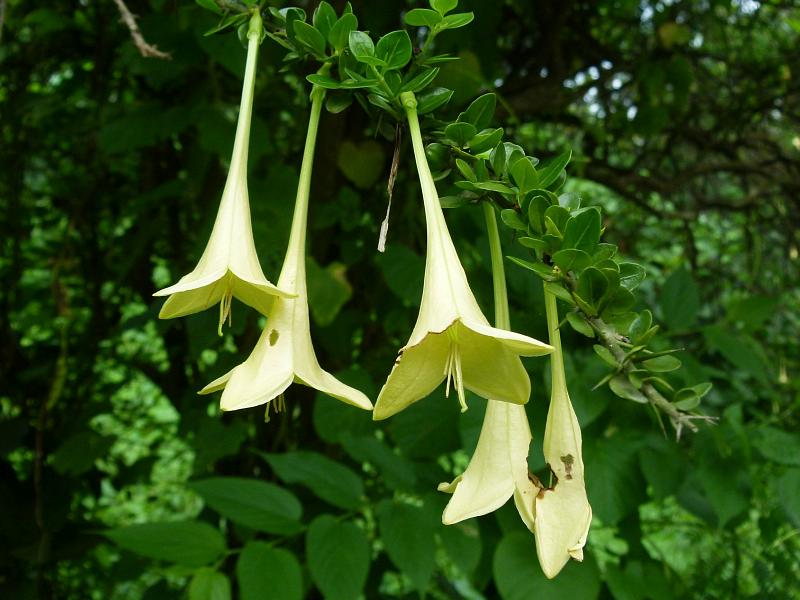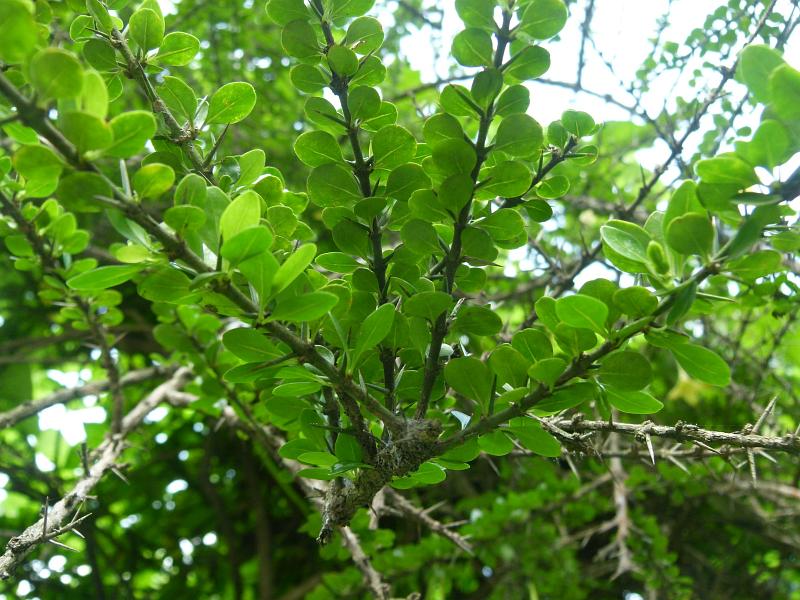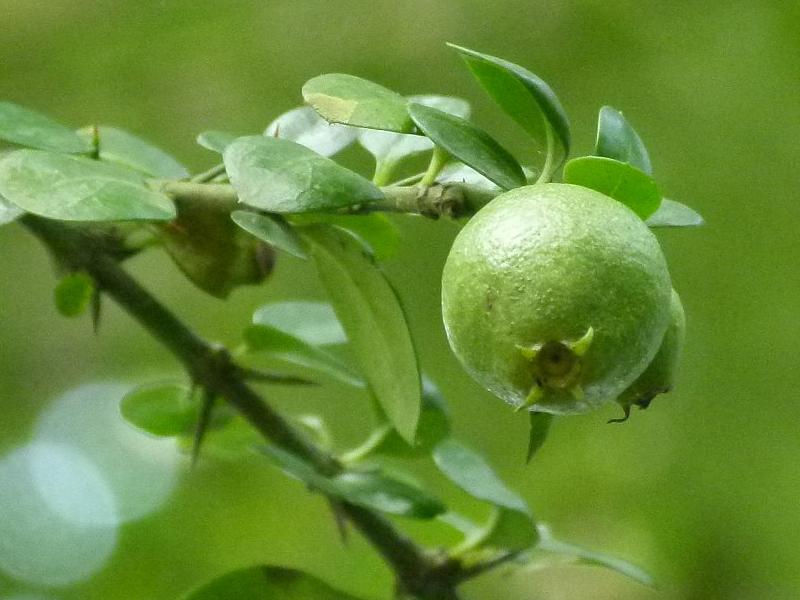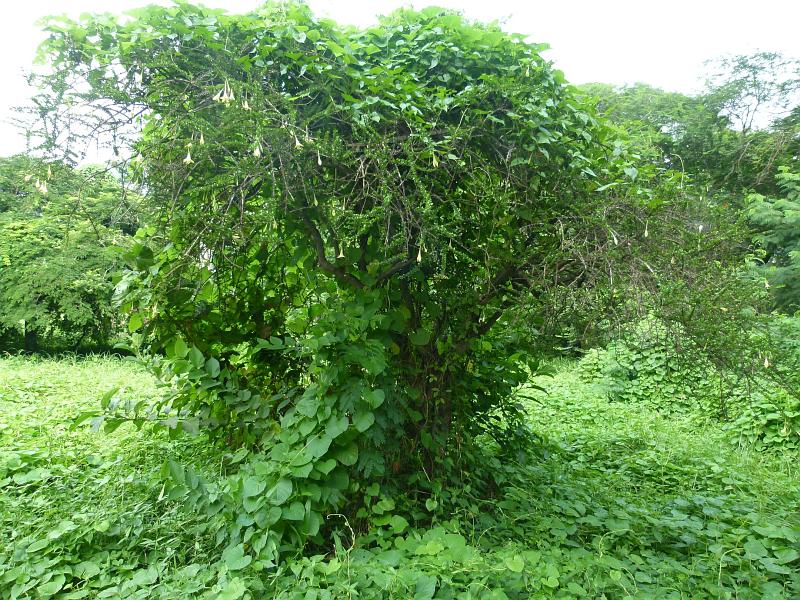 SHIBPUR IBG : sk-Oct-11 : Catesbaea spinosa L. : 7 posts by 4 authors. Attachments (8).
This is the last of this series.
---
Very beautiful and new to me.. thanks …
---
A beautiful shrub, when its well tended, I was sorry to see that its badly maintained, the gardeners tend to chop it off
at Shibpur
periodically, and plalt a couple of the branches, a few years ago there were four in a row, now I see only two.
Bor and Raizada call it
spanish guava
or
prickly apple
, I am not sure its edible.
---
Yes Catesbaea spinosa L. I have photographed this plant in Chennai Theosophical society campus long back.
---
---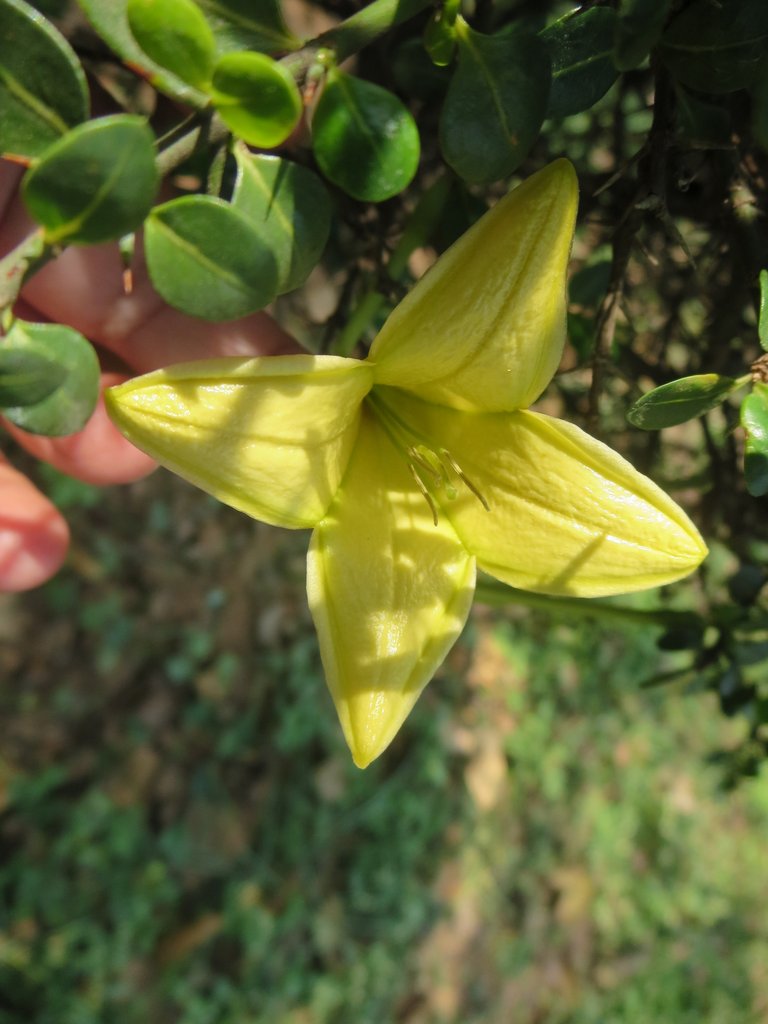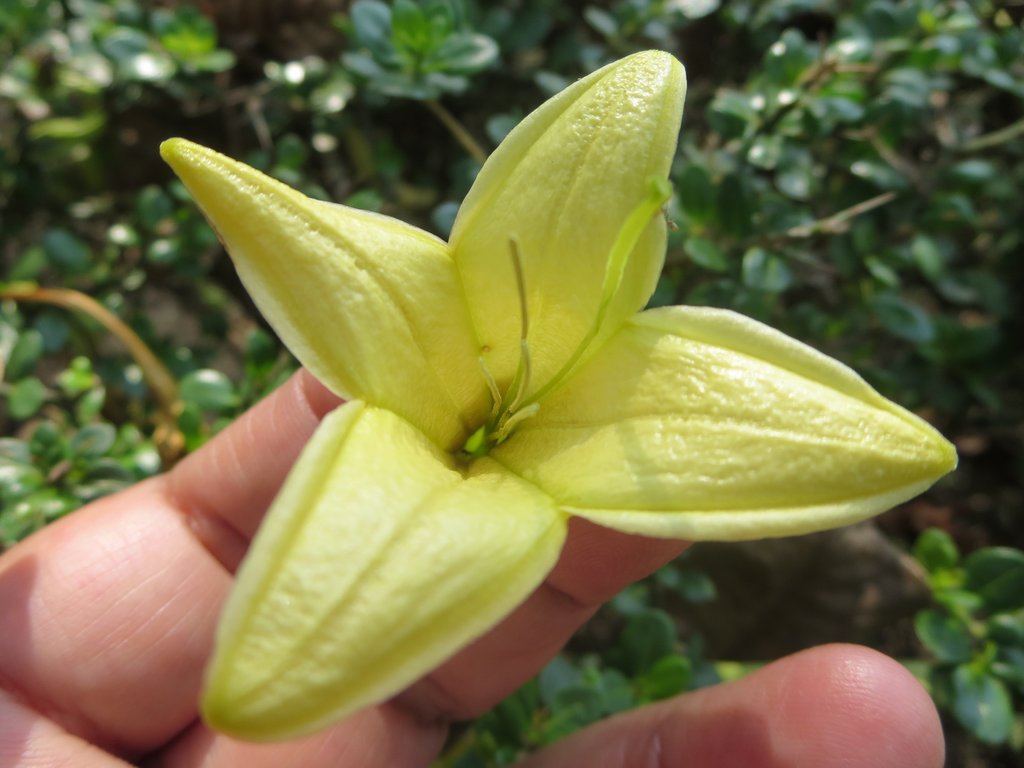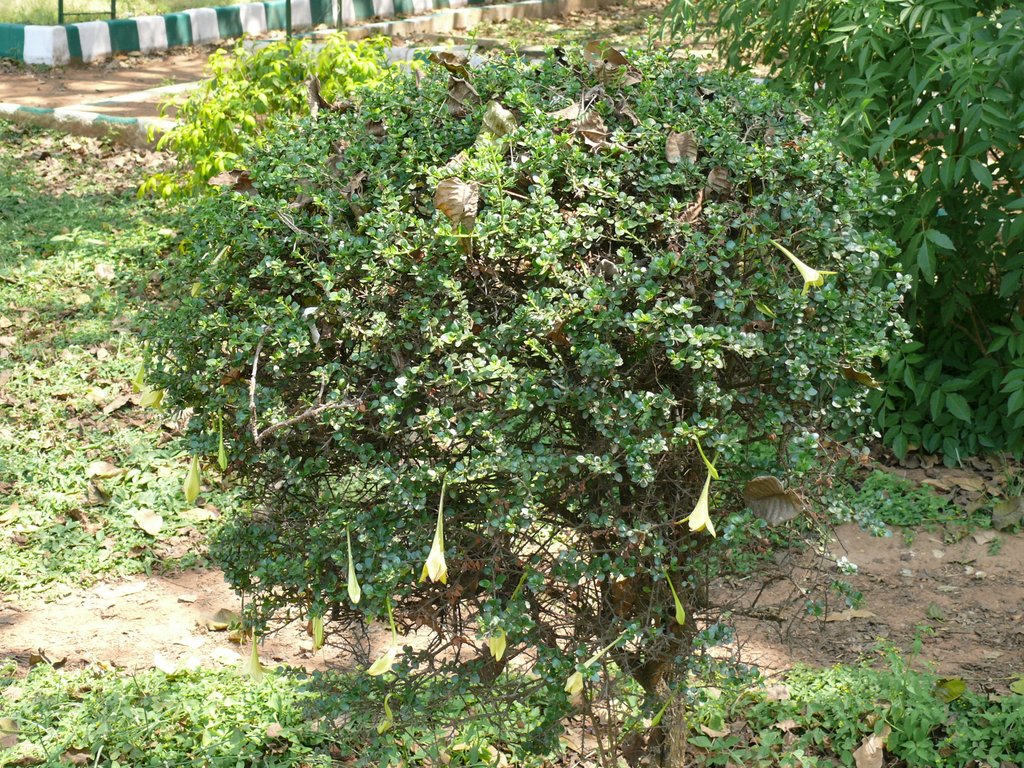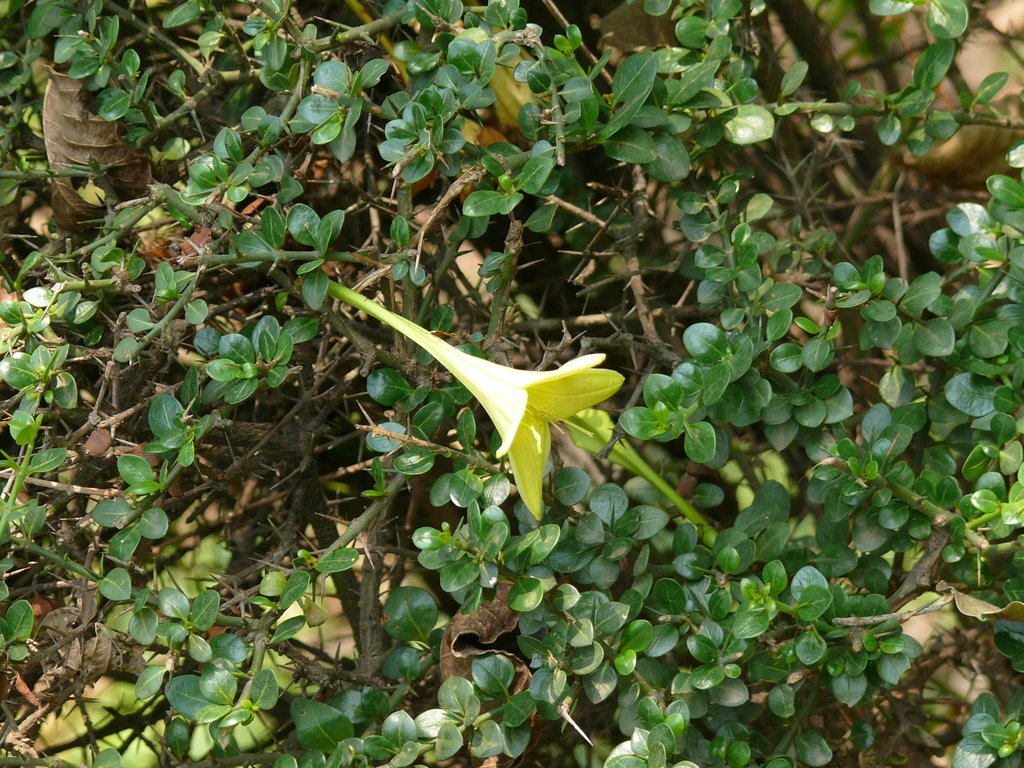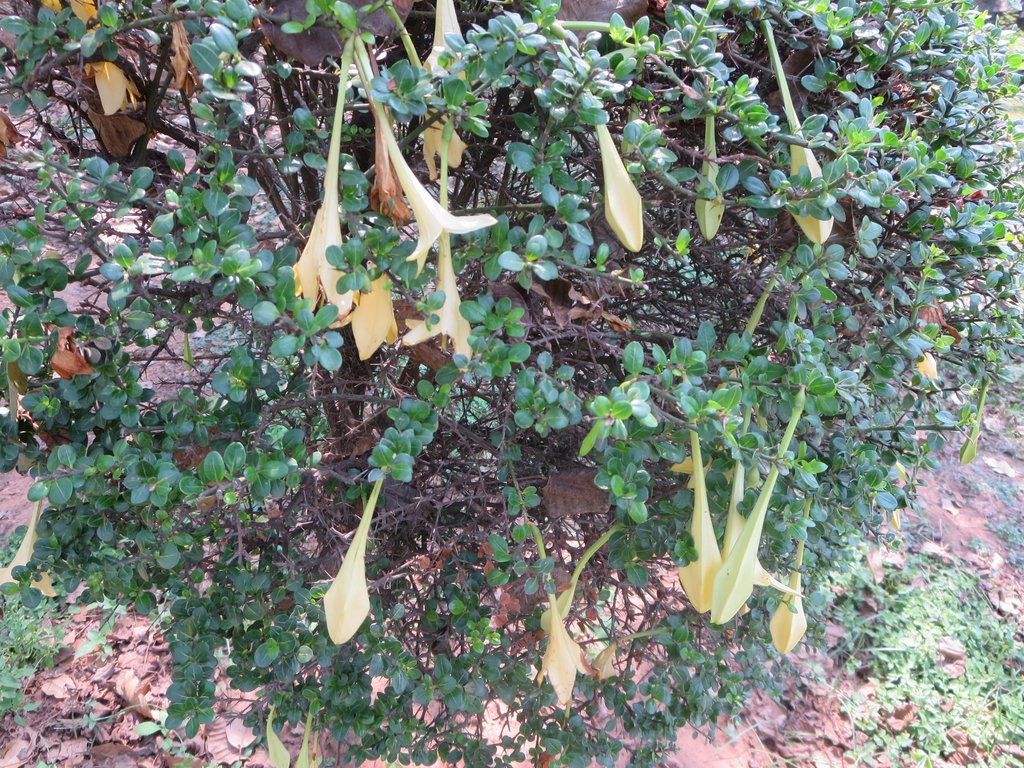 Garden Flower For ID : Lalbagh,Bangalore : 09APR16 : AK-1 : 01/01 : 10 posts by 3 authors. Attachments (4)
An ornamental bush with bright yellow hanging flowers seen at Lalbagh on 28th March,16.
---
… this is Catesbaea spinosa of Rubiaceae …. but as usual incomplete case ??? thorns??? most likely large ones. any fruits??? may be green turning yellow, oval…. entire plant pictures??
after the wonderment at this almost square like flower (Christs' cross was my first impression when i saw it first twenty years ago or so)  wears off the thorns'  presence is second wonder… why would a lowly plant like this have such large thorns??/
when there is something exotic like this… stay a moment and take in the whole plant….if one loves botany…
Thats what Mark Catesby did in Nassau who discovered this plant  …  the plant gets it name after him…and generations of gardeners perfected the system in England with painstaking details to produce the flowers that were painted and that's what we find in world literature…
that kind of love for botany. never ceases to amaze me and make me feel grateful to the creator and the men and women who discovered these  in centuries past…  Gardeners in England who with great eye at details nurtured it/them so we can see and have them now across the seas and centuries.
being at Lalbagh i wonder if TIpu Sultan had it brought over since he was known to have brought in many many plants and trees saplings from  all the well known botanical gardens of the world.
---
Thanks for the id.
---
you are welcome but can you please look to see if you took more pictures and share them here?
---
This should be Catesbaea spinosa L. (Rubiaceae)
---
More pictures as requested. Attachments (2)
---
AAh, good. its a young plant or they may have been trimming it to keep it globular,
in a few more years it will be taller than 5 or 6 feet and become a bit straggly, at-least so it does in the gangetic plains if allowed to grow in its own fashion
Location:  
Acharya Jagadish Chandra Bose
Indian Botanic Garden,
---
Beautiful images. I know this plant but unable to recall the id. 
---
Thank you … for the ID. It is indeed a great guidance from you regarding the ID of Kolkata plants.
---