Herbs scapigerous, root parasites with scales. Flowers yellow in terminal spikes. Capsules 2.3×1.3 cm, ovoid or ovoid oblong, beaked.
---
Flora Picture of the Year 2011 – Prashant:
Here i am sharing the photograph of Cistanche tubulosa ( Family: Orobanchaceae) as "Flora Picture of the year-2011".
This was photographed at Gorai (at the outskirts of Mumbai).
---
A perfect Calender picture.
---
In fact i forgot to tell you a small story behind this,
This was for the first time i met … He was in Mumbai and had a free day. He just contacted me and then myself, … and … decided to go on some Flower sighting trip. That day we had been to Vasai fort (@ outskirts of Mumbai) and then to Gorai. Gorai is very close to famous "Essel World". Apart from other plants, i was bit keen to see "Cistanche tubulosa" and fortunately … knew about this location. We all were fortunate enough to spot it. While we were photographing this plant, suddenly one Police patrolling jeep stopped near us and started questing us. Seeing our cameras,they probably thought that we are some people from Press and are there to colllect some info/ or to report some thing. When we revelaed our identity, they told us that this place is bit notorious and informed us to be care full. Notorious for many reasons…..better not to comment, destruction of Mangrooves may be one of the reason.. …
It is preferrable to visit this place in small group rather than going alone. This was a memorable trip and spotting of Cistanche tubulosa was icing on the cake……
---
This is a strange little "plant" parasitizes the tooth pick plant called meswak … if I remember it… can not grow without it…
but how did it get to the mangrove neighborhood from the high desert of the biblical times??/
Does meswak grow in mangrove areas?
---
Of course it was growing on Salvadora persica roots. There were a lot of these shrubs.
I guess it is a mangrove plant.
---
I think
Correctly speaking Salvadora persica is called as Mangrove associate.
---
I had known Salvadora persica as a shrub/tree of dry habitats. Never knew it can grow along sea shores, among mangroves. A case physiologically dry habitat???.
---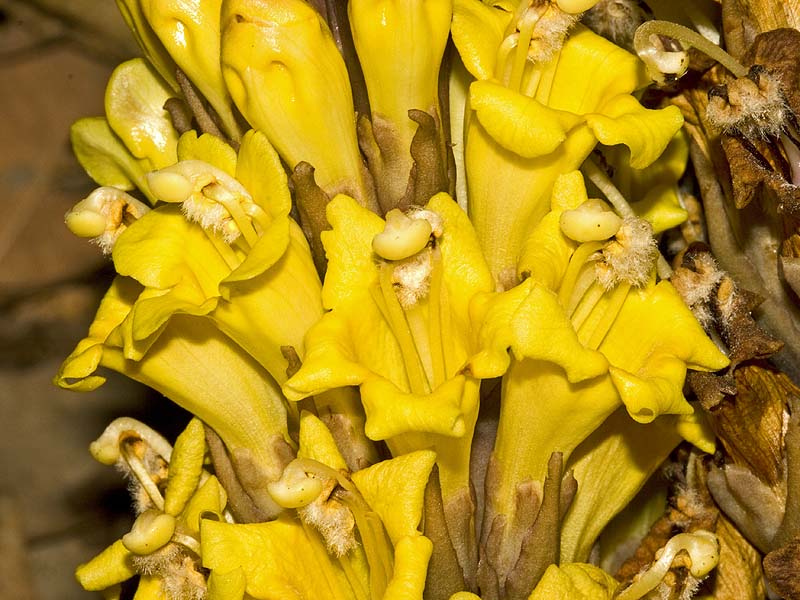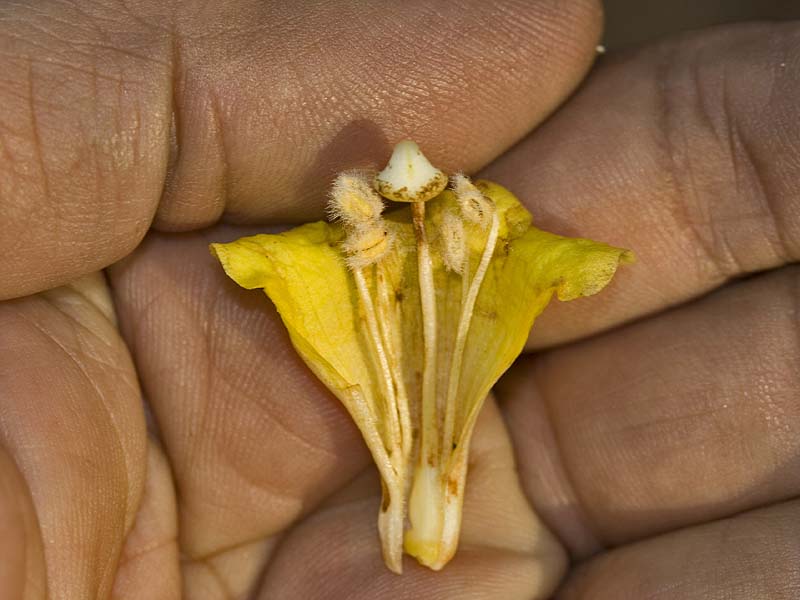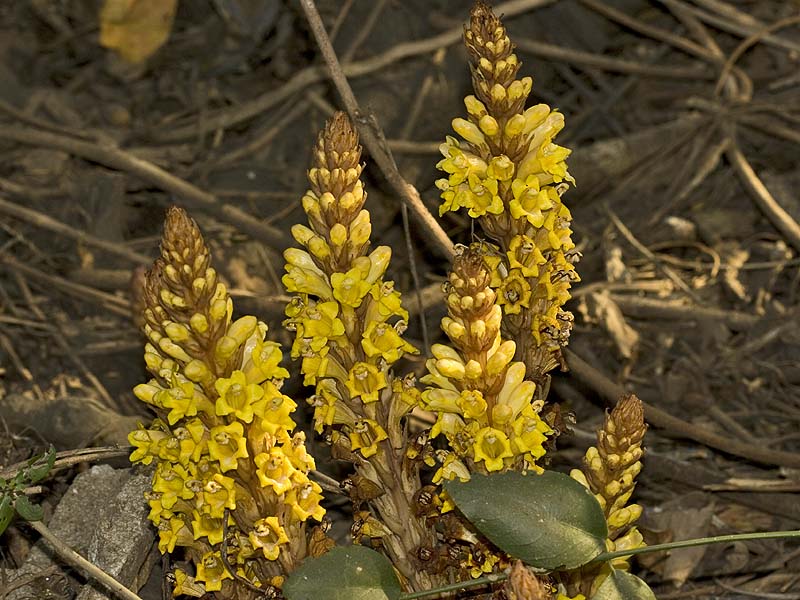 Scrophulariaceae fortnight :: Cistanche tubulosa SMP13 : 3 images. 4 posts by 4 authors.
Cistanche tubulosa (Schrenk)
Family: Orobanchaceae. Herbs scapigerous, root parasites with scales. Flowers yellow in terminal spikes. Capsules 2.3×1.3 cm, ovoid or ovoid oblong, beaked.
---
---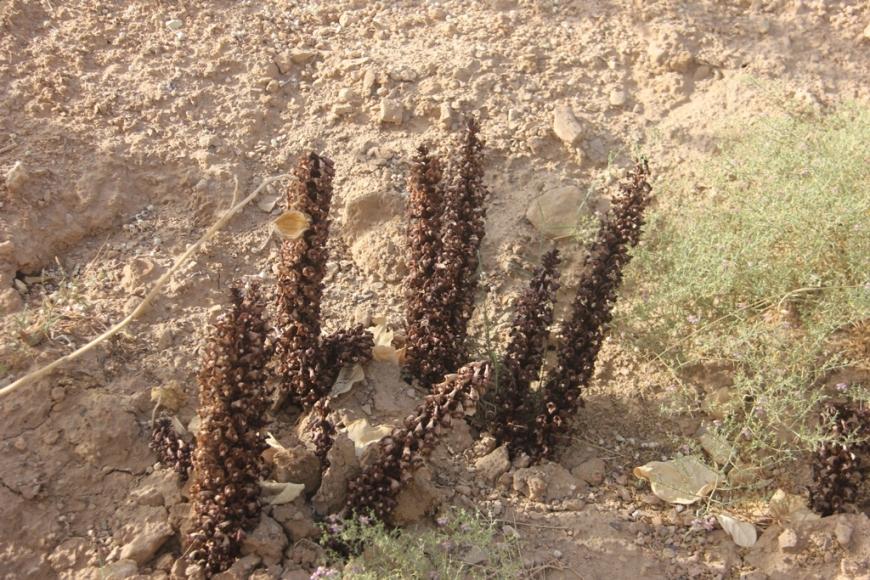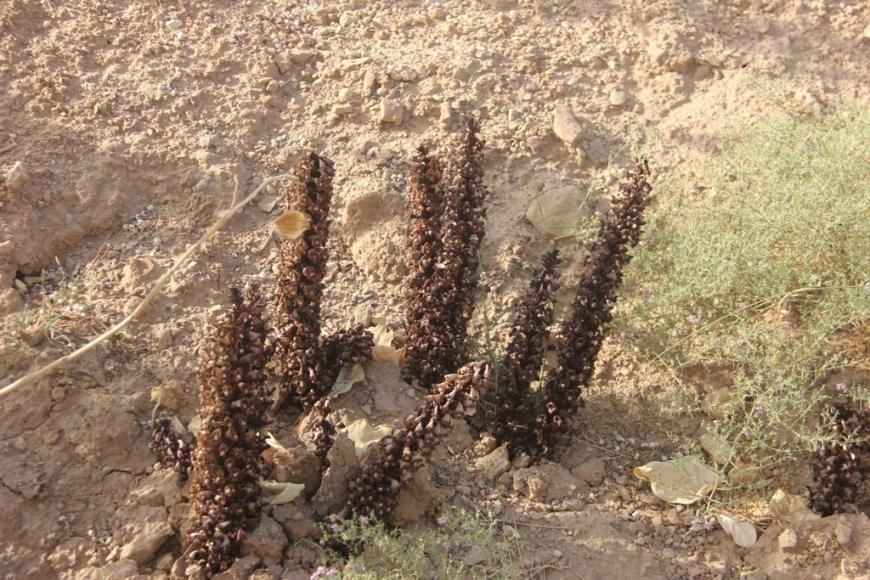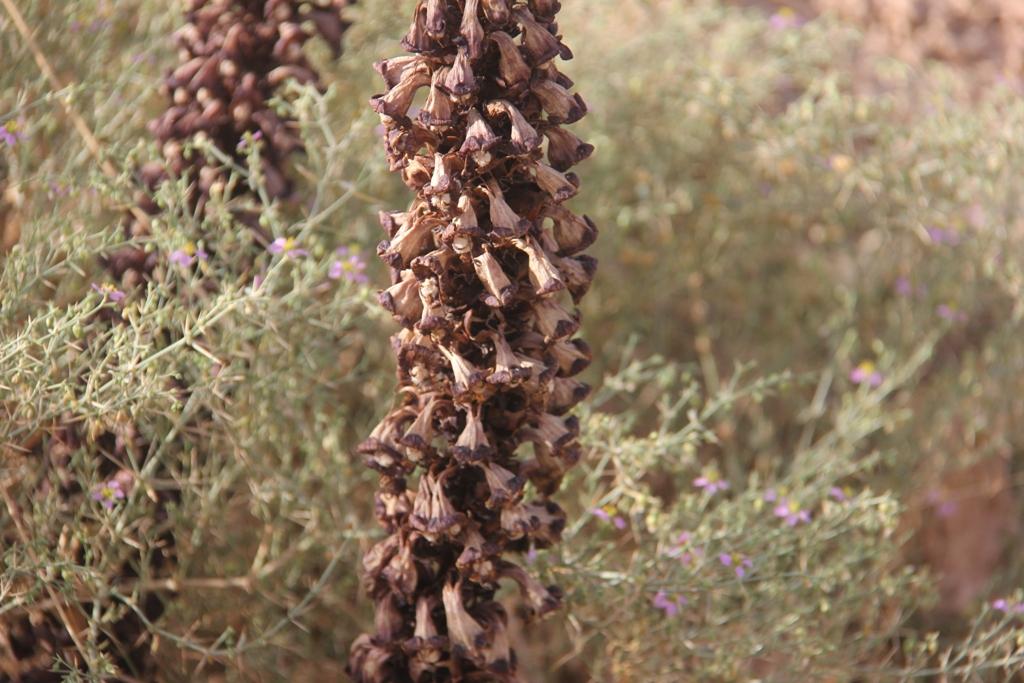 Cistanche tubulosa for validation :: JJ – Jaisalmer, March 2018 :: ARKMAY-01
 : 3 posts by 2 authors. Attachments
(4)
Attached are pics of dried flowers of Cistanche tubulosa (I think)!
These were found near Calotropis procera in sandy soil.
Requested to please validate ID.
---
–   used the pic of Cistanche tubulosa only to show that in absence of description, this plant about 30 cm tall can be wrongly guessed as flower of Ceropegia juncea 5 cm long. (except of course sharp eyed …) Pictures
without any description are flowing in for ID offering food for thought for just guesses rather than botanical ID.
---
– By no angle it fits into Ceropegia or family Apocynaceae. Just for your information, I found a Ceropegia in Gori Ganga valley during my trip with Dr. .., and for 99% sure it was a new species. I was stupid enough that I was carrying it in my hands and somehow flower fell off while walking down the slopes. Worst thing I didnt even take a pic, because I was so sure it to be new!!!
---
– it is Cistanche tubulosa–  a root parasite (i observed it growing on lantana camara roots; Premna resinosa roots). the plant turns black on drying as if it is burnt. it was new record to Mumbai and was reported in 2005.
---
– .. for the first time I got detailed information about it from Dr.Bhandari. In his book "Flora of the Indian Desert" it is mentioned as Lonki- ka- Mula (Fox's radish). It is mentioned that it is associated with Salvadora persica and Calotropis procera and very common.
  In year 2000 during visit to Karjat region for medicinal plant consultancy I showed it to my client but never thought of reporting it. Also not aware whether it is reported from Chhattisgarh or not? It is used as Traditional
medicine since generations. And medicinal properties depend on the type of host it prefers.
---
---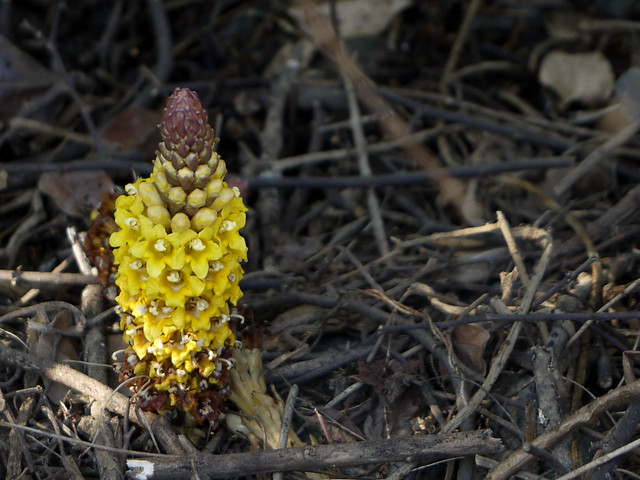 via Species
‎ > ‎
C
‎ >
Cistanche tubulosa
(Schenk) Wight … family: Orobanchaceae





Cistanche — derivation obscure
too-bul-OH-suh — with small pipes … Dave's Botanary
commonly known as: desert broomrape, desert hyacinth, fox's radish, yellow broomrape • Gujarati: બુબલો bublo, પીળો આગીઓ pilo agio, પીળો જોગીડો pilo jogido • Kachchhi: જુગડો jugado, પીરો જોગીડો piro jogido • Marathi: भुईमोहर bhui-mohar • Rajasthani: भूंफोड़ bhuphor, लोंकी का मूळा lonki ka mula
botanical names: Cistanche tubulosa (Schenk) Wight … synonyms: Cistanche lutea Wight … status at The Plants List (2013). Version 1.1.
January 23, 2011 … Gorai Creek
---
i remember your trip. there (that thread) i learned something new, as did … had the same question and that thread made me a bit wistful that i miss that sort of camaraderie. loved it
---
¿ sis-TAN-ak-ee ? — Greek kisthós, in relation to the various species of the genus Cistus in their parasitic action or "drowns", and broadly means to drown
… 
Second Wiki
too-bul-OH-suh
 — with small pipes

… 
Dave's Botanary
commonly known as: desert broomrape, desert hyacinth, fox's radish, yellow broomrape • Gujarati: બુબલો bublo, પીળો આગીઓ pilo agio, પીળો જોગીડો pilo jogido • Kachchhi: જુગડો jugado, પીરો જોગીડો piro jogido • Marathi: भुईमोहर bhui-mohar • Rajasthani: भूंफोड़ bhuphor, लोंकी का मूळा lonki ka mula
botanical names
: 
Cistanche tubulosa
 (Schenk) Wight ex Hook.f. … 
synonyms
: 
Cistanche lutea
 Wight • 
Cistanche tinctoria
 (Forssk.) Beck • 
Orobanche tinctoria
 Forssk. • 
Phelypaea tubulosa
 Schenk … and many more at 
POWO
Bibliography / etymology
~~~~~ ENGLISH ~~~~~
desert broomrape, desert hyacinth, fox's radish
yellow broomrape
PLANTS OF CUTCH AND THEIR UTILITY by THAKAR, JAIKRISHNA INDRAJI, 1926
~~~~~ GUJARATI ~~~~~
બુબલો bublo, પીળો જોગીડો pilo jogido
PLANTS OF CUTCH AND THEIR UTILITY by THAKAR, JAIKRISHNA INDRAJI, 1926
~~~~~ KACHCHHI ~~~~~
જુગડો jugado, પીરો જોગીડો piro jogido
PLANTS OF CUTCH AND THEIR UTILITY by THAKAR, JAIKRISHNA INDRAJI, 1926
~~~~~ MARATHI ~~~~~
भुईमोहर bhui-mohar
name given to this plant, for want of name in Marathi … भुई bhui = earth, ground; मोहर mohar = inflorescence in bloom … alluding to blossoming from the earth
~~~~~ RAJASTHANI ~~~~~
भूंफोड़ bhuphor
R. K. GUPTA, Y. D. GAUR, S. P. MALHOTRA and B. K. DUTTA – MEDICINAL PLANTS OF THE INDIAN ARID ZONE – Central Arid Zone Research Institute, Jodhpur. JOURN. D'AGRIC. TROPICALE ET DE BOTANIQUE APPLIQUÉE, T. XIII, N° 6-7, JUIN-JUILLET 1966
भूंफोड़ bhuphor = plant coming out of earth
लोंकी का मूळा lonki ka mula
Common Indian Wild Flowers by Isaac Kehimkar
लोंकी = fox; मूळा = radish … fox's radish
~~~~~ x ~~~~~
References: