---
It is also known as Mother-in-Law's taffet.
---
---
---
this is Echinocactus grusonnii.. 
---
it is also known as Mother in Law's Cushion.
---
---
Euphorbia grusonii :
Awaiting plantation in Hyderabad on 13/6/09. I hope Id is correct.
---
Is it Echinocactus grusonii ?
---
yes it is Echinocactus grusonii, not Euphorbia
---
Yes it is …, And a beauty too. My largest one is about 6" now, so only 10-15 years to go.
---
Taken at Muscat,Oman on 13/5/11.
Cultivated in a hotel garden….having a Yellow flower.
---
Could be some of Melocactus sp.
---
This is Echinocactus grusonii – Wikipedia, the free encyclopedia <http://en.wikipedia.org/wiki/Echinocactus_grusonii>
---
Yes looks like a flowering one of same, though smaller in size
---
Thanks … for confirming. These are not small, but huge in size.
I took some pictures today. Attachments (3).
---
These are huge balls, more than a feet in width.
---
Echinocactus grussonei with seed pods.
---
This looks like
Notocactus schumannianus
syn
Parodia schumanniana
.
It looks terrific …, never seen one that large.
---
This is Echinocactus grussonii as identified by …
Please check this link
Cactus for ID : Lalbagh Botanical Garden Nursery, Bangalore : 17OCT20 : AK-26
 : 16 posts by 3 authors. Attachments 
(2)

Brightly colored Cacti seen
at the nursery.

I wonder if the color is real.
---
I think it looks different.
---
This is Echinocactus grusonii.
The plants have been artificially coloured.
---
Thanks, …
---
---
---
Offhand …, They look like Echinocactus grusonii, but the spines seem to fine for them. I do know if they are not getting strong enough sunlight, they can be weaker spined. But that is what they look like to me.
---
Thank you very much Sir.
---
.
---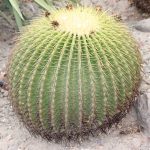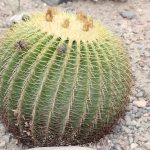 Kroenleinia grusonii from Platae Paradise, Datyar, Himachal Pradesh-GS17012022-2: 2 high res. images.
Kroenleinia grusonii (Hildm.) Lodé
Syn: Echinocactus grusonii Hildm.
Photographed
from Platae Paradise,
Datyar, Himachal Pradesh,
29-5-2015.
---