Pteris
venusta
Kunze ,
Bot. Zeitung (Berlin) 6: 195-196 195 1848
.;
.
SW. & S. India, Andaman Islands to W. Malesia:
Andaman Is., Borneo, India, Jawa, Lesser Sunda Is., Malaya
as per
POWO
;
PLEASE ID FERN:
THIS IS AN UNDERGROWTH IN EVERGREEN FOREST. PHOTO AT SAWANTWADI IN DECEMBER.
---
It looks like Asplenium nidus
---
Pteris sps , but hard to identify sps name in this stage, may be P.cretica or allied sps.
---
Looks like a juvenile plant of the Pteris cretica group.
---
A. nidus is not present in South India, from where it has been widely misreported in error for A. phyllitidis.  But both those species have large, simple fronds.  This plant in your photo has a palmately dissect frond.
It is actually a member of the P. pellucida group, described from and probably endemic to South India (?plus Lanka), as P. venusta Kunze.  It is cytologically and slightly morphologically distinct from P. pellucida itself, neither species has teeth at the margin.
---
It's actually P. venusta Kunze, a semi-cryptic S. Indian cytotype of P. pellucida, entire margins.
---
It is Pteris sp.  Not Asplenium nidus. May be a better ID will be possible with a mature plant and bothside pic.
---
---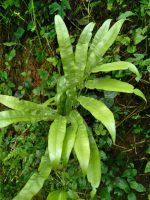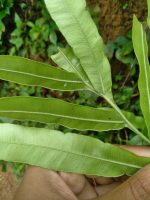 Fern identification: 2 images.
I found it in Mudigere talluk of Chikkamagalur district, Karnataka, India. Can you please identify them?
---
Pteris venusta – probably subsp. venusta.
---
Thank you sir. its raining continuously in Chikkamagalur (Karnataka, India), and i am very curious to know about the species around me. Thanks a lot sir
---
---
.
References:
POWO
http://www.theplantlist.org/tpl/record/tro-26619565