India:

In dry deciduous forests, but sometimes also found in Sal forests

. Throughout, except E. India; Nepal and Sri Lanka
as per
BSI Flora of India
;
As per efi thread:
Z.caracatta is an unarmed small shrub / small tree, with glabrous leaves and fruit.
Z.xylopyra is a small tree [which may or may not be armed with prickles] and has tomentose undersurface of leaves and fruit.
---
Trees, to 12 m high, bark thin, brownish-grey, exfoliating in small scales; branchlets tomentose, sparsely armed. Leaves simple, alternate, stipulate; petiole 5-12 mm, tomentose, slender; lamina 5-8 x 3-5 cm, ovate-oblong or suborbicular, base rounded; apex obtuse, apiculate, margin serrulate, glabrous above, tomentose beneath, coriaceous; 3-5-ribbed from base; lateral nerves many, puberulent beneath; intercostae reticulate, faint. Flowers bisexual, in axillary cymes, greenish-yellow, pubescent; peduncle 1.5 cm long; calyx 5 lobed, 1.5 mm radiating; petals 5, 2 mm, spathulate; disc 5 lobed; stamens 5, filaments subulate; ovary 3-celled, ovules solitary; styles 3; stigma trifid. Fruit a drupe, 1.5-2.5 cm across, globose, woolly; seeds 3.     
Flowering and fruiting: May-June
Dry and moist deciduous forests
India, Nepal and Sri Lanka
---
Yes, the fruits are inedible..
---
…, but I have eaten a some of the wild ber vars. from ruins in my childhood. And some of them look like one in this photo.
---
The fruits are very hard , that is the meaning of Xylopyrus (wood like fruit), it is difficult to eat. Some other wild species are there. Fruits of them are edible.
---
.
---
---
Any chance Ziziphus xylopyrus ??
---
Both the 
Ziziphus
plants were growing nearby.
This and the other I have posted which you have also identified as 
Ziziphus xylopyrus
.
---
Is it, …
it is also 
xylopyrus
,
---
Found two more pictures clicked at the same location.
Kindly validate.
2 images.
---
Yes, it's ma'am, some times complete habit pic will help us to exact,
---
---
---
---
Hoping there are mixed images of Ziziphus glabrata and xylopyrus
---
Which one is Ziziphus glabrata ?
---
As per mine, the first two photos belongs to glabrata out three photos in the first set,
---
---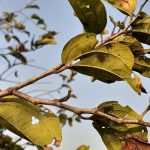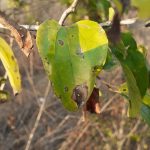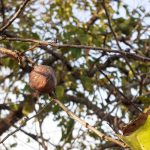 ID of Ziziphus species on Vetal tekdi, kothrud, Pune: 3 images.
Please help me in identifying this small trees of Ziziphus species on Vetal Tekadi in Kothrud, Pune last week.
I think you are right.
---
References (
(Ziziphus xylopyrus Hochst. ex A.Rich.) ((POWO considers Ziziphus caracutta Buch.-Ham. ex Roxb. as a syn. of Ziziphus xylopyrus (Retz.) Willd.)):