Baccaurea
ramiflora
Lour.,
Fl. Cochinch. 661 1790
. (Syn:
Baccaurea cauliflora Lour.
;
Baccaurea flaccida Müll.Arg.
;
Baccaurea oxycarpa Gagnep.
;
Baccaurea pierardi Wall.
;
Baccaurea propinqua Müll.Arg.
;
Baccaurea sapida (Roxb.) Müll.Arg.
;
Baccaurea wrayi King ex Hook.f.
;
Gatnaia annamica Gagnep.
;
Pierardia flaccida Wall.
;
Pierardia sapida Roxb.
);
.
NE. India to S. China and Peninsula Malaysia: Andaman Is., Assam, Bangladesh,
Cambodia, China South-Central, China Southeast,
East Himalaya,
Hainan,
India,
Laos, Malaya,
Myanmar, Nicobar Is.,
Thailand, Vietnam
as per
POWO
;
---
BACCAUREA RAMIFLORA:
Attaching two images of a plant which was very common in Assam and West Bengal (Now it is not very common as is the case of other plants). The plant is Baccaurea ramiflora.
It is known as LETEKU in Assam. In Bangla it is Lotka or Natku. It is known as Lutco in Hindi.
The flesh around the seed of the fruit is delicious.
---
A fruit that I bought

from a

villager in Dibrugarh weekly market

… 
inside there are four pods (just like garlic) and the juice is sucked from the pod-like structures
…little sour, more sweet…

d
elicious and addictive indeed

.
100 gms – Rs. 10/- ( the villager seemed to be liberal, he gave us about 400 gms for the same price. This was more than adequate to relish during our 75kms journey to Naharkatia,

Fruit size : 2.5cms to 3cms,
---
Baccaurea sapida
---
Baccaurea sapida indeed!!
---
I have seen this fruit and tree in Chashmeshahi Gardens, Srinagar. The fruit is very delecious.
---
No chance of this fruit in Srinagar. Basically a plant east of Nepal. Never seen in Kashmir.

Pl. do upload if you have photographs from Srinagar.
---
Sorry, …, we were so engrossed in collecting and eating the fallen fruits, we forgot only to take photographs of the tree and fruits. I have one friend who lives near Chashmeshahi Gardens. Let me confirms which tree is that and I will come back to you.
---
Could it not be that of Eriobotrya japonica?, the Lokat. Fruits are usually of same size and colour. I had uploaded the other day.
---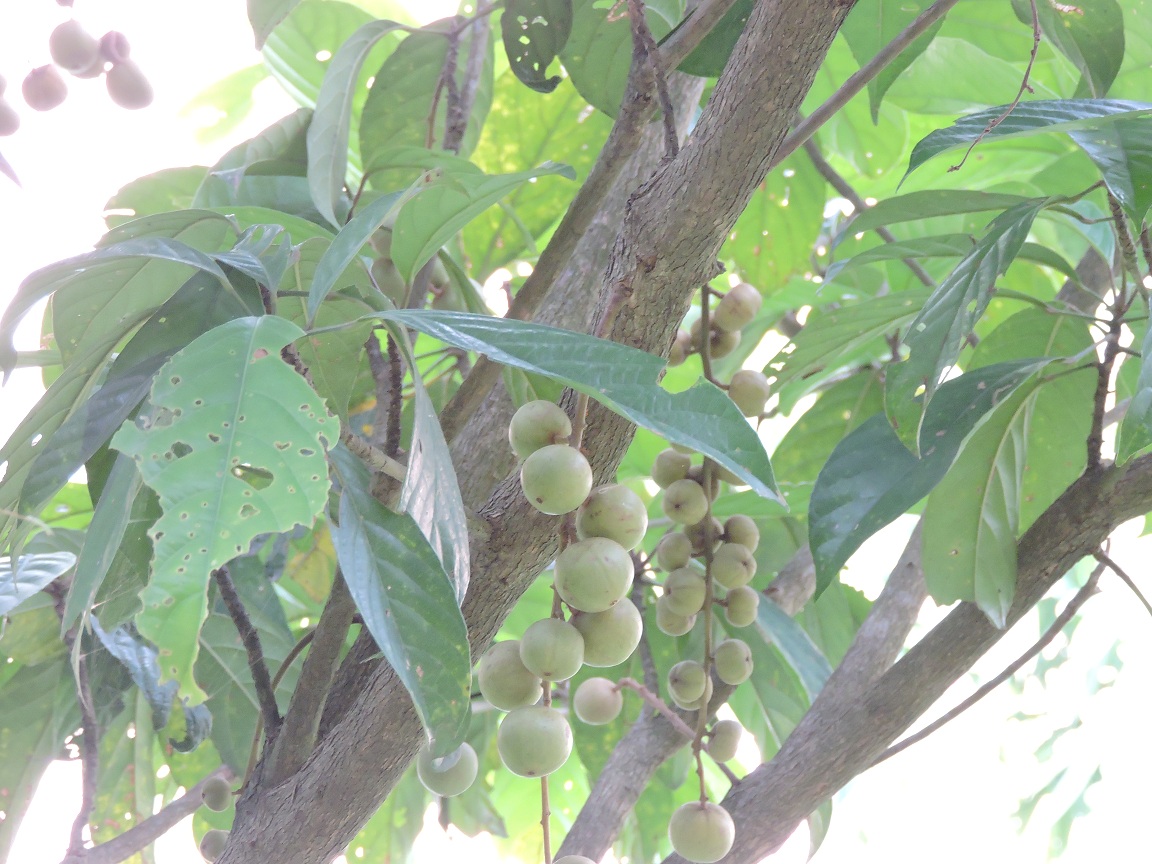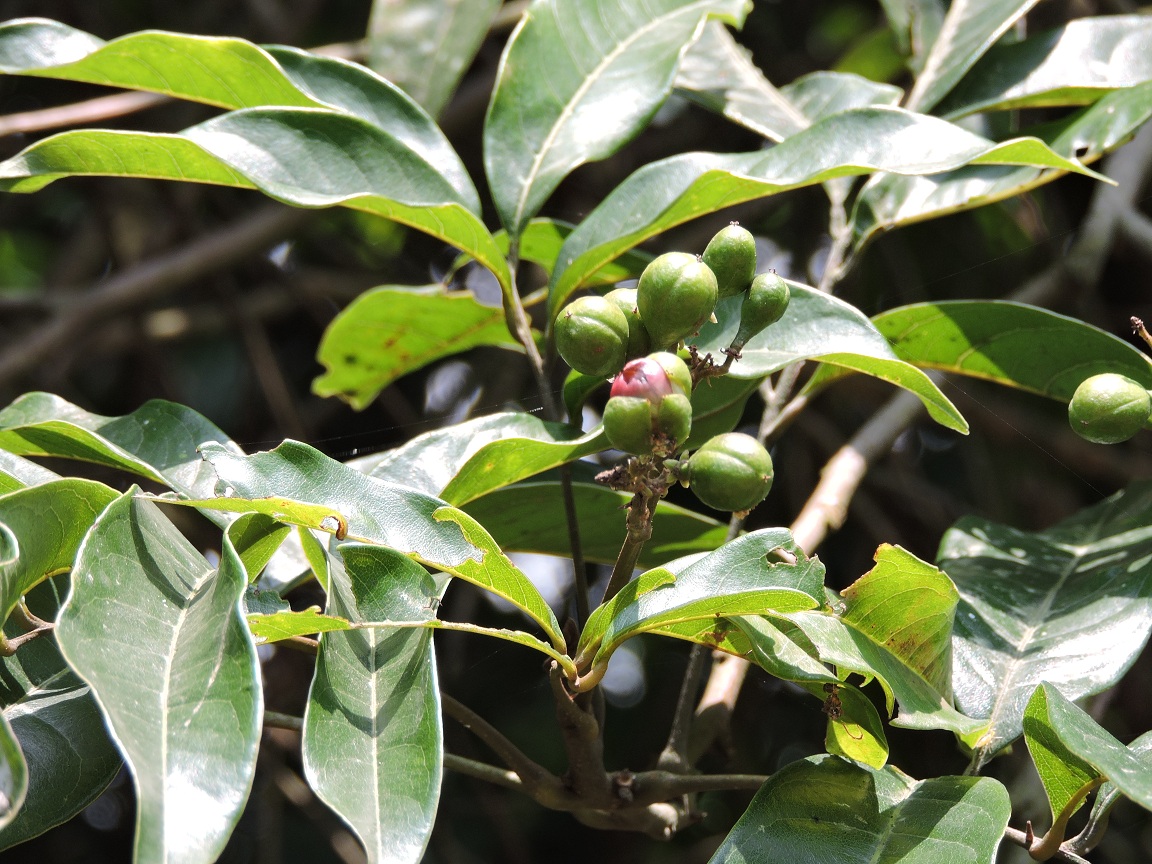 UP-Meghalay-16 : 4 posts by 2 authors. Attachments (2)
Id pl. tree with fruits.
---
I find two sets of photographs in this message. DSC581 and DSC 582 represent Baccaurea ramiflora, family Phyllanthaceae, Euphorbiaceae sens. lat. The fruits are edible.
---
Sorry I mixed two sets in one post. thanks for the id of Baccaurea ramiflora.
I will send 2nd set in separate post. 
---
Fwd: IT'S A WONDERFUL WORLD- 4
: 1 post by 1 author. Attachments
(1)

Attaching a collage of larva of some insect hanging from a branch of
Baccaurea sapida
(syn.
B ramiflora
)
The tree is known as Lotka in Bengal and Leteku in Assam.
Can any friend tell me the name of the insect this beautiful larva belongs to.
---
---
---
For last two years I am observing a particular larva feeding on the leaves and tender shoots of Baccaurea ramiflora (LOTKA). These larvae have eaten away all the leaves of the tree. But yesterday I saw a moth on the same tree. I am not sure whether the the larva and the moth belong to the same species. Attaching a collage of this observation.
Will be thankful if any clue is given on the subject.
Attached images are tree sp. from Assam. Pl. ID the plant.
Date : 02.03.2019
Location: Assam
Family : ?
Genus & species : ??
Habitat: Grows wild
Habit : Tree. Presence of flower bud on the trunk 
---
Some thing related to Theobroma cacao L. ??
---
The specimen is identified as Baccaurea ramiflora (Phyllanthaceae).
---
No. It is not Baccaurea ramiflora as per images and details herein.
---
As we are not able to nail the id of this one, can you get the flowers of this tree and post on the group
---
If I could manage to get the flower (as Lock down is going on) I will certainly post it on the group.
---
May a phyllanthaceae member. Baccaurea sp.
---
Likely to be Baccaurea ramiflora
---
Unless more complete photographs are available, you need not arrive at any conclusion.
---
Could be Baccaurea species (Phyllanthaceae). Most probably B. ramiflora Lour.
---
Young flower bud of Baccaurea ramiflora Lour family Euphorbiaceae
---
References: